Back to Back National Champions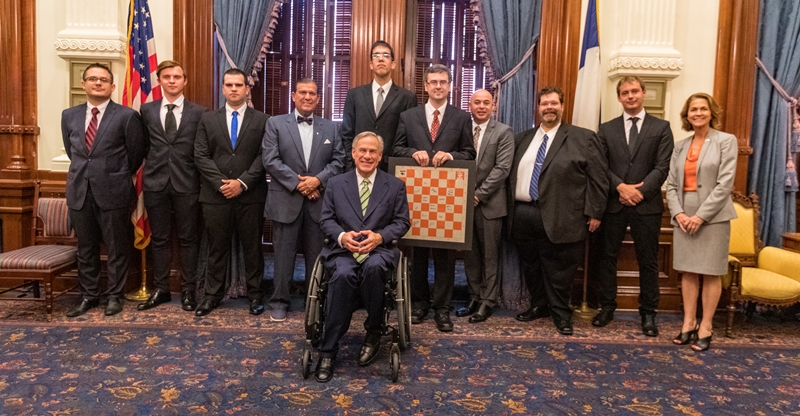 About Chess Program
Chess has been an important part of our university, and has acted as a metaphor of the vast human potential that our region holds. Chess Team successfully competes in tournaments at the state, national and international level, under the leadership of Chess Coach (Grandmaster) Bartek Macieja, assisted by Chess Program Manager (Grandmaster) Alex Mista.
UTRGV won the last two US National Collegiate Chess Championships (Final Four Tournaments), in 2018 and 2019. Both years, UTRGV was named "The Chess College of the Year" by the US Chess Federation. In recognition of the success, Chess Team was invited to the Texas Capitol in Austin, and honored by the State Governor, the Senate, and the House of Representatives: Watch the video . In January 2021, UTRGV played an intercontinental match vs. the current university champions of Russia, winning that Clash of University Champions 13.5 to 10.5. In February 2021, UTRGV won Kasparov Chess Foundation University Cup (a prestigious worldwide international tournament), proving it belongs to the very elite of world university chess.
Chess Program organizes local and international tournaments, holds camps, trains area coaches, and presents community outreach chess classes for local community members on a regular basis, particularly through Chess Academy. Finally, Chess Program supports Chess Club - a student organization serving dozens of chess enthusiasts.