Monday, February 14, 2022
  Community
By Karen Villarreal
RIO GRANDE VALLEY, TEXAS – Frank Ambriz and his students in the UTRGV physician assistant program know that, in medically underserved regions like the Rio Grande Valley, being prepared for some patients' needs can be a challenge.  
"Due to a chronic shortage of mental health providers, much of the burden of mental healthcare has shifted to primary care clinicians," said Ambriz, department chair and clinical associate professor in the Physician Assistant program at UTRGV.  
While PA graduates often are the only resource for uninsured and underserved patients, they receive limited education in psychiatry and clinical training in behavior and mental health.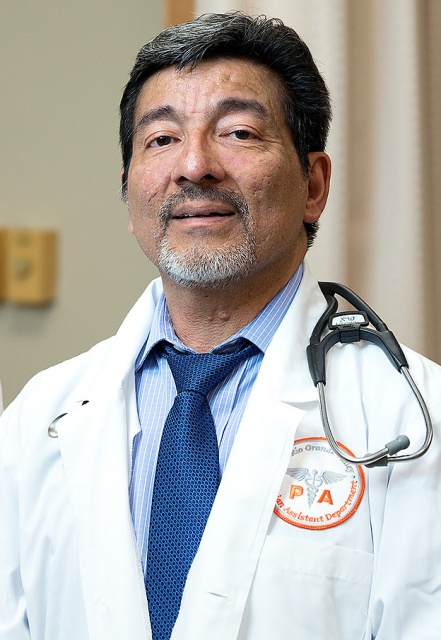 As director of a grant-funded project called "Expanding and Enhancing Physician Assistant Education," Ambriz is updating the UTRGV PA curriculum to include mental health, opioid and substance abuse, and medication-assisted treatment (MAT).  
"With the right training, more healthcare professionals can help identify individuals in need of help with these issues," he said. 
ENHANCED CURRICULUM  
To help address the lack of PA training in mental healthcare, the U.S. Department of Health and Human Services has awarded Ambriz almost $1.5 million. Additionally, the funding will allow him to develop and implement an approach to improve the wellness of PA students and faculty, he said. 
The updated curriculum will address opioid misuse, including prescription opioids, heroin and fentanyl.  
"This has reached epidemic magnitude in the United States and resulted in more than 50,000 overdose deaths in 2019 around the country," Ambriz said.   
The enhanced curriculum will serve the 100 students who entered the program at UTRGV in December 2021, 80 second-year PA students, and 80 capstone PA students. 
COMMUNITY SERVICE   
Ambriz said that, in the past two academic years, 55 percent of the PA program's graduates are practicing in medically underserved communities.  
With the program's expansion, the students and graduates also will serve Webb County, a rural area made up of El Cenizo, Laredo, and Rio Bravo, where a third of the population lives in poverty – including 40 percent of children in the county. Fifty physician assistant students are expected to complete 150 clinical rotations at existing Webb County sites.
"These are designated Health Profession Shortage Areas for mental health around Laredo," Ambriz said. "Through this grant, UTRGV will prepare its PAs to identify and treat mental illnesses that are having a negative impact on the patient's quality of life." 
ABOUT UTRGV
The University of Texas Rio Grande Valley (UTRGV) was created by the Texas Legislature in 2013 as the first major public university of the 21st century in Texas. This transformative initiative provided the opportunity to expand educational opportunities in the Rio Grande Valley, including a new School of Medicine, and made it possible for residents of the region to benefit from the Permanent University Fund – a public endowment contributing support to the University of Texas System and other institutions.
UTRGV has campuses and off-campus research and teaching sites throughout the Rio Grande Valley including in Boca Chica Beach, Brownsville (formerly The University of Texas at Brownsville campus), Edinburg (formerly The University of Texas-Pan American campus), Harlingen, McAllen, Port Isabel, Rio Grande City, and South Padre Island. UTRGV, a comprehensive academic institution, enrolled its first class in the fall of 2015, and the School of Medicine welcomed its first class in the summer of 2016.