Monday, August 19, 2019
  Around Campus, Community
By Victoria Brito
RIO GRANDE VALLEY, TEXAS – The University of Texas Rio Grande Valley Department of Physician Assistant Studies commemorated its anniversary with a White Coat Ceremony to welcome 100 new PA students.
Family and friends gathered on Friday, Aug. 16, at the Performing Arts Complex in Edinburg to watch the program's newest students receive their white coats, symbolizing the start of their PA career.
Frank Ambriz, chair and clinical associate professor in the UTRGV department of Physician Assistant Studies, delivered the keynote address, speaking about changes in the department over the years and looking to the journey still ahead.
"I am proud of what this program has achieved," he said. "Your PA education will bring transformation. This transformation will not only affect you, but it will affect your family and your community where you will practice. The knowledge you learn will propel you to be a great health care provider."
THE SCHOLARS: PAST, PRESENT AND FUTURE
This the largest PA class currently in Texas.
Since the inception of the program in 1994, cohorts have grown from 20 students to 100 students today.
In 1994, the Rio Grande Valley only had six practicing PAs; now, there are nearly 500.
More than 1,700 applicants viedfor 100 openings in this cohort.

 
THE FUTURE
Marco Martinez, 33, from Edcouch-Elsa, was among the new students. For the past decade, Martinez has been a science educator and spent his summers traveling. During his travels, he would arrange time to volunteer at clinics in the countries he visited, including Mexico, Belize, Guatemala, Kenya and Ghana. 
"It was in these clinics that I found a passion for medicine and an even greater purpose to help others," Martinez said. "The experiences completely altered the trajectory of my life. I realized that I could make a huge impact in my own community as a PA."
Martinez said he is coming into the program with an open mind and heart, but mostly, with high expectations.
"The next two and a half years of my life will probably be the most challenging yet, but I hope that, along the way, I get to make deep and lasting connections with both my professors and peers," he said. "I hope to laugh and enjoy the process of learning, and to leave my mark on this program for future classes at UTRGV."
Martinez, a graduate of Brown University, in Providence, RI, knew his calling was to come back home to the Valley to be a part of this program, contribute to the community and reconnect with family and friends.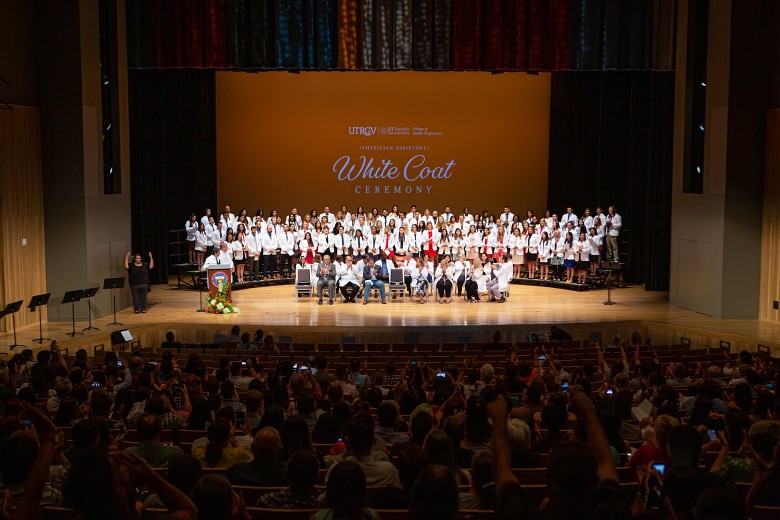 THE PRESENT
Current PA student Gregory Billings from Meza, Arizona, chose UTRGV for its affordability, the Valley's low cost of living and the opportunity to work in the cadaver lab.
"Many PA programs have a virtual lab and you practice and learn skills off of the computer," Billings said. "But in the cadaver lab, you get that hands-on experience, which is great. I think it is helpful to be able to learn medicine and structures and be able to see and feel them."
THE PAST
Gustavo Olivares, a legacy alumnus of UT Pan American, is now a PA in McAllen. He graduated in 2005 with double bachelor's degrees in PA studies and biology, and earned his master's degree in PA studies 2008 from UTPA. He has been working as a PA for 14 years at All Children's Pediatric Clinic.
"Without UTRGV, I would not be where I am today," Olivares said. 
He grew up with home and financial issues and struggled to find meaning in college life.
"To say I was struggling is an understatement," he said. "I did not start my college career as a stellar student, and I made a lot of regrettable decisions. The UTRGV PA program gave me the proper academic preparation to pass my certification exam and have a successful medical career.
Not only did Olivares grow as a successful student and professional, but also as a person.
"As a PA student, you have to learn how to communicate with your patients and do so in a kind, understanding and empathetic manner," he said. "This training, together with the positive experiences I had with my professors and mentors, helped foster in me a sincere desire to help others."
ABOUT UTRGV
The University of Texas Rio Grande Valley (UTRGV) was created by the Texas Legislature in 2013 as the first major public university of the 21st century in Texas. This transformative initiative provided the opportunity to expand educational opportunities in the Rio Grande Valley, including a new School of Medicine, and made it possible for residents of the region to benefit from the Permanent University Fund – a public endowment contributing support to the University of Texas System and other institutions.
UTRGV has campuses and off-campus research and teaching sites throughout the Rio Grande Valley including in Boca Chica Beach, Brownsville (formerly The University of Texas at Brownsville campus), Edinburg (formerly The University of Texas-Pan American campus), Harlingen, McAllen, Port Isabel, Rio Grande City, and South Padre Island. UTRGV, a comprehensive academic institution, enrolled its first class in the fall of 2015, and the School of Medicine welcomed its first class in the summer of 2016.