Friday, January 28, 2022
  Faculty Focus, Alumni
By Amanda Alaniz
RIO GRANDE VALLEY, TEXAS – JAN. 28, 2022 – While she was teaching from coast-to-coast, Sunaina Chugani Marquez, Ph.D., now an assistant professor of marketing in UTRGV's Robert C. Vackar College of Business and Entrepreneurship, picked up a range of lessons to integrate into her teaching.  
She has taught marketing at The University of Texas at Austin, San Diego State University and Baruch College (City University of New York), and has co-authored several publications about consumers and the role of marketing in business. She also was voted by students at Fowler College of Business at SDSU as the most engaged faculty member in 2020.  
The UT Pan American legacy alumna now is bringing to UTRGV all the lessons she picked up along the way and has combined them with her passion for teaching.  
"I love telling stories. I teach consumer behavior, so I can deliver the content in a way that's a story that draws people in," Marquez said. "And to be able to watch students nod their heads when I say something that lands? It feels great. There's this connection component of teaching that I absolutely love."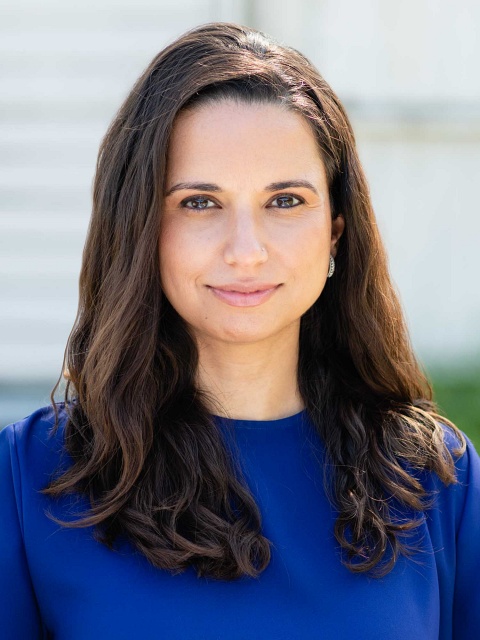 COMING HOME 
Marquez started her first semester in Fall 2021, teaching two online consumer behavior courses. She is excited to be working with dedicated UTRGV faculty, and to be helping students hone their skills.   
McAllen is Marquez's stomping grounds. The educator graduated from UTPA with a bachelor's degree in finance and an MBA. She went on to get a Ph.D. in marketing from UT Austin.  
Coming back to McAllen started out as a simple visit, she said, but she and her husband decided to make it a permanent move. They had just had their first child and felt they needed some support, especially when the pandemic began to unravel across the country. 
She was working at San Diego State University at the time and reached out to UTRGV to inquire about the possibility of a teaching position. It all worked out. 
"The Valley is such an amazing place to raise a family. I know because I grew up here," she said. "My dad has a business downtown. My mom runs a nonprofit. We are so connected to the community; we love this community and I consider it home."  
She is especially excited to be teaching UTRGV students.
"I was a UTRGV student – well, a UTPA student," she said with a smile. "It feels like I'm serving my own community. I'm so happy to be here." 
ACCENTUATE THE POSITIVE 
Marquez said she is looking forward to helping make a positive impact on students as they start their own independent journeys. She also is eager to bring the experiences she has gained from the other institutions to the UTRGV classroom.  
"I've been able to travel around and see the nation and beyond, and I want to be able to give students the tools to excel," she said.  
"I also want to contribute to the university's research culture – the more research the department does, the higher the stature of the department and the better off the students are. They get to learn firsthand from the researchers who have the knowledge and can share it with them," she said. 
Marquez already has done some research in consumer well-being at the intersections of gratitude, materialism and mindfulness – which means she investigates those behaviors to uncover how they influence consumer decisions.  
Her next research project about consumer behavior will investigate what it means to be a "wise consumer of social media." 
"We know there's a lot of research that shows social media use increases depression and can increase loneliness. At the same time, social media is such a powerful tool for connection, for goal pursuit, for growth and understanding," she said. "What my colleagues and I are trying to understand is, what are the specific behaviors that help somebody get positive outcomes from social media use, instead of negative." 
Abigail B. Schneider, Tavleen Dhandra, Michael Luchs and Marquez are working together to develop a scale that can measure to what extent someone can be a wise user of social media. Once they create the scale for that, she said, they can identify those most vulnerable to the negative outcomes of social media, and use the information to educate people. 
COMMUNITY OUTREACH 
Outside of her duties as a professor, Marquez does outreach projects for the community. She and her husband, Matt Marquez, co-host a podcast called Happy Wanderers. Through the podcast, they focus on finding joy and compassion using mindfulness and nonviolent communication. They use the same skills to host classes in the community.
The two held workshops on nonviolent communication at the Donovan Correctional Facility in San Diego, and hope to eventually offer classes at her mother's nonprofit organization, Infinite Love. 
As a professor, Marquez said, she does merge some those workshop topics into her classes.  
"I teach consumer behavior and I do an entire module on understanding the motivations or the needs beneath consumers' purchases and their behaviors," she said. "The students practice interviewing someone who has a favorite brand, and they learn techniques to understand their loyalty to that brand."   
Overall, she hopes to make progressive changes in the classroom and in the community.  
"I see how much UTRGV is growing and I want to contribute to that growth, for the students and for the community," she said. "I feel this is my home and I want to help my home."  
To learn more about the UTRGV RCVCOBE marketing department, visit
https://www.utrgv.edu/businessphd/concentrations/marketing/index.htm
. 
ABOUT UTRGV
The University of Texas Rio Grande Valley (UTRGV) was created by the Texas Legislature in 2013 as the first major public university of the 21st century in Texas. This transformative initiative provided the opportunity to expand educational opportunities in the Rio Grande Valley, including a new School of Medicine, and made it possible for residents of the region to benefit from the Permanent University Fund – a public endowment contributing support to the University of Texas System and other institutions.
UTRGV has campuses and off-campus research and teaching sites throughout the Rio Grande Valley including in Boca Chica Beach, Brownsville (formerly The University of Texas at Brownsville campus), Edinburg (formerly The University of Texas-Pan American campus), Harlingen, McAllen, Port Isabel, Rio Grande City, and South Padre Island. UTRGV, a comprehensive academic institution, enrolled its first class in the fall of 2015, and the School of Medicine welcomed its first class in the summer of 2016.