Friday, December 10, 2021
  Around Campus
By Victoria Brito Morales
RIO GRANDE VALLEY, TEXAS – Isabella Rodriguez has been waiting for this moment for a long time.
When she graduated in March 2020 from the UTRGV Math and Science Academy, high school graduations everywhere and the usual parties and ceremonies were reflections of the COVID-19 pandemic – remote, virtual events lacking the warmth and excitement of in-person celebrations.
Now, though, as she walks the stage for morning commencement at the Bert Ogden Arena in Edinburg on Saturday, the biology major will be able to enjoy a special moment as the very first graduate of the Vaqueros MD Early Assurance Program.
LONG JOURNEY REALIZED, FULFILLED
The Edinburg native has known for some time that her interest is in the sciences. So in 2019, as a senior in high school, she heard about the new program and knew right away that it was calling to her.
"My dad and my mom told me about it, so I looked at the requirements. And I actually thought the requirements were so high, they just seemed so unattainable," Rodriguez said. "All of it just sounded like there was no way I would qualify for this program. But when I looked into it, it turns out I did qualify, so I decided to apply."
The results have been life changing, she said.
Now just 19 years old, she is graduating with honors and will receive a Bachelor of Science in Biology from the UTRGV College of Sciences.
Next, in January, she will take the Medical College Admission Test, known as the MCAT, which helps medical schools assess a candidate's request for admission. Pending her results, if she reaches a benchmark score, she automatically will be admitted into the UTRGV School of Medicine's 2022 cohort.
Rodriguez was able to graduate quickly by taking classes every summer since she entered UTRGV, at no cost due to her MSA status. She was able to get a year ahead in her science courses and took challenging classes – like Organic Chemistry I and II and Medicinal Chemistry – while she was still just a high school senior.
"That gave me a competitive edge in my Vaqueros MD application," she said. "It showed I had already been through those tougher sciences."
The dream of becoming a physician is one she has been working on since before high school. In fact, Rodriguez said she can pinpoint the start of her dream as far back as kindergarten.
"At kindergarten graduation, when teachers asked us all what we wanted to be, I said 'doctor,'" Rodriguez recalls. "For as long as I can remember, I knew I wanted to be a doctor."
Based on inspiration from her own pediatrician, Dr. Corrinna Tiongson, who was in practice in Edinburg but now practices in San Antonio, Rodriguez aspires to work with women and children in the future.
"I have always been interested in child development and maternal health, so I really like the idea of being a family medicine physician," she said.
THOSE WHO MADE A DIFFERENCE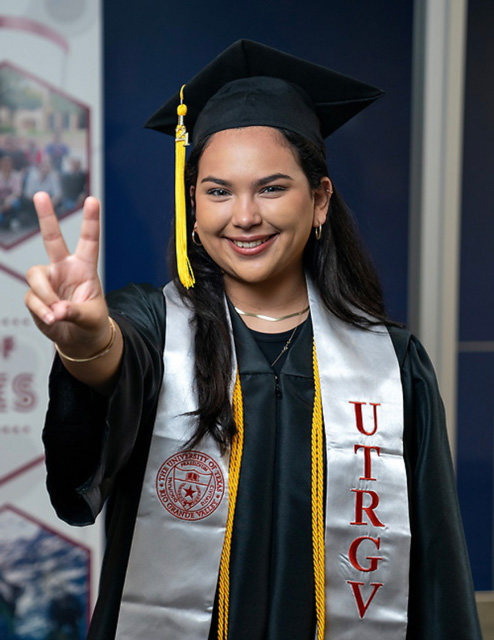 Rodriguez, who is an only child, credits her parents, Daniel and Sonia Rodriguez, with providing crucial guidance and mentorship throughout her education.
"I honestly could not have done it without them," she said. "They are the two biggest supporters I have."
The Rodriguezes said Isabella showed a passion for learning, reading and science when she was very young, which allowed them to nurture her education.
"As our only child, we wanted her to grow to become strong in her Christian faith, obedient, kind and respectful to all. To be dedicated, committed and a hard worker. And to be well-rounded and always be true to herself," Sonia Rodriguez said.
Daniel Rodriguez said his daughter exhibits all the qualities a parent could hope for in a child.
"She is blessed to be loved, supported and encouraged not just by her parents, but also by a loving familia of abuelita, tios, tias, primos y primas. Words cannot express how honored and humbled we are to see how God has given her opportunities and opened doors, lighting her path so far. We are so proud of the person Isabella has become," he said.
Rodriguez's educational journey really took flight when she enrolled at the UTRGV Mathematics and Science Academy her junior year. Dr. Wilma Smetter, principal of the UTRGV MSA, said the school is focused on transforming potential into achievement. 
"Isabella took advantage of the magnificent opportunities at UTRGV MSA," Smetter said. "As an educator of 40 years, I've only encountered a student like Isabella every few years. I am extremely proud of all her accomplishments, and the staff and I wish her the best in her journey."
While at the UTRGV MSA, Rodriguez participated in summer research in the UTRGV High Scholars Program, where she earned first place in the biology category.
From there, she joined Dr. Rupesh Kariyat, associate professor of Biology, in his prestigious Insect-Plant Ecology Research Lab, and presented her research at UT Austin's Capital of Texas Undergraduate Research Conference in 2019.
"Isabella is a star," Kariyat said.
When she joined the lab for the 2019 summer semester, her tenure was expected to end in August, when the fall semester began. Kariyat said he asks the best student to continue with the lab, so he asked her to stay on. Within a year, she had coauthored two peer scientific articles – while she was still a high school senior. And she currently has a third pending publication.
"Isabella could be a doctor, she could be an engineer, she can be anything she wants. She has the drive," Kariyat said. "She is highly competent and very knowledgeable in other fields."
Besides being an excellent scientist, Kariyat said, Rodriguez has a secret talent: She is an excellent baker.
"Every lab meeting or any celebration we have, she would bring something that she baked," Kariyat said. "I once had a celebration, and she brought this cake – I can still remember it! I hope she continues to visit our lab and brings something she has baked."
ABOUT UTRGV
The University of Texas Rio Grande Valley (UTRGV) was created by the Texas Legislature in 2013 as the first major public university of the 21st century in Texas. This transformative initiative provided the opportunity to expand educational opportunities in the Rio Grande Valley, including a new School of Medicine, and made it possible for residents of the region to benefit from the Permanent University Fund – a public endowment contributing support to the University of Texas System and other institutions.
UTRGV has campuses and off-campus research and teaching sites throughout the Rio Grande Valley including in Boca Chica Beach, Brownsville (formerly The University of Texas at Brownsville campus), Edinburg (formerly The University of Texas-Pan American campus), Harlingen, McAllen, Port Isabel, Rio Grande City, and South Padre Island. UTRGV, a comprehensive academic institution, enrolled its first class in the fall of 2015, and the School of Medicine welcomed its first class in the summer of 2016.