More than 800 Vaqueros walk in first of two days of commencement ceremonies in the Rio Grande Valley

  Friday, December 10, 2021
  Around Campus
By Letty Fernandez
BROWNSVILLE, TEXAS – Graduation Day arrived at long last for more than 800 graduates who took part in the first of two days of UTRGV's Fall 2021 Commencement ceremonies.
Held on the UTRGV Brownsville Campus on Friday, the outdoor ceremony included plenty of cheers and applause from family and loved ones, as the graduates walked across the stage to mark the next phase of their journeys.
Over the two days of ceremonies, 3,908 graduates were slated to earn their degrees in Brownsville and Edinburg.
Friday's ceremony featured graduates from all the university's colleges and schools.
UTRGV President Guy Bailey, who greeted and praised the graduates via video, told the newest university alumni to be proud of all they have accomplished as they and the entire world faced the challenges of COVID-19.
"Think about this. You graduated in the most difficult of times – right in the middle of a pandemic," Bailey said. "American higher education has not seen this for a century, and yet you dealt with it, you persisted, you succeeded and you overcame in the most difficult of circumstances. I can't tell you how proud we are of you for doing that.
"You know that bodes well for your future," he said. "If you can do this, you can do anything. Think about that as you go forward."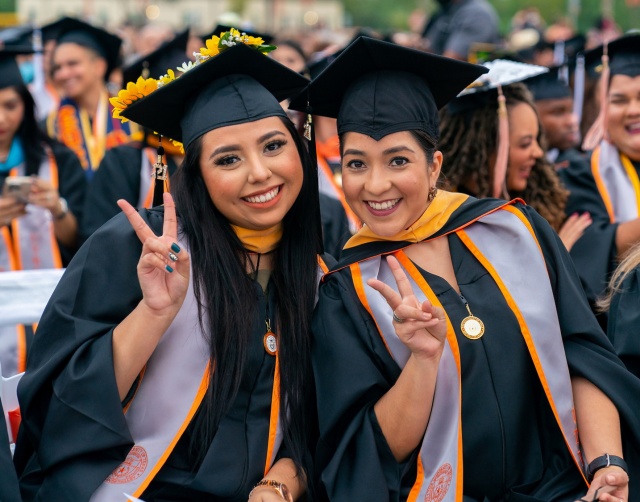 A DREAM COME TRUE 
One graduate who is excited to see what the future holds is Rene Nicolas Rico of Brownsville, who will be graduating with his Bachelor of Science in Biomedical Sciences.
He has always dreamed of being a college graduate, and as the eldest of four children, he said, he reached his goal thanks to his parents.
"I would always talk about it as a kid. Not many individuals get the support I have from their parents, or even have the opportunity to receive an education, so I am grateful to them. They inspired me," said Rico, who plans to apply to medical school.
Rico grew up with chronic allergies and asthma. At age 14, he was diagnosed with nasal polyps, benign cysts that can block the upper airway.
"My doctor told me if I planned to pursue medicine, I needed to have a genuine passion for it and not detour from it by having a plan B. That's why I chose to major in Biomedical Sciences," he said. "The BMED Scholars program has helped me to earn my degree and become well prepared for medical school." 
Through the BMED Scholars program, Rico has been able to shadow physicians in a variety of specialties at area hospitals and participated in research projects in the field of Bioengineering.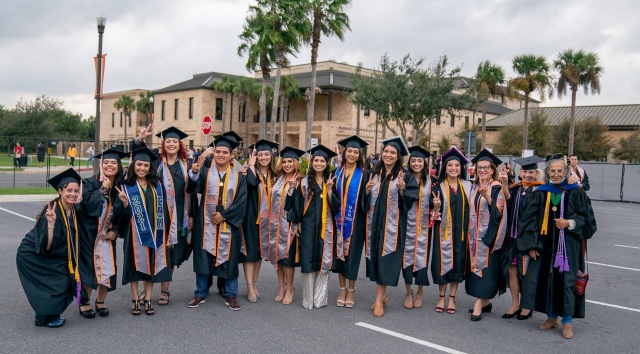 What he wants most is to be an ear, nose and throat specialist, and to earn a doctorate in research.
"I have been blessed to have received three surgeries so far to breathe comfortably, but my heart goes out to those children or adults who do not have the finances to receive treatment as I have," he said. "I want to do research and, however I can, help to find a cure."
'YOU ARE GOING TO BE A NURSE, THAT'S YOUR CALLING.' 
Before Nicole Garza moved to the Rio Grande Valley, she worked as a veterinary technician in Toledo, Ohio. For 13 years, she loved taking care of people's pets. But she always thought nursing was something she wanted to do. After all, her father was a nurse.  
"He always told me, 'You are going to be a nurse, that's your calling, I know it, and I always knew, deep down, that nursing was my calling."  
Now that she has earned a Bachelor of Science in Nursing, she will be taking care of children as she begins work in the Pediatrics ICU unit at Edinburg Children's Hospital.  
She is very aware of the responsibility that comes with her chosen career.  
"We have their lives in our hands. We are seeing people when they feel their worst," Garza said. "It is rewarding, and my goal every day is to be able to make the kids smile, and their parents, too." 
Garza is one of 14 UTRGV nursing students from Brownsville graduating Friday evening. They call themselves the "COVID" class because two months after they started classes in January 2020, the pandemic hit full force and classes went from in-person learning to a virtual environment.  
Garza describes every semester as "up in the air" because of what was happening with COVID. 
"We started off in January and everything was great and then after spring break, we went completely virtual. It was really different and stressful," said Garza, who credits School of Nursing Professors Margaret Rubi and Luz Maria Silva for getting them through. 
"They really helped us throughout this whole journey," Garza said. "So now we are completely ready for the workforce and, as we like to say, 'We can change on a dime.' That is what we had to do every semester."  
At 35, Garza is one of the oldest students in the class and the younger students looked to her for guidance, she said. Taking care of people is a role she enjoys. 
"Our goal was to get through it, and we have become very close," Garza said. "We made sure that if anyone needed anything, we were there to help each other. It would not have been possible to get through this without each other and our professors. It was a team effort." 
UTRGV's Fall 2021 Commencement ceremonies continue Saturday, Dec. 11, at Bert Ogden Arena in Edinburg. Ceremony times include 8:30 a.m., noon and 3 p.m. 
For more information on Fall 2021 Commencement, visit www.utrgv.edu/commencement.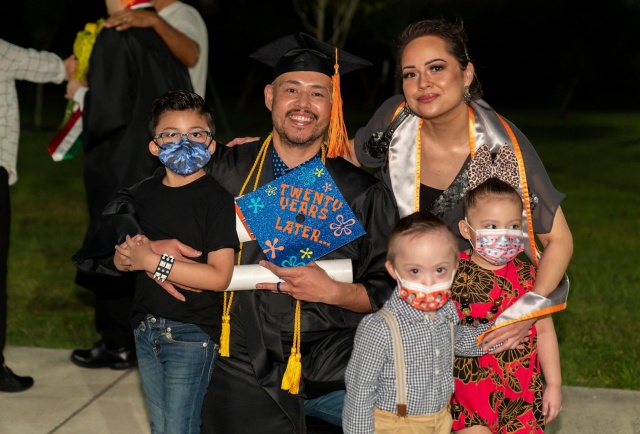 ABOUT UTRGV
The University of Texas Rio Grande Valley (UTRGV) was created by the Texas Legislature in 2013 as the first major public university of the 21st century in Texas. This transformative initiative provided the opportunity to expand educational opportunities in the Rio Grande Valley, including a new School of Medicine, and made it possible for residents of the region to benefit from the Permanent University Fund – a public endowment contributing support to the University of Texas System and other institutions.
UTRGV has campuses and off-campus research and teaching sites throughout the Rio Grande Valley including in Boca Chica Beach, Brownsville (formerly The University of Texas at Brownsville campus), Edinburg (formerly The University of Texas-Pan American campus), Harlingen, McAllen, Port Isabel, Rio Grande City, and South Padre Island. UTRGV, a comprehensive academic institution, enrolled its first class in the fall of 2015, and the School of Medicine welcomed its first class in the summer of 2016.