Tuesday, December 7, 2021
  Around Campus
By Amanda Taylor
RIO GRANDE VALLEY, TEXAS – Not every engineer gets a chance to work on a $180 million renovation project, and most job interns can only dream about it.
But Samantha Avila, a UTRGV grad student pursuing a master's degree in Civil Engineering, got to help on the project – the ongoing renovation of the Hidalgo County Courthouse in Edinburg, led by Jacobs Engineering Group based in Dallas.
This Saturday morning, Avila will graduate from UTRGV in its Fall Commencement ceremony at the Bert Ogden Arena to accept her master's degree knowing she already has a job waiting for her at Jacobs Engineering.
She interned with the company from June to August, which gave her three months of crucial, hands-on experience in the field. Not only was it a dream come true for Avila, but also led to a full-time job with Jacobs.
"I worked on looking over constructor subcontractors, and I was responsible for helping with payments and inspections," she said. "Our group also helped with moving management, as we helped move the current employees at the courthouse to another location so renovation could start on certain sections."
Due to the pandemic, most of the construction was postponed, so she got to see all the initial stages of the project, such as putting up walls and beams, and she even learned how to access security camera systems and protocols in construction security.
"Jacobs is a very large company, so they have all of the necessary resources to get the best people into teams to make each project run smoothly," she said. "The team I was able to work with were very knowledgeable and being able to help project managers with their responsibilities on a day-to-day basis gave me a broader understanding of management."
Avila had completed her bachelor's degree in Civil Engineering in 2019 at UTRGV, inspired by her love of math and the broadness of the engineering field.
Aside from gaining important insight for her future career during the courthouse renovation project, Avila also won a districtwide competition that Jacobs hosts for summer interns.
Avila represented the Hidalgo County project and went up against 20 other interns from varying districts, to share a project with regional leadership on what they've learned during their internship. She won the districtwide competition and was invited to present at the company's monthly town hall meeting.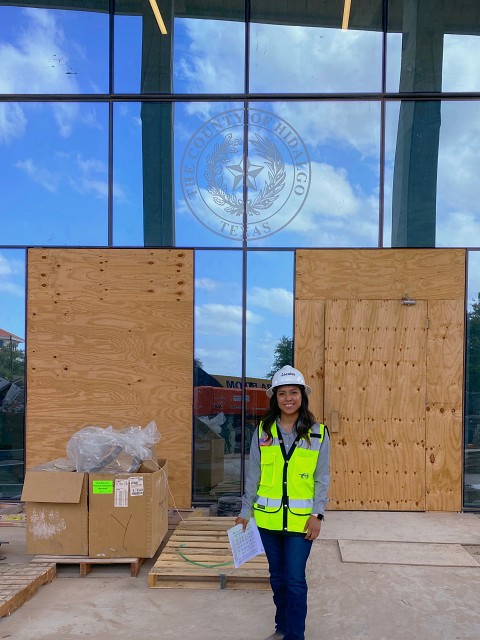 "It was a presentation based off what we learned over the summer and how it correlates with what I learned at UTRGV," Avila said.  "It was really nice getting recognition from the group here in the Valley and the group in Houston, as well."
Based on her hard work on the project and her win in the districtwide competition, Jacobs offered Avila a full-time position as a junior engineer in Dallas. She accepted with full confidence and excitement for her future.
"Jacobs has values and a great environment that made my decision easy," Avila said.
She was offered jobs from a number of other engineering companies, but she turned them down.
"During my summer internship, I got to see firsthand all the different programs they offer. And since it's an international company, I can work on jobs in Australia or Europe – pretty much anywhere I want to go."
During her internship at Jacobs, Avila said, her interest in project management and structural design grew. Her time at UTRGV, combined with the internship, helped her gain the necessary knowledge to put her skills to work.
"Attending UTRGV has been a great experience for me," she said. "I have been really involved with the people here and everyone has made me feel so welcome. It's been a fun experience. So, I'm happy to graduate, but it's also sad to say goodbye."
UTRGV Fall Commencement starts at 5 p.m. Friday at the UTRGV Parking Lot B3 in Brownsville and continues into Saturday in Edinburg with ceremonies at 8:30 a.m., noon and 3 p.m. at the Bert Ogden Arena.
For additional information on this weekend's commencement ceremonies, visit www.utrgv.edu/commencement.
ABOUT UTRGV
The University of Texas Rio Grande Valley (UTRGV) was created by the Texas Legislature in 2013 as the first major public university of the 21st century in Texas. This transformative initiative provided the opportunity to expand educational opportunities in the Rio Grande Valley, including a new School of Medicine, and made it possible for residents of the region to benefit from the Permanent University Fund – a public endowment contributing support to the University of Texas System and other institutions.
UTRGV has campuses and off-campus research and teaching sites throughout the Rio Grande Valley including in Boca Chica Beach, Brownsville (formerly The University of Texas at Brownsville campus), Edinburg (formerly The University of Texas-Pan American campus), Harlingen, McAllen, Port Isabel, Rio Grande City, and South Padre Island. UTRGV, a comprehensive academic institution, enrolled its first class in the fall of 2015, and the School of Medicine welcomed its first class in the summer of 2016.