Happy Holidays, Vaqueros!

  Thursday, December 2, 2021
  Around Campus
By Amanda Alaniz
RIO GRANDE VALLEY, TEXAS – When the holidays roll around, people come together to celebrate, and many exchange tokens of appreciation – like holiday cards with unique designs.   
The annual UTRGV Holiday Card Contest this year has awarded six students with scholarships for their holiday card submissions, each of which showcased the artist's appreciation of the university, and the Valley community.   
For the first time this year, in addition to three President's Holiday Card winners, UTRGV added three Provost's Holiday Card winners.   
Participating students submitted their cards at the end of October. Artwork was judged by a panel, including UTRGV President Guy Bailey and Executive Vice President and Provost Janna Arney, and each piece was judged on its ability to portray the UTRGV spirit, traditions, creativity and artistic merit.   
Arney said the university is excited to place a spotlight on UTRGV students and their work. 
"We support our students and want them to be successful, and these holiday card contests are a great way for us to showcase their creativity," she said. "We are proud of all the students who entered the Holiday Card contests, and we congratulate them on their artistic vision and their UTRGV spirit."
PRESIDENT'S HOLIDAY CARD WINNERS  
EMILY GUERRA, a junior and graphic design major, wanted to create a classic holiday card that showcased inclusivity for everyone at UTRGV, and her design took first place for the President's Holiday Card contest. 
Guerra, from Mission, received a $1,000 scholarship.  
She said she wanted to create a card that not only represented the Valley, but also showcased what the university means to the community.   
"I wanted to create a design that properly combined the holiday spirit with iconic symbols of UTRGV, to represent how the university honors all holidays," she said.  
The UTRGV student was surprised when she found out she was the winner. She said she was grateful for the opportunity to showcase her art and really give a good representation of the School of Art and Design.  
"Every method I used to create this card were from lessons I learned from my professors," she said. "In a way, it's like a highlight piece to promote the school and show the potential that students learning from these awesome teachers have."  
She said winning the top spot boosted her confidence in her art and future career.   
"It makes me really happy to know that the president and the UTRGV staff considered this to be this year's winner," she said.   
The two runners-up also said they wanted to also share their appreciation for the university in their holiday card designs.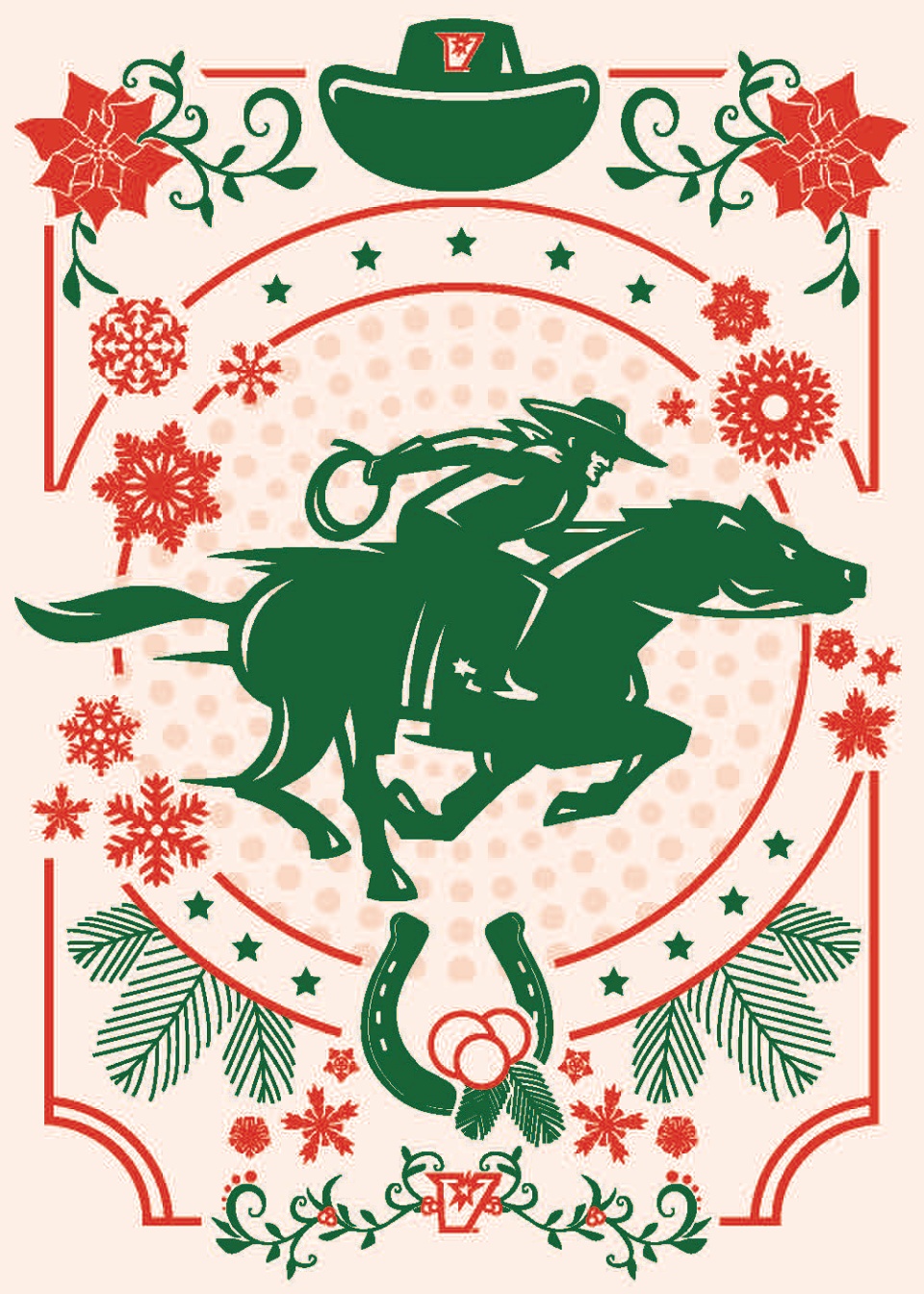 ASHLEY HINOJOSA DIAZ, a junior and creative writing major, said he was shocked to find out he had placed and got a phone call from President Bailey. The first person he called to share the news was his mom.   
The inspiration for his card came from a variety of places – university life, his colleagues and his culture.   
"I added some noche buenas, gifts, a giant Christmas tree, a professor dressed up as Santa. I also added a Jewish menorah, some students, a marching band and people doing villancicos," the McAllen resident said. "I tried my best to depict a posada-like atmosphere, something that represented the warmth you experience when surrounded by people you love."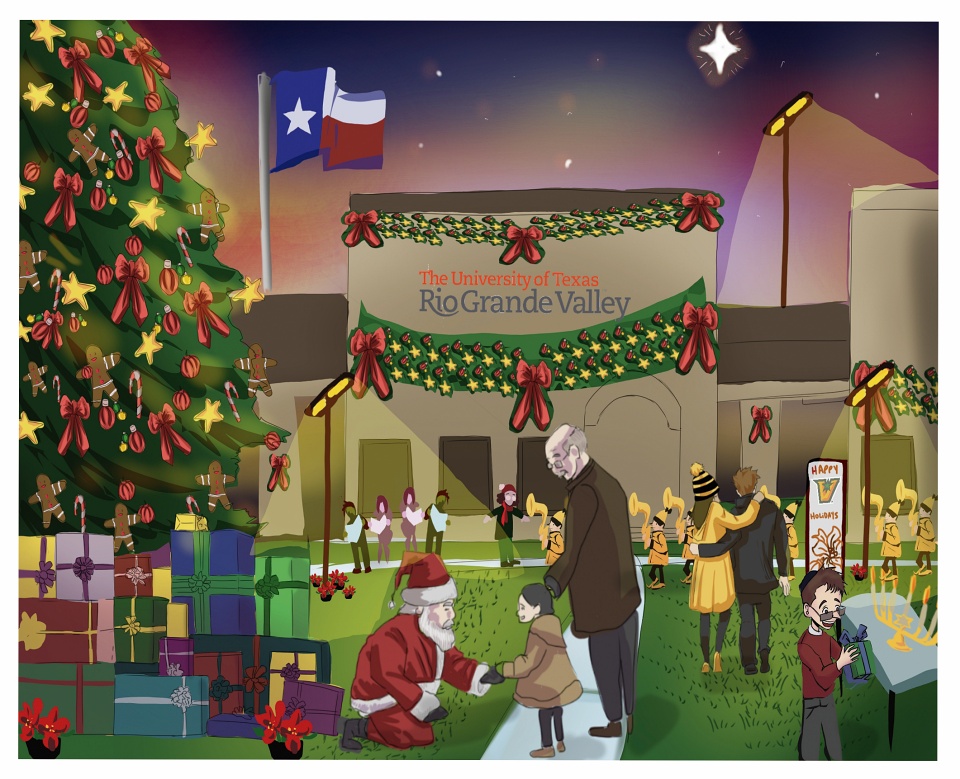 VALERIA GARZA, a sophomore art major, created her design idea with the UTRGV spirit in mind.   
"I used the university colors and its major symbols, while applying some of the holiday symbols to incorporate the holiday spirit," the Harlingen resident explained. "I used the UTRGV symbols to form a Christmas tree and topped it off with a UTRGV star."  
As someone wanting to go into graphic design, she said, finding out she had placed in the contest gave her a sense of validation.   
Garza and Hinojosa each received a $500 scholarship.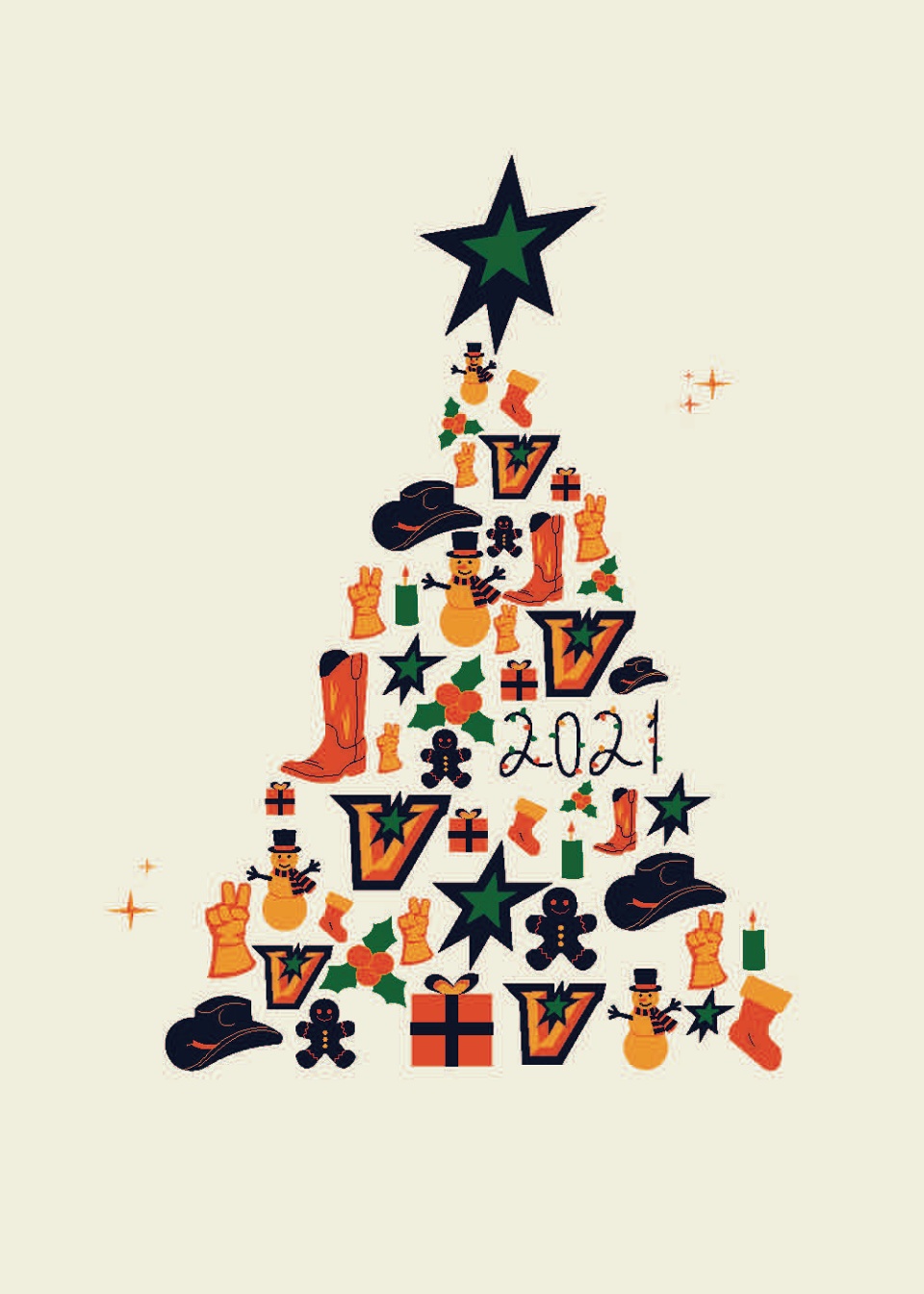 PROVOST'S CARD WINNERS   
Three students were selected as the top entries in the inaugural year of the Provost's Holiday Card Contest.   
First place went to KARLA ZURITA, an Edinburg resident working on her master's degree in dietetics.  
Zurita, who was awarded a $1,000 scholarship, said she was ecstatic when she got the call telling her she had won.   
"It has always been something I've wanted to enter but was scared to do," she said. "However, I made sure to do it this year and I'm very honored to have won."  
The inspiration for her card design came from her friends and family, and from wanting to represent the Valley community. 
"I wanted to incorporate elements that made the Valley so special," she said. "I asked many of my friends and family, 'What comes to mind when you think of the RGV?' The ornaments were the responses I received. This card wasn't just something that I came up with by myself, but it was something that was inspired by my friends and family, which makes it even much more special to me."   
Zurita said she is honored to have her artwork selected, and she considers it a gift that she was able to create something special for the university.  
"I've grown to love UTRGV for its unique and amazing culture, and my hope is that whenever people look at my artwork, they will be able to see that, too," she said.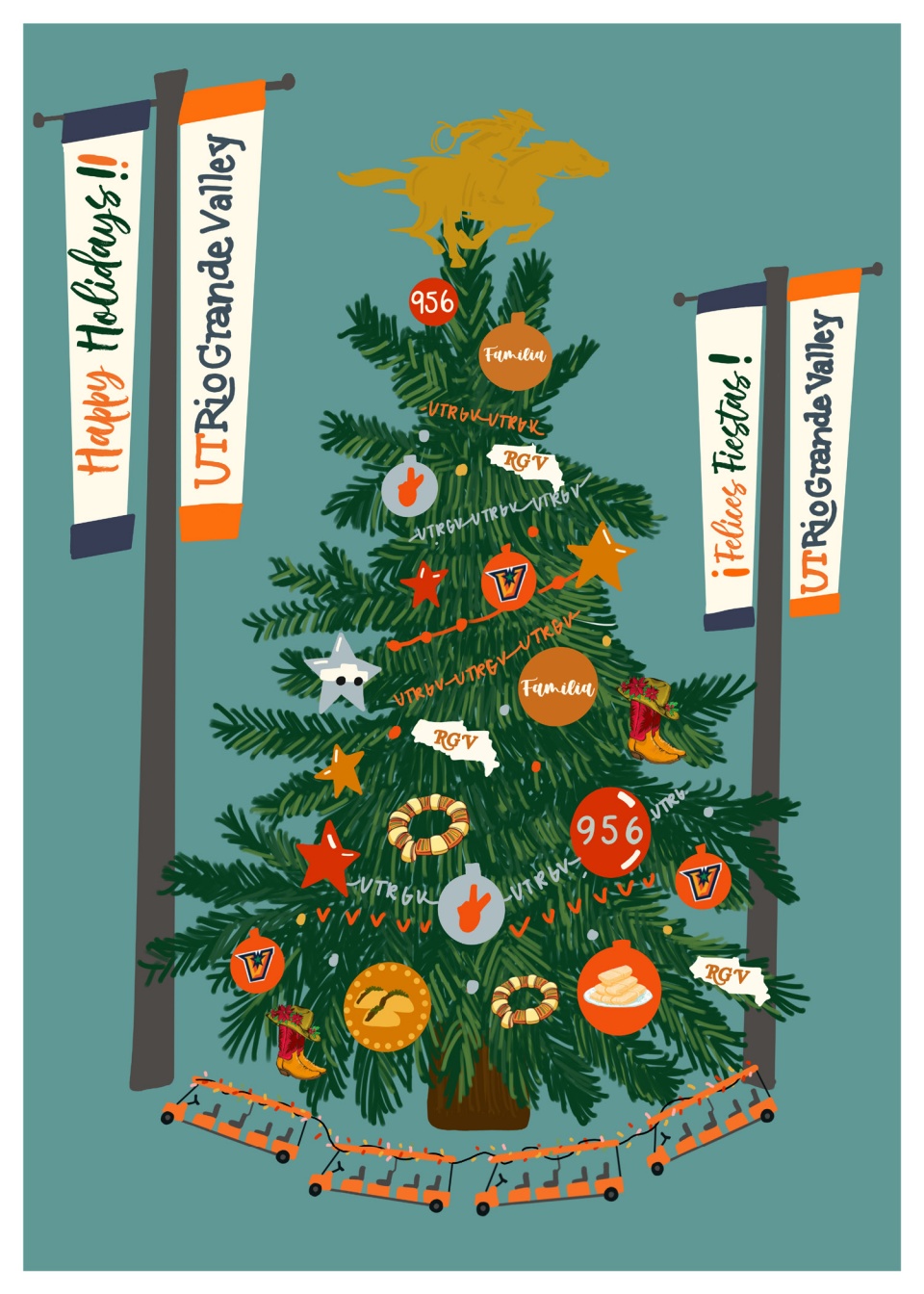 MARITZA FLORES and SANDRINE AGBEKO were the two runners-up in the Provost's contest, and each received a $500 scholarship.
Both said they pulled inspiration from the Valley's deep roots for their card designs.   
Agbeko, a freshman and graphic design major from McAllen, said she wanted to create a holiday card that highlighted and encapsulated school pride and local traditions.  
"Winning this contest means being able to contribute to a special holiday tradition at UTRGV," she said. "And it means having my holiday card design distributed to people and families for the holidays in a way that brings them a sense of joy and belonging."   
Edinburg resident Flores, a sophomore and fellow runner-up, said every symbol included in her card represented something unique but still relatable to others. She worked to include UTRGV, Texas, Hispanic traditions, and a token of appreciation for new journeys.   
"The book on the card symbolized our own chapter in our lives that makes our traditions unique, as we are surrounded by our classmates, teachers and staff who make up a diverse college campus, a place where we can share those traditions with others," she said.   
And with the spirit of the holidays just round the corner, "We should always remember the university is not only a campus, but a big family," the cybersecurity major said.   
The UTRGV Holiday Card contest is an annual tradition in which students celebrate the holidays and, possibly, get a chance at the scholarship money. Winners receive a framed copy of their card as a special gift from UTRGV and are invited to a reception.  
"Every participant's entry is always so creative, and I'm impressed by all the talent among our students," Bailey said. "I thank everyone who took the time to create a special holiday card for UTRGV."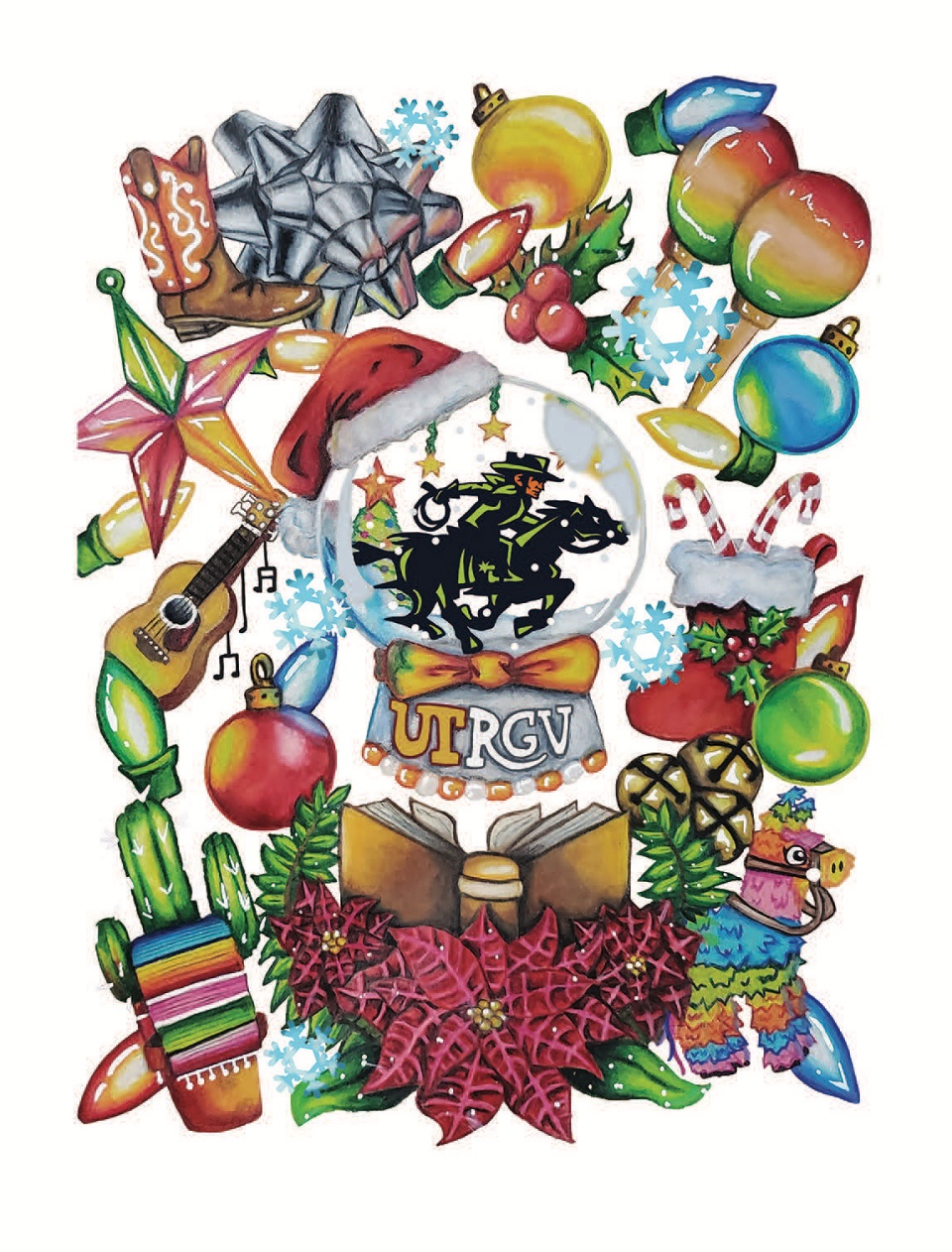 SPREAD HOLIDAY CHEER
For the first time, the university will make its UTRGV Holiday Cards available for purchase, and all net proceeds will be donated to the UTRGV Student Food Pantry.
Each set of cards costs $12 and contains 12 cards featuring artwork from past and present Holiday Card Contest winners.
The cards can be purchased at the UTRGV Campus Stores in Brownsville and Edinburg, as well as online.
To view the winners from the past and present, visit https://link.utrgv.edu/holiday/.  
ABOUT UTRGV
The University of Texas Rio Grande Valley (UTRGV) was created by the Texas Legislature in 2013 as the first major public university of the 21st century in Texas. This transformative initiative provided the opportunity to expand educational opportunities in the Rio Grande Valley, including a new School of Medicine, and made it possible for residents of the region to benefit from the Permanent University Fund – a public endowment contributing support to the University of Texas System and other institutions.
UTRGV has campuses and off-campus research and teaching sites throughout the Rio Grande Valley including in Boca Chica Beach, Brownsville (formerly The University of Texas at Brownsville campus), Edinburg (formerly The University of Texas-Pan American campus), Harlingen, McAllen, Port Isabel, Rio Grande City, and South Padre Island. UTRGV, a comprehensive academic institution, enrolled its first class in the fall of 2015, and the School of Medicine welcomed its first class in the summer of 2016.