Thursday, December 2, 2021
  Around Campus
By Victoria Brito Morales
RIO GRANDE VALLEY, TEXAS – The UTRGV Chess Team recently hosted the first 2021 Collegiate Women's Team Cup, drawing women from universities across the country for an online tournament endorsed by the U.S. Chess Federation.  
The event had a total of 18 women competing and was designed to boost and support female participation in collegiate chess through competition. 
"There is a huge over-representation of males in chess, and that is everywhere," said Bartek Macieja, coach of the three-time national champion and six-time state champion chess team. "Events like this one are how we make a big difference." 
Macieja created the women's team last year in an effort to diversify and recruit more skilled chess players.  
The UTRGV Women's Team is made up of four UTRGV freshman players, all of whom competed in the virtual event, which was distributed through lichess.org.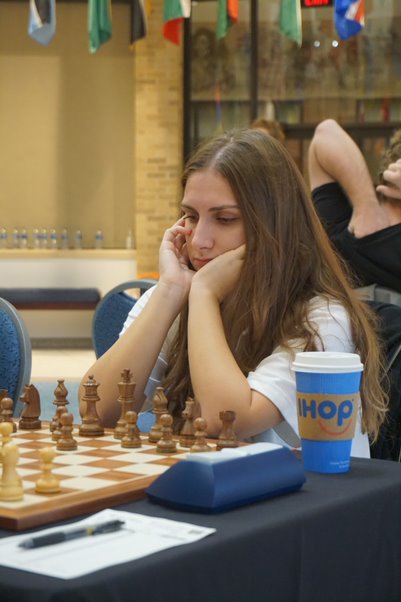 The UTRGV Women's Team is made up of: 
Maria Malicka (FIDE Master), a freshman computer science major from Warsaw, Poland. 
Maili-Jade Quellet (Woman Grandmaster), a freshman management major from Quebec, Canada. 
Ana Shamatava (Woman FIDE Master), a freshman graphic design major from Tbilisi, Georgia. 
Lauren Tovias, a freshman nursing major from Harlingen.

 
Shamatava, who placed fifth overall during the tournament, first came to Brownsville with her husband, Irakli Beradze, an international master, who joined the UTRGV Chess Team in 2019.  
She was recruited last year as the first woman on the team. 
Even though she misses the excitement of in-person tournaments, she said, the competition was still fierce and challenging. Competitions last year were halted due to the COVID-19 pandemic. 
"This tournament was the first-ever of its kind in the United States," Shamatava said. "The competition was surprisingly strong. I was not expecting it." 
Other universities that had women competing in the tournament were University Missouri-Mizzou; University of Illinois Urbana-Champaign; Texas Tech University; and Northern Illinois University. 
Additionally, female members of the UTRGV Chess Club and the UTRGV Math and Science Academy Chess Program competed in the tournament to represent UTRGV, which had 10 participants. 
"I am very proud that we can serve as an example for other colleges to include more women on their chess teams," Macieja said. "We want to continue to be innovators, both in chess play and in chess culture." 
ABOUT UTRGV
The University of Texas Rio Grande Valley (UTRGV) was created by the Texas Legislature in 2013 as the first major public university of the 21st century in Texas. This transformative initiative provided the opportunity to expand educational opportunities in the Rio Grande Valley, including a new School of Medicine, and made it possible for residents of the region to benefit from the Permanent University Fund – a public endowment contributing support to the University of Texas System and other institutions.
UTRGV has campuses and off-campus research and teaching sites throughout the Rio Grande Valley including in Boca Chica Beach, Brownsville (formerly The University of Texas at Brownsville campus), Edinburg (formerly The University of Texas-Pan American campus), Harlingen, McAllen, Port Isabel, Rio Grande City, and South Padre Island. UTRGV, a comprehensive academic institution, enrolled its first class in the fall of 2015, and the School of Medicine welcomed its first class in the summer of 2016.