Tuesday, November 16, 2021
  Around Campus
By -
RIO GRANDE VALLEY, TEXAS – UTRGV Facilities Planning and Operations, in collaboration with the Office for Sustainability, on Nov. 5 held a Texas Arbor Day celebration to mark the university's seventh consecutive Tree Campus Higher Education designation.
Arbor Day is observed on Nov. 5 in Texas, to emphasize the importance of trees and inspire the community to plant, nurture and celebrate what trees can contribute to our environment.
The Tree Campus Higher Education Designation supports colleges and universities around the country that establish and sustain healthy community forests through a framework built around sustainable forestry management.
In keeping with local, county and state pandemic protocols, this year's annual Arbor Day celebration was held virtually. Facilities and Operations pre-recorded the planting of ceremonial trees on both the Edinburg and Brownsville campuses on Oct. 21 and Nov. 2, in preparation for the celebration.
One special tree donation was made by the Department of Teaching and Learning to honor the life and legacy of Dr. Dotti Shelton, a faculty member who lost her battle with cancer this year in July.
"Dr. Shelton was dedicated to the Department of Teaching and Learning, and her dedication to the profession was exemplary and representative of all of the faculty in the department," said department chair and professor, Dr. James Jupp.  "Besides her love of the profession, she gave a lot of joy to her work and to her colleagues, so we wanted to dedicate this tree in her memory."
Dr. Alexis Racelis and Dr. Christopher Gabler, both of the UTRGV School of Earth, Environmental, and Marine Sciences (SEEMS), showcased their respective campuses as Living Lab projects, including the Community Forestry course, taught by Racelis and the UTRGV Native Plant Nursery, led by Gabler.
Roy Reyes, forester for the City of Brownsville and Texas Forester Bill Green were invited to present and educate the audience on how to properly plant certain types of trees and the importance of nurturing plants and trees across the area, especially on campus grounds.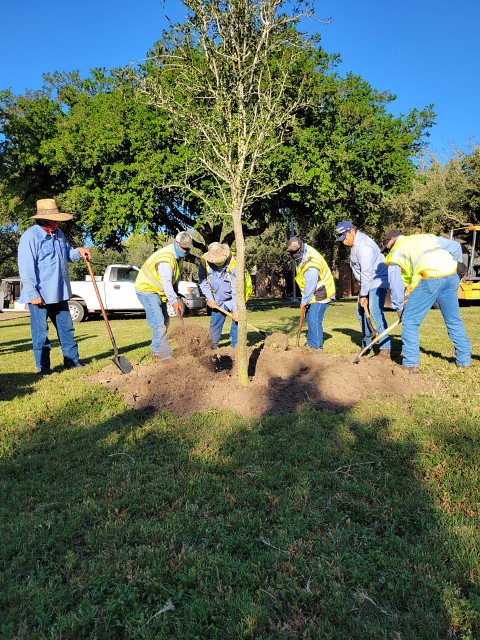 "Arbor Day is a special day because, too often, we take trees for granted," Greem said. "Today is a very important day to acknowledge how UTRGV takes care of its trees. Research shows that students who spend more time outside in nature have better grades. Trees provide many health benefits, including lowering our stress levels and our blood pressure."
Chief Sustainability Officer Marianella Franklin acknowledged the university's unsung heroes in the Facilities Maintenance and Operations department, including Abraham Hernandez, Carlos Chavez, Martin Cortez and the 29 members of the campus grounds crew who take care of the campus forestry. 
"This small team takes care of a little over 680 acres of university land," Franklin said. "So, as you walk through the campus, rather stopping to just to smell the roses, stop and connect with nature and forestry, then connect it with these people who work very hard daily to keep our campus beautiful."
One presentation was a Ted Talk by Suzanne Simard that emphasized how trees communicate with each other and how a forest is more than what the human eye sees.
Franklin in conclusion highlighted ongoing projects from the Office for Sustainability, such as the "Sustainability Adelante" podcast series, its TikTok account and film series, which can both be accessed on the Office for Sustainability website.
The Office for Sustainability on Nov. 17 will hold a virtual screening of Intelligent Trees to conclude this year's Arbor Day events.
ABOUT UTRGV
The University of Texas Rio Grande Valley (UTRGV) was created by the Texas Legislature in 2013 as the first major public university of the 21st century in Texas. This transformative initiative provided the opportunity to expand educational opportunities in the Rio Grande Valley, including a new School of Medicine, and made it possible for residents of the region to benefit from the Permanent University Fund – a public endowment contributing support to the University of Texas System and other institutions.
UTRGV has campuses and off-campus research and teaching sites throughout the Rio Grande Valley including in Boca Chica Beach, Brownsville (formerly The University of Texas at Brownsville campus), Edinburg (formerly The University of Texas-Pan American campus), Harlingen, McAllen, Port Isabel, Rio Grande City, and South Padre Island. UTRGV, a comprehensive academic institution, enrolled its first class in the fall of 2015, and the School of Medicine welcomed its first class in the summer of 2016.