Friday, November 5, 2021
  Community
By Letty Fernandez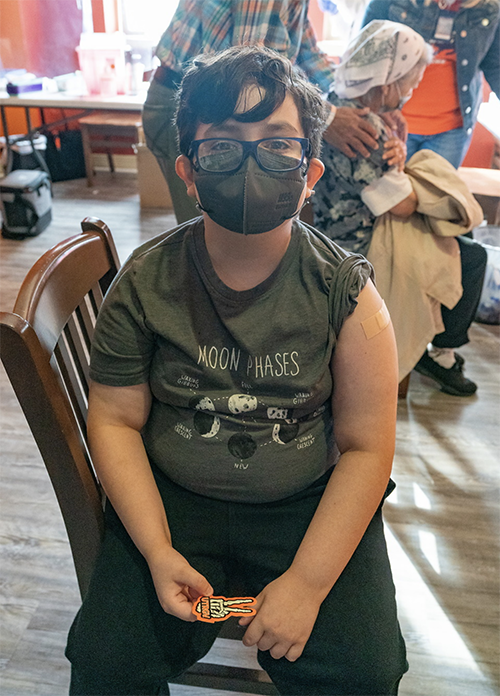 RIO GRANDE VALLEY, TX – Nine-year-old RJ Valdez and his mother, Jennifer, were among the first to arrive at 9:30 a.m. to get his first dose of the Pfizer COVID-19 vaccine at the UT Health RGV pop-up vaccine site in Brownsville.
UT Health RGV began offering the pediatric Pfizer COVID-19 vaccines on Friday for children ages 5 through 11 at UTRGV's Casa Bella Apartments.
"It was pretty cool," RJ said. "I am happy to get the vaccine so I can see my friends because right now I only see them on my iPad. It's very hard. I am feeling very happy now."
The CDC on Nov. 2 approved vaccinations for the 5-11 age group. Next week, UT Health RGV has scheduled clinics in Edinburg and Harlingen. Children who get the first dose will need a second dose of the vaccine three weeks after their first shot.
Dr. Cristel Escalona, a pediatrician and chief of pediatrics for the UTRGV School of Medicine, said she is extremely excited and happy that these youngsters are finally getting the chance to get the vaccine.
"We all know and understand if we get this population vaccinated, we have a real chance of bringing down the numbers and bringing down the amount of damage that COVID-19 does to our communities," Escalona said.
Being on the front lines and working in the hospitals, Escalona said, she saw firsthand how COVID-19 affected children. 
"We had plenty of kids with COVID-19 in the hospitals and some that had to be transferred when they became very ill. I am really hoping much of the community considers vaccinating their children as an extra layer of protection," Escalona said.
Maria Rodriguez, from Brownsville, said she feels a sense of relief now that her 10-year-old daughter, Jocelyn, received the pediatric vaccine.
"I was very worried every day when she would go to school, always making sure she had her mask, and then sometimes she would come home without her mask," Rodriguez said. "Her brother is a student at UTRGV, and he encouraged her to get the vaccine. He signed her up. It was important for all of us to get vaccinated."
For Jacqueline Castillo and her family, the wait is over.
"I am very happy. We have been waiting for a while and my son, Ociel, was the only one who had not received the vaccine. We are still going to be careful, but he has the vaccination now and he will be protected."
UT Health RGV also is giving first-, second- and third-dose Pfizer and Moderna vaccines to children and adults 12 years of age and older. Those 12 and younger must be accompanied by a parent or guardian to get the vaccine.
To make an appointment to have your child vaccinated against COVID-19, log onto uthealth.org/vaccine or call 1-833-UTRGVMD.  
ABOUT UTRGV
The University of Texas Rio Grande Valley (UTRGV) was created by the Texas Legislature in 2013 as the first major public university of the 21st century in Texas. This transformative initiative provided the opportunity to expand educational opportunities in the Rio Grande Valley, including a new School of Medicine, and made it possible for residents of the region to benefit from the Permanent University Fund – a public endowment contributing support to the University of Texas System and other institutions.
UTRGV has campuses and off-campus research and teaching sites throughout the Rio Grande Valley including in Boca Chica Beach, Brownsville (formerly The University of Texas at Brownsville campus), Edinburg (formerly The University of Texas-Pan American campus), Harlingen, McAllen, Port Isabel, Rio Grande City, and South Padre Island. UTRGV, a comprehensive academic institution, enrolled its first class in the fall of 2015, and the School of Medicine welcomed its first class in the summer of 2016.