New facility expected to receive patients in November

  Tuesday, October 26, 2021
  Research, Community
By Dimitra Trejo
The UTRGV School of Medicine, together with its clinical arm UT Health RGV, officially opened its Institute of Neuroscience (ION) with a ribbon-cutting event on Tuesday.
The institute, which broke ground in 2019, is an all-encompassing research, education, clinical care and community partnership facility with the goal of transforming brain health for the Rio Grande Valley community.
ION will bring advanced care and training in specialized neurological medical treatments and research to the Valley.
UTRGV President Guy Bailey said partnerships with the South Texas Medical Foundation – which gifted the 35 acres on which the institute is being built – the City of Harlingen, and the Valley Baptist Legacy Foundation, which contributed $15 million to support the operations of the institute, have made it possible to bring ION to fruition.
"The Institute of Neuroscience is really transformative, for the UTRGV School of Medicine and for the Valley," Bailey said. "This building is going to house a lot of folks who are going to transform the lives of the people of the Valley.
"We thank our partners – including the City of Harlingen, the Valley Baptist Legacy Foundation, and the South Texas Medical Foundation – for helping us take this bold step in fulfilling our commitment of improving healthcare in South Texas," he said.
 RESEARCH & EDUCATION
The more than 30,000-square-foot facility houses medical services and research that will serve as critical learning experiences for the university's medical students, and there are plans to start a residency program to train neurologists in the future.
Dr. Ihsan Salloum, UTRGV School of Medicine director for the Institute of Neuroscience, said at the ceremony that those interested in learning and conducting research in neurology will have plenty of unique opportunities.
"We are so excited about training the next generation of neuroscientists here in the Valley," he said. "As a Hispanic-Serving Institution, we will place particular emphasis on working with underrepresented minorities and expanding on an already strong research program, with particular focus on brain diseases that affect our communities."
"We are building a team of multidisciplinary researchers that will bring together biomedical engineers, cognitive neuroscientists, geneticists and computational neuroscientists, along with neuropsychiatrists and neurologists. This will provide the foundation for scientific discoveries to advance brain health. There's so much to look forward to," Salloum said.
SERVICES
Dr. Michael B. Hocker, dean of the UTRGV School of Medicine, said ION fulfills the School of Medicine's mission to provide innovative, high-quality medical resources for the people of South Texas.
"This Institute of Neuroscience is a concrete example of UTRGV's mission to provide leading-edge research, as well as educational and clinical care opportunities to this area of the country," he said. "This is a state-of-the-art facility in South Texas, and we are going to have top-notch researchers and clinicians taking care of patients right here in the Valley."
Dr. Michael R. Dobbs, chair of the Department of Neurology and chief medical officer for UT Health Rio Grande Valley, said the institute's medical providers and the services they will offer through the facility will be top-tier. 
"The  technology at ION will allow physicians to provide leading-edge specialty services and procedures, including advanced magnetic resonance imaging (MRI), high-resolution CT scanning, and positron emission tomography (PET)," he said. "Brain health just got a huge boost in our region, and we should celebrate that."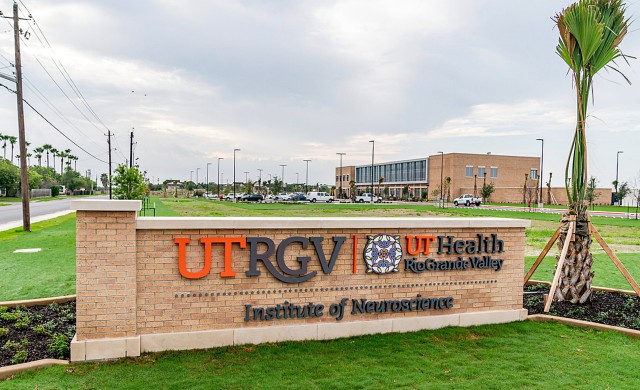 EXCELLENCE
Judy Quisenberry, executive director of the Valley Baptist Legacy Foundation, said ION is yet another example of UTRGV's efforts to bring excellence to the region.
"While none of us could have pictured what the UTRGV medical school would become, the reality is much bigger and better than any of us could have dreamt," she said. "To be the only distributed campus across a broad geography that we all call home is the most inclusive and provides the most access to its students, and that's something to be really proud of."
Attending the ribbon-cutting were Texas Sen. Eddie Lucio Jr. (District 27); Robert and Anne Shepard, Shepard Walton King Insurance Group, and Randy Whittington, president of the South Texas Medical Foundation, for whom the Shepard Whittington Lobby is named; Harlingen Mayor Chris Boswell; and UT System Regent Dr. Nolan Perez.
The Institute of Neuroscience is expected to receive its first patients in November.
For more information on ION, visit https://www.utrgv.edu/school-of-medicine/departments/institute-of-neuroscience/index.htm.
ABOUT UTRGV
The University of Texas Rio Grande Valley (UTRGV) was created by the Texas Legislature in 2013 as the first major public university of the 21st century in Texas. This transformative initiative provided the opportunity to expand educational opportunities in the Rio Grande Valley, including a new School of Medicine, and made it possible for residents of the region to benefit from the Permanent University Fund – a public endowment contributing support to the University of Texas System and other institutions.
UTRGV has campuses and off-campus research and teaching sites throughout the Rio Grande Valley including in Boca Chica Beach, Brownsville (formerly The University of Texas at Brownsville campus), Edinburg (formerly The University of Texas-Pan American campus), Harlingen, McAllen, Port Isabel, Rio Grande City, and South Padre Island. UTRGV, a comprehensive academic institution, enrolled its first class in the fall of 2015, and the School of Medicine welcomed its first class in the summer of 2016.