Tuesday, September 7, 2021
  Community, Around Campus
By Amanda Alaniz
RIO GRANDE VALLEY, TEXAS – Last year, the UTRGV School of Music's hefty schedule of live events on the Edinburg and Brownsville campuses came to an abrupt halt, silenced by the pandemic and the need for safety.  
But as the university's Patron of the Arts program heads into the new academic year, the staff is excited to see the PAC doors open again as they welcome patrons to in-person shows. 
Part of that is made possible with the help of a special grant, called the Shuttered Venue Operators Grant (SVOG) the UTRGV School of Music received – about $36,500 that helps bring in special guests for upcoming events to Edinburg and Brownsville and other necessary operating equipment for the PAC itself.  
The SVOG program was established by the Economic Aid to Hard-Hit Small Businesses, Nonprofits and Venues Act and amended by the American Rescue Plan Act, which is awarding more than $16 billion in grants to shuttered venues affected by COVID-19 to mitigate financial losses during the pandemic.   
Dr. Dahlia Guerra, UTRGV assistant vice president of Public Art and Projects and principal investigator on the grant, said thousands of venues were affected during the pandemic and many were forced to close.   
University leaders are excited to see what comes next for the Patron of the Arts, she said, and thankful they will be able to bring enriching programs and performers to the Valley.  
"It's really been my goal as the vice president of Public Art to bring to our community top-notch performances, performers and artists," Guerra said.   
Even through the pandemic, though, Patron of the Arts staff have worked hard to feed the soul and help maintain quality of life, and when it was impossible to have in-person events, the team got creative with delivery options.   
SHARING THE ART AT HOME  
To fill the gap, staff started creating content made available exclusively online via Patron's social media, including YouTube and Facebook.  
Using a mix of new and archived video, audio and print content, they showed concerts, theater and mariachi performances and other music projects were all available at the click of a button.   
Guerra said the team faced challenges, but they worked to find a solution to showcase the arts throughout the pandemic.    
"We did have the rest of the season planned, so we did have to cancel concerts. But I have to give it to this team," she said. "We were super creative with learning how to keep going. Our mission, our goal, was to provide comfort to our community. It was beyond just making music for the fun of it. It wasn't about entertainment or fun – even though, of course, it's what we love to do. It was about bringing comfort to our community."  
They also provided new video series, like "Behind the Curtain" and "Storytime." 
With the "Behind the Curtain" series, staff would take some time to sit down with the artists and hold a short question and answer. And "Storytime" was a reading series geared toward children to keep them engaged during their time at home.   
The virtual efforts came to be known as "Patron@Home: Inspiring Home through the Arts."   
INSPIRING THE AUDIENCE TO CREATE    
Joseph Diaz, UTRGV School of Music production and art facilities manager, said he began to dabble in video production to help create the available content. They were used to working mainly behind the scenes, he said, so "creating" was brand new to them.   
The dedication paid off: They produced more than 90 video projects and pulled in thousands of views.   
"I think it was also to inspire other people to see, 'Hey, we don't have to stop. We can still create things.' It allowed people to connect with other people," he said.    
"We encourage people to not just stop, to find a way to make it happen. We have resources," Diaz said.
Vallerie Hernandez, UTRGV School of Music program coordinator, agrees with colleague Diaz about being resourceful, and encourages the use of online features, like live chats, to help artists build connections with the audience.   
"At a time when a lot of performing arts programs were unable to continue reaching people, we were able to do that through the Patron of the Arts program's online series," she said.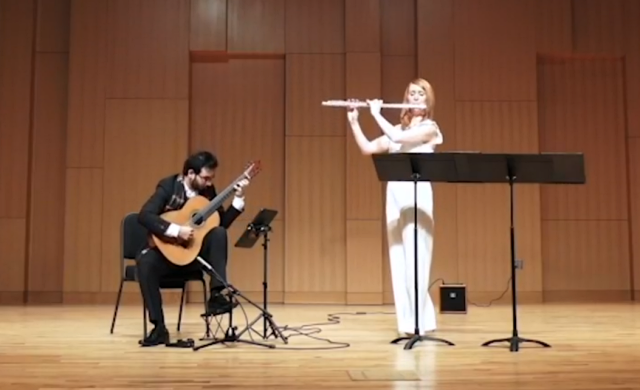 Tony Casas, UTRGV School of Music program manager, said it was important for them to have a social media presence to keep providing content to the university's arts patrons.    
"We've always had that connection with the community, but because we didn't have any live events, the community couldn't interact with the artists after the concert or before," he said. "We were able to pivot and utilize those social media outlets and provide content and a connection with the community, even though we weren't having any live events," Casas said.  
Guerra said the program's efforts to keep the fine arts in rotation were for the community and beyond, but also to keep students motivated and focused on their music.   
"The impact the arts can have on a person's well-being is immense," Guerra said. "The community was suffering, we suffered, we're still suffering. Some people were not working, many were at home and in distress. My hope was that we could make some sort of impact of comfort."   
THIS SEASON   
The 2021-2022 Patron of the Arts season will feature a wide array of musical performances, free of charge through the end of 2021. The staff already is planning to make changes to the PAC, as far as seating and physical distancing is concerned, to make sure everyone feels safe. Patron of the Arts will continue to have some content available online as they fill out the calendar.  
To learn more about what is happening with the Patron of the Arts season, visit utrgv.edu/patron.   
For more information, call one of the box offices at (956) 665-3881 in Edinburg or (956) 882-7025 in Brownsville.
ABOUT UTRGV
The University of Texas Rio Grande Valley (UTRGV) was created by the Texas Legislature in 2013 as the first major public university of the 21st century in Texas. This transformative initiative provided the opportunity to expand educational opportunities in the Rio Grande Valley, including a new School of Medicine, and made it possible for residents of the region to benefit from the Permanent University Fund – a public endowment contributing support to the University of Texas System and other institutions.
UTRGV has campuses and off-campus research and teaching sites throughout the Rio Grande Valley including in Boca Chica Beach, Brownsville (formerly The University of Texas at Brownsville campus), Edinburg (formerly The University of Texas-Pan American campus), Harlingen, McAllen, Port Isabel, Rio Grande City, and South Padre Island. UTRGV, a comprehensive academic institution, enrolled its first class in the fall of 2015, and the School of Medicine welcomed its first class in the summer of 2016.