Thursday, April 1, 2021
  Science & Technology, Around Campus
By Victoria Brito Morales
RIO GRANDE VALLEY, TEXAS – UTRGV will host a virtual NSF INCLUDES Symposium, Advancing Latinas in STEM Academic Careers on April 8 and 9, focused on gender and racial equality in science, technology, engineering and mathematics (STEM) careers.
The free symposium is made possible by a grant from the National Science Foundation's Inclusion across the Nation of Communities of Learners of Underrepresented Discoverers in Engineering and Science (INCLUDES).
"The goal of the symposium is to create space for networking for Latina academics and students pursuing STEM careers, and to share strategies on creating a K-12 pipeline to advance Latinas in STEM," said Dr. Marci R. McMahon, NSF INCLUDES administrative fellow and UTRGV professor of Literatures and Cultural Studies.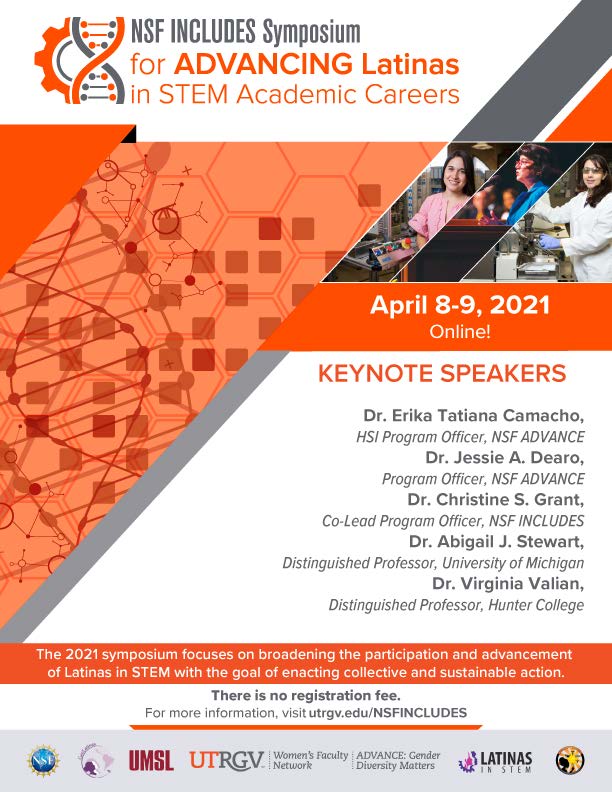 McMahon, who is coordinating the symposium, is joined on the grant by Dr. Ala Qubbaj, principal investigator on the grant and dean of the College of Engineering and Computer Science, and Dr. Marie Mora, co-PI and provost and executive vice chancellor for Academic Affairs at the University of Missouri St. Louis. Mora is a former UTRGV professor of economics.
The symposium will feature presentations that share research, best practices and challenges universities and programs face in recruiting and mentoring Latinas in STEM fields.
This is UTRGV's second symposium; the first symposium was held in 2019 at the Pearl South Padre Island Resort Hotel and attracted 90 presenters and participants from across the country to create a networking space. It was attended by faculty, staff and students wanting to learn more about STEM equity initiatives both locally and nationwide.
"2021's online symposium is a follow up to what we learned at the first symposium," McMahon said.  "And what we learned is that Latinas in STEM are underrepresented in these fields, and that there are definitely challenges and obstacles that they continue to encounter."
This second symposium is intended to create action items to generate sustainable action that universities and other institutions could follow to make change.
Dariana Sagástegui, a UTRGV civil engineering major from Hidalgo, Texas, is part of the symposium planning team, assisting with social media promotion, outreach to student groups and organizational logistics and planning.
"The symposium motivates students, especially Latinas, to stay on the right track and work harder to get a degree and succeed in the field they are working toward," Sagástegui said. "All the success stories of the speakers and the experience they have gathered through their journey will make a huge impact by opening the students' eyes to a broad picture of Latinas in the STEM field. I am a woman, I am Latina, and I am a future engineer."
Qubbaj said the online format of the symposium allows for larger participation.
"As a major HSI, we are excited to host this national symposium at UTRGV and bring together key stakeholders, including Latina scholars and professionals," he said.
According to the NSF, only 7 percent of doctoral degrees are awarded to Latinas.
"This symposium will shine a light on the gaps in representation and the strategies and best practices needed to increase the participation and success of Latinas in STEM academic and professional careers," Qubbaj said.
For more information or to register, visit utrgv.edu/NSFINCLUDES.
ABOUT UTRGV
The University of Texas Rio Grande Valley (UTRGV) was created by the Texas Legislature in 2013 as the first major public university of the 21st century in Texas. This transformative initiative provided the opportunity to expand educational opportunities in the Rio Grande Valley, including a new School of Medicine, and made it possible for residents of the region to benefit from the Permanent University Fund – a public endowment contributing support to the University of Texas System and other institutions.
UTRGV has campuses and off-campus research and teaching sites throughout the Rio Grande Valley including in Boca Chica Beach, Brownsville (formerly The University of Texas at Brownsville campus), Edinburg (formerly The University of Texas-Pan American campus), Harlingen, McAllen, Port Isabel, Rio Grande City, and South Padre Island. UTRGV, a comprehensive academic institution, enrolled its first class in the fall of 2015, and the School of Medicine welcomed its first class in the summer of 2016.