Monday, April 29, 2019
  Media Advisory
By Amanda Taylor
WHEN: May 16-17, 2019
TIME: 3:30 to 8 p.m., May 16; 7:30 a.m. to 3:45 p.m., May 17
WHERE: The Pearl South Padre Resort, 310 Padre Blvd., South Padre Island, TX
SOUTH PADRE ISLAND, TEXAS – Meant to address best practices and lessons to enhance successful STEM careers, The University of Texas Rio Grande Valley will host the NSF INCLUDES Symposium for ADVANCING Latinas in STEM Academic Careers on May 16-17 at The Pearl South Padre Resort.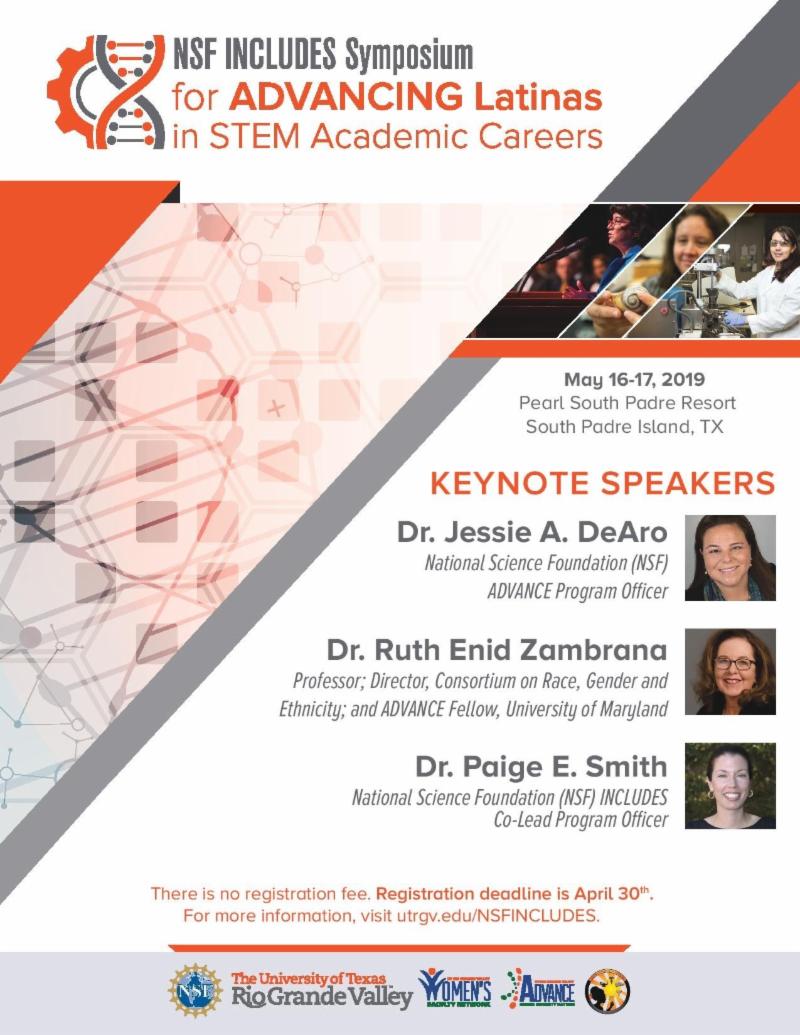 This is the first part of a two-part series that addresses work-life issues, policies/practices, mentoring and climate affect the pathways/pipelines, recruitment, retention and advancement/leadership of Latinas in STEM academic careers. 
Dr. Marci McMahon, NSF INCLUDES administrative fellow and associate professor within the Literatures and Cultural Studies Department in the College of Liberal Arts, said the symposium is important as UTRGV maintains the mission in becoming a bicultural and biliterate university on the border.
"This is the first symposium of its kind focused specifically on this topic," McMahon said. "There have been conferences in STEM where there has maybe been a panel about how to include Latina faculty on campus in STEM careers, but there hasn't actually been an entire symposium on this topic."
The symposium is funded by the competitive National Science Foundation INCLUDES grant, which was granted due to the successful implementation and institutionalization of UTRGV's ADVANCE Program. The symposium was made possible through partnerships with the Office of Faculty Success and Diversity, UTRGV's Women's Faculty Network and the Latina Researcher's Network.
"This national symposium brings together Latinas in STEM, NSF officials, institutions of higher education as well as professional organizations to share ideas and best practices for enhancing the participation and advancement of Latinas in STEM academic and professional careers," said Dr. Ala Qubbaj, principle investigator of the grant and dean of the College of Engineering and Computer Science.
"As a premier Hispanic-Serving Institution (HSI), we (at UTRGV) are taking a leadership role at the national level to enhance opportunities for Latinas (including our students) and promote their success and advancement."
Representatives from NSF, Dr. Jessie A. DeAro, NSF ADVANCE program officer; Dr. Ruth Enid Zambrana, director of the Consortium on Race, Gender and Ethnicity and ADVANCE fellow at the University of Maryland; and Dr. Paige E. Smith, NSF INCLUDES co-lead program officer, will be guest speakers at the symposium. 
Dr. Marie Mora, co-principle investigator of the NSF INCLUDES grant and professor of Economics, said the symposium is important to the area's population demographics in finding ways to enhance the success of traditionally underrepresented groups in STEM, including Hispanics and women.
"This symposium is of particular interest to UTRGV and our region as Hispanics represent 89% of our study body, the majority of whom (approximately 57%) are women," Mora said. "What we learn through the symposium can be adopted and implemented on our own campus to increase the inclusion and success of our students interested in STEM. Moreover, bringing together successful Latinas in STEM careers will provide our students with additional examples of role models from around the country."
Those interested in the symposium are required to register by Tuesday, April 30. There is no registration fee and meals will be provided during the symposium.
More information, including the link to the registration form, can be accessed by visiting utrgv.edu/nsfincludes.
ABOUT UTRGV ADVANCE
With the generous support of the National Science Foundation (NSF), The University of Texas Rio Grande Valley has embarked on a 5-year institutional transformation project aimed at increasing the representation and advancement of women, especially Hispanics, in STEM fields. The project started in October 2012 with several integrated initiatives designed to enhance the recruitment, retention, and promotion of women faculty at UTRGV. Our ultimate goal is to create a supportive workplace and a family-friendly climate that attracts and nurtures the careers of all faculty.
ABOUT UTRGV
The University of Texas Rio Grande Valley (UTRGV) was created by the Texas Legislature in 2013 as the first major public university of the 21st century in Texas. This transformative initiative provided the opportunity to expand educational opportunities in the Rio Grande Valley, including a new School of Medicine, and made it possible for residents of the region to benefit from the Permanent University Fund – a public endowment contributing support to the University of Texas System and other institutions.
UTRGV has campuses and off-campus research and teaching sites throughout the Rio Grande Valley including in Boca Chica Beach, Brownsville (formerly The University of Texas at Brownsville campus), Edinburg (formerly The University of Texas-Pan American campus), Harlingen, McAllen, Port Isabel, Rio Grande City, and South Padre Island. UTRGV, a comprehensive academic institution, enrolled its first class in the fall of 2015, and the School of Medicine welcomed its first class in the summer of 2016.