Tuesday, December 29, 2020
  Community
By News and Internal Communications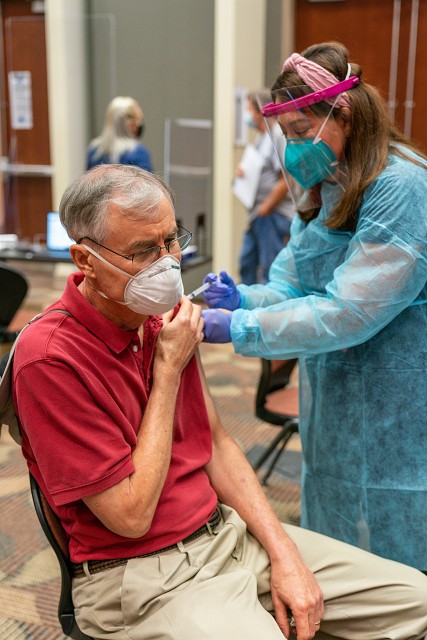 RIO GRANDE VALLEY, TEXAS – Today marked the first day UTRGV started the administration of the Moderna COVID-19 vaccine in Mercedes and Harlingen to continue its commitment of vaccinating the Rio Grande Valley.
Moderna's COVID-19 vaccine – the second vaccine granted emergency authorization by the federal government – arrived Monday, Dec. 28, at the UT Health RGV/Knapp Family Health Center in Mercedes and the UTRGV Clinical Education Building in Harlingen.
Dr. Adela Valdez, MD, MBA, associate dean of Special Programs and professor of the Department of Family and Preventive Medicine for the UTRGV School of Medicine, who received the Moderna vaccine in Harlingen on Tuesday, said she got vaccinated to protect not only herself, but also her family and community.
"I'd like to thank UTRGV School of Medicine for providing this vaccine not only to myself, but, most importantly, to the healthcare providers that are risking their lives," Valdez said.
Rachel Garcia, and her husband, Alejandro Garcia, both retired and lifelong residents of Edinburg, drove to Mercedes to get their vaccines, and admit they got lost on the way but were so relieved when they finally were administered the much-coveted vaccine.
"We were looking very much forward to it," Rachel said. "This is a godsent. This is a blessing."
Rachel said she was so grateful for the opportunity to get the vaccine early as both she and Alejandro have underlying medical issues.
"We have been terrified of this disease. We know people, very well, that have died," Rachel said.
"Everybody has to be willing to take the vaccine so that everybody can be safe, and we can put an end to this pandemic."
The Moderna vaccinations, by appointment only from 8 a.m.-5 p.m., will continue Wednesday and Thursday at the following locations:
Wednesday, Dec. 30 – UT Health RGV/Knapp Family Health Center, Mercedes and Interdisciplinary Academic Building, Brownsville
Thursday, Dec. 31 — UT Health RGV/Knapp Family Health Center, Mercedes and Clinical Education Building, Harlingen  
UT Health RGV received a total of 900 doses, of which 500 went to Harlingen and Brownsville, and 400 to Mercedes.
The UTRGV School of Medicine and its care team, UT Health RGV, continue to safely and efficiently administer the COVID-19 vaccine based on group prioritization and vaccine availability.
For more information or to fill out the registration form, visit the COVID-19 Vaccine webpage. For the latest in UTRGV operational updates, protocols and guidelines regarding COVID-19, visit the Commitment to Safety and Success webpage.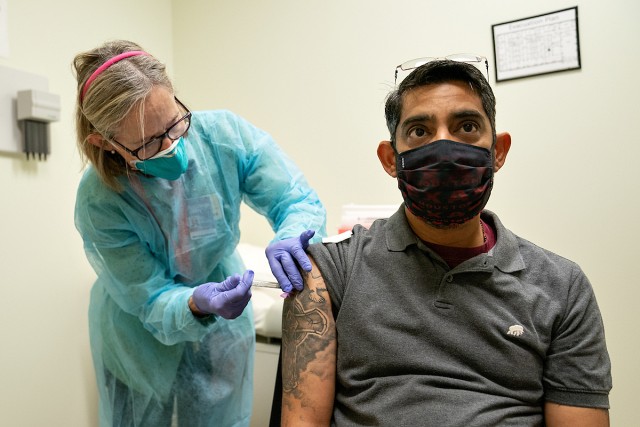 ABOUT UTRGV
The University of Texas Rio Grande Valley (UTRGV) was created by the Texas Legislature in 2013 as the first major public university of the 21st century in Texas. This transformative initiative provided the opportunity to expand educational opportunities in the Rio Grande Valley, including a new School of Medicine, and made it possible for residents of the region to benefit from the Permanent University Fund – a public endowment contributing support to the University of Texas System and other institutions.
UTRGV has campuses and off-campus research and teaching sites throughout the Rio Grande Valley including in Boca Chica Beach, Brownsville (formerly The University of Texas at Brownsville campus), Edinburg (formerly The University of Texas-Pan American campus), Harlingen, McAllen, Port Isabel, Rio Grande City, and South Padre Island. UTRGV, a comprehensive academic institution, enrolled its first class in the fall of 2015, and the School of Medicine welcomed its first class in the summer of 2016.