Monday, December 21, 2020
  Around Campus, Community
By Dimitra Trejo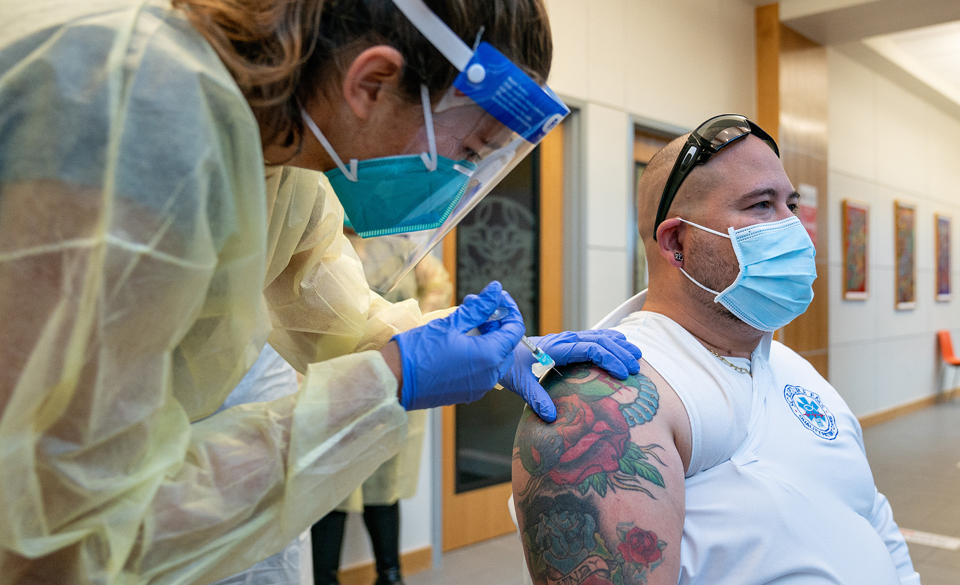 By Dimitra Trejo
RIO GRANDE VALLEY, TEXAS – As UT Health RGV prepares to receive and administer more COVID-19 vaccines in the coming weeks, university medical and physician assistant (PA) students are volunteering to help administer the long-awaited vaccine.
On Monday, an estimated 46 medical and PA students from UTRGV participated in hands-on training on how to administer the COVID-19 vaccines. In addition, the students will be assisting with a call center and the registration of vaccine recipients.
The training of the students will provide some much-needed support and relief to the UT Health RGV care team, who have been in the frontline testing and caring for patients since the start of the pandemic and are now working to administer the first doses of the Pfizer vaccine to other healthcare workers and first responders. UTRGV received 1,950 COVID-19 vaccines on Dec. 15, and immediately began inoculating the university's frontline workers. 
Students are expected to begin volunteering and providing support as early as Wednesday.
"We are calling on our medical students to help with this large-scale effort to vaccinate more individuals, from the most vulnerable patients to essential workers to the general public, in the weeks and months ahead," said Dr. John H. Krouse, UTRGV executive vice president for Health Affairs and dean of the UTRGV School of Medicine. "Our medical students have a unique opportunity to lead and to serve our community through one of the most challenging public health crises of our time."
The volunteers who participated in today's training were also given the opportunity to receive the vaccine to be ready to hit the frontlines and begin administering the vaccine when called upon.
One volunteer who is excited to be training for this moment is Alberto de Jesús López Juarez, a UTRGV first-year medical student.
"This is a historic moment and I would love to take part in it," said Juarez. "We have to keep in mind that the vaccines came out in less than a year, so for me to be able to help stop COVID-19 makes me feel really good. This is exactly why I'm attending medical school."
Krouse said this training is a great opportunity for these future physicians and PAs to prepare for future outbreaks that may occur during their careers.
"The involvement of our medical students during this time will provide much needed relief from the stress and physical demands that have been placed on so many of our healthcare heroes that have been working around the clock since the start of this pandemic," said Krouse.
For more information, visit the UT Health RGV and Commitment to Safety and Success webpages for the latest operational update, protocols and guidelines regarding COVID-19.
ABOUT UTRGV
The University of Texas Rio Grande Valley (UTRGV) was created by the Texas Legislature in 2013 as the first major public university of the 21st century in Texas. This transformative initiative provided the opportunity to expand educational opportunities in the Rio Grande Valley, including a new School of Medicine, and made it possible for residents of the region to benefit from the Permanent University Fund – a public endowment contributing support to the University of Texas System and other institutions.
UTRGV has campuses and off-campus research and teaching sites throughout the Rio Grande Valley including in Boca Chica Beach, Brownsville (formerly The University of Texas at Brownsville campus), Edinburg (formerly The University of Texas-Pan American campus), Harlingen, McAllen, Port Isabel, Rio Grande City, and South Padre Island. UTRGV, a comprehensive academic institution, enrolled its first class in the fall of 2015, and the School of Medicine welcomed its first class in the summer of 2016.