'That, for me, is everything'

  Thursday, December 10, 2020
  Community, Around Campus
By Maria Elena Hernandez
RIO GRANDE VALLEY, TEXAS – Johnny Galvan Jr. remembers living on popcorn and noodles as a college student. His daughter – and soon-to-be UTRGV graduate Carmen Elena Galvan – has had a much different experience.
Between her work on the UTRGV Campus Food Security Initiative and her Simple Eating YouTube channel, the Brownsville native makes healthy eating a priority.
"I need to adopt some of those eating habits," joked the elder Galvan, himself a UTRGV legacy alumnus.
He supported his daughter as she honed her cooking skills at the Culinary Arts School, at The Art Institute of San Antonio, but he also suspected there would be more classes in her future.
"I knew that wasn't the end for her, because she just had so much to offer and to explore," he said.
Soon, Carmen Elena announced her plans to attend UTRGV.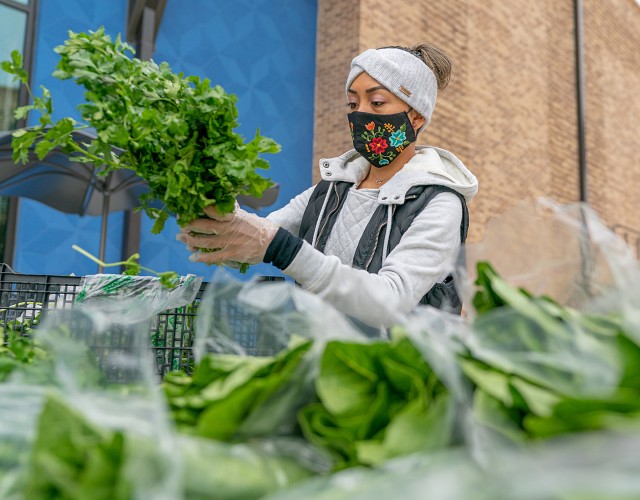 "She told me, 'I'm going to go for mass communication and don't change my mind,'" her father said with a laugh.
Carmen Elena is hoping to become a news reporter and anchor.
"I think UTRGV has prepared me in so many ways, even in ways that I didn't even think I was capable of when I first started at UTRGV," she said. "I started learning more in the field. I started learning how to edit videos, how to film, how to do photography and how to speak on camera." 
Her work this year on the UTRGV Campus Food Security Initiative combined her interests of mass communication and healthy eating. She has recorded cooking demos and provided video updates from the university's Produce & Fresh Meals Stands for the initiative's social media accounts.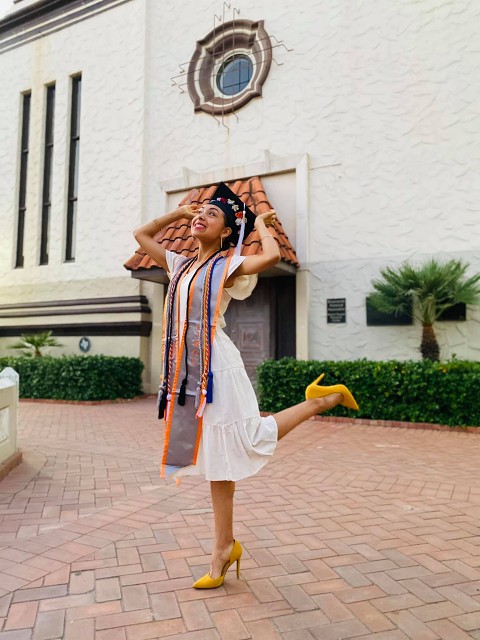 "With the campus food security initiative, Jayshree Bhat (UTRGV assistant vice president for Professional Education and Workforce Development) has opened me up and gotten me out of my shell, in a way, and just launched me to do projects. That really helped me get rid of my shyness," Galvan said.
She continued her work with the food distribution on Fridays but missed the usual campus interactions due to the COVID-19 pandemic.
"That's been very, very challenging because I love being with people and being around people and talking with them," she said.
However, she's still surrounded by her biggest motivators – her mom and dad.
"Every time we have family meetings, that's all he talks about his daughter who's graduating from college," Galvan said. "That's all that my parents speak about with anybody, and I'm super, super happy that I get to make them happy. So that, for me, is everything."
Her father, of course, makes no apologies for being a proud dad.
"I have no doubt that she's going to be successful," he said, "because whatever she wants, she goes and gets it."
ABOUT UTRGV
The University of Texas Rio Grande Valley (UTRGV) was created by the Texas Legislature in 2013 as the first major public university of the 21st century in Texas. This transformative initiative provided the opportunity to expand educational opportunities in the Rio Grande Valley, including a new School of Medicine, and made it possible for residents of the region to benefit from the Permanent University Fund – a public endowment contributing support to the University of Texas System and other institutions.
UTRGV has campuses and off-campus research and teaching sites throughout the Rio Grande Valley including in Boca Chica Beach, Brownsville (formerly The University of Texas at Brownsville campus), Edinburg (formerly The University of Texas-Pan American campus), Harlingen, McAllen, Port Isabel, Rio Grande City, and South Padre Island. UTRGV, a comprehensive academic institution, enrolled its first class in the fall of 2015, and the School of Medicine welcomed its first class in the summer of 2016.