Friday, July 17, 2020
  Research
By Maria Elena Hernandez
RIO GRANDE VALLEY, TEXAS – About 11,000 Texans are waiting for an organ donation, and UTRGV visiting scholar Jie Qu is working on research that could shorten the wait time.
Qu is a PhD student, but not in medicine or biology. He's a student from the China University of Mining and Technology, and is conducting research with the UTRGV Department of Mechanical Engineering.
His work involves laser-assisted 3D bioprinting.
"With this process, we can get an artificial organ or tissue," Qu said. "We are mechanical engineering, so we are mainly focused on the part to precisely control the bioink transfer process to make it more precise and more efficient."
Bioink is a liquid, which includes living cells, used in bioprinting.
Qu has been working with his supervisor, Dr. Ben Xu, a UTRGV assistant professor of mechanical engineering, and also has collaborated with other professors and students in different departments, including the UTRGV School of Medicine.
"Jie has done great work since his day one in this project," Xu said. "The ultimate goal of this research is to provide a new perspective by linking engineering and biology for the 3D bioprinting research community, and improve the cell viability for the laser-induced, forward-transfer-based 3D LAB (laser-assisted bioprinting) process."
"It's cutting-edge research," Qu said.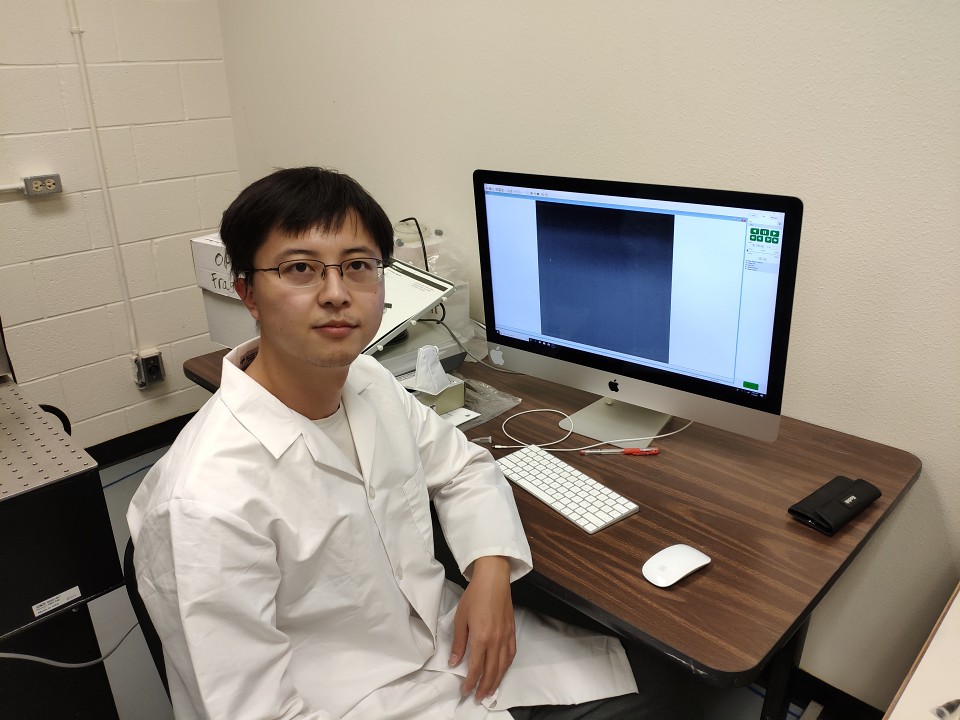 One possible use for the work was bioprinting parts of an eye. However, the COVID-19 pandemic led the doctoral candidate to think about larger possibilities.
"During this pandemic, I'm thinking, 'How could our research work give back to our society to deal with this situation?' I'm thinking maybe, in the near future, we can print some artificial organs, too, like lungs," Qu said.
While the possibilities he sees in the research has expanded, his actual work area did the opposite. The lab he worked in closed due to the COVID-19 pandemic. But Qu continued his work by remotely logging into a lab workstation and running simulations.
Xu, Qu's faculty advisor, said the research already has developed a strategy that "significantly enhanced the quality of 3D laser-assisted bioprinting," and they'll be submitting the work to a top bioprinting and biofabrication journal.
Qu will return to China soon, after more than a year and a half at UTRGV. But the research will continue at the university with Xu and Dr. Jianzhi Li, a professor in the UTRGV Manufacturing and Industrial Engineering Department.
Qu said he is thankful for the chance to be a visiting scholar at UTRGV.
"I really appreciate this opportunity to be here, to communicate with different people from different cultures, different countries, and also to get into this kind of research topic," he said.
To learn more about the research underway, visit the Multiphase Transport Lab website.
ABOUT UTRGV
The University of Texas Rio Grande Valley (UTRGV) was created by the Texas Legislature in 2013 as the first major public university of the 21st century in Texas. This transformative initiative provided the opportunity to expand educational opportunities in the Rio Grande Valley, including a new School of Medicine, and made it possible for residents of the region to benefit from the Permanent University Fund – a public endowment contributing support to the University of Texas System and other institutions.
UTRGV has campuses and off-campus research and teaching sites throughout the Rio Grande Valley including in Boca Chica Beach, Brownsville (formerly The University of Texas at Brownsville campus), Edinburg (formerly The University of Texas-Pan American campus), Harlingen, McAllen, Port Isabel, Rio Grande City, and South Padre Island. UTRGV, a comprehensive academic institution, enrolled its first class in the fall of 2015, and the School of Medicine welcomed its first class in the summer of 2016.