Friday, May 1, 2020
  Around Campus, Community
By Maria Elena Hernandez
RIO GRANDE VALLEY, TEXAS – MAY 1, 2020 – While demand at food banks across the Rio Grande Valley has surged due to the COVID-19 pandemic, the UTRGV Student Food Pantry has only seen an increase in use in the past week.
Many associated with the Student Food Pantry attribute that to two possible factors: students not knowing about the service, and the stigma of using it.
NUMBERS NOW AVAILABLE
A research study presented in December shows that about 44 percent of UTRGV students aren't aware of the food pantry. And that percentage increases among students who identify as food insecure.
Forrest Sparks, a program specialist in the UTRGV Office for Sustainability, said that while definitions of food insecurity vary, he identifies it as "lacking the ability to have access to fresh, affordable, nutritious foods."
He worked with Sustainability Fellows Shreya Udawant, Jeffrey Gomez, Mauricio Peña and research advisor and biology lecturer Dr. Mirayda Torres-Avila on the report about food insecurity among UTRGV students.
While the issue has been recognized at the university, Sparks said, "We didn't have any way to actually solidify what the rate of food insecurity is on campus."
That is not unusual. In a 2018 report, the U.S. Government Accountability Office determined there wasn't enough survey data to get direct estimates for the number of college students with limited or uncertain access to adequate food. 
The April 2019 College and University Basic Needs Insecurity: A National #RealCollege Survey Report says 41 percent of respondents at four-year institutes were food insecure – the largest annual assessment for college students in the nation. But in four years of the study, only one four-year university in Texas was included in 2017.
In spite of the limited data previously available, Sparks said, he wasn't surprised by the outcome of the UTRGV study, which showed 44.2 percent of students are food insecure.
"No, not at all to be honest," he said.
The information collected in the research study already is being used by the Office of Professional Education and Workforce Development in food security initiatives.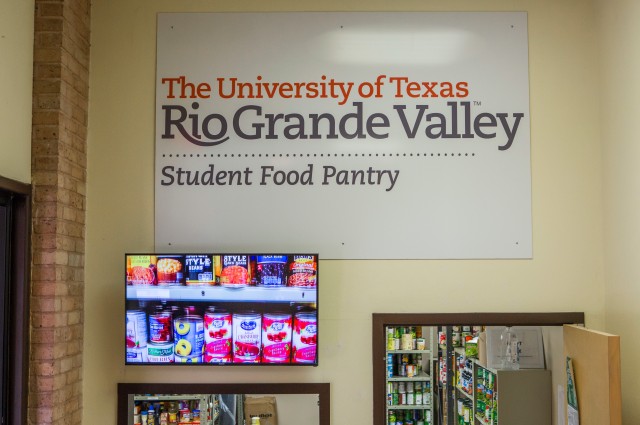 NEW PROCESS IN PLACE
As for the Student Food Pantry itself, UTRGV Senior Associate Dean for Student Rights and Responsibilities Dr. Douglas Stoves said every UTRGV student is eligible to use the food pantry service.
"There are always going to be students who are in need, who will need this service and, quite frankly, depend on it," Stoves said.
To adjust to social distancing guidelines, Student Food Pantry orders are now filled out online, and distribution is restricted to Tuesdays and Fridays at both the Brownsville and Edinburg campuses.
Stoves said the new process is in place to protect students.
For the food pantry staff, which consists of students, it was never a question of not continuing the service.
"To work during this time of social distancing, the student workers didn't hesitate. They really were more concerned with, how is this going to work?," he said.
"You can see it in the way in which they interact with students, they understand that this is a vital service, and people are depending on it," Stoves said.
Food pantry workers pack orders placed online and get them ready for pickup on the designated days. (Prior to changes made because of COVID-19, students filled out a form at the pantry and waited for their orders to be filled.)
"Ordering online might be something we certainly continue for the future, because it makes things for our staff much more predictable. The student also knows when the order is going to be available," Stoves said.
The Student Food Pantry has received several contributions recently, including from the Chinese Student & Scholar Association at UTRGV. Other departments, like UTRGV Athletics and Student Activities, donated food originally ordered for events that have since been canceled.
"The students who are receiving it are pretty dang happy, of course, because chips and those kind of things aren't part of our normal offering," said Stoves.
The UTRGV Student Food Pantry typically offers shelf-stable food that can be stored at room temperature. A list of high-demand items is posted on its website. However, Stoves said some of the items like macaroni and cheese have been difficult to find even at grocery stores.
Food Drive Underway
Richard Sanchez, the UTRGV associate vice president for Governmental Relations, currently is leading a food drive for the Student Food Pantry in the Division of Governmental & Community Relations.
He typically organizes a food drive during the holidays.
"Our folks are used to hearing from me about the food drive," he said. "We've always had students with food insecurity."
Sanchez said he thought of university students when seeing recent headlines about problems the community at large is facing.
"People have lost their jobs and they're not sure where their next meal is going to come from, and they're hitting the food banks. It's no different for our students," he said.
Sanchez is collecting food donations at the ITT Building on the UTRGV Edinburg Campus until Thursday, May 7. He is also offering to pick up donations.
"They can leave it curbside, and I'll swing by and pick it up and deliver it to the pantry," he said. "I think a lot of people want to be able to do something to help, and this is something that everybody can do."
Those interested in having a donation picked up can email richard.sanchez@utrgv.edu.
Monetary donations for the UTRGV Student Food Pantry can also be made. You can choose the Student Food Pantry on the drop-down menu on the university's online donation form.
For more information about the UTRGV Student Food Pantry, visit utrgv.edu/foodpantry.
ABOUT UTRGV
The University of Texas Rio Grande Valley (UTRGV) was created by the Texas Legislature in 2013 as the first major public university of the 21st century in Texas. This transformative initiative provided the opportunity to expand educational opportunities in the Rio Grande Valley, including a new School of Medicine, and made it possible for residents of the region to benefit from the Permanent University Fund – a public endowment contributing support to the University of Texas System and other institutions.
UTRGV has campuses and off-campus research and teaching sites throughout the Rio Grande Valley including in Boca Chica Beach, Brownsville (formerly The University of Texas at Brownsville campus), Edinburg (formerly The University of Texas-Pan American campus), Harlingen, McAllen, Port Isabel, Rio Grande City, and South Padre Island. UTRGV, a comprehensive academic institution, enrolled its first class in the fall of 2015, and the School of Medicine welcomed its first class in the summer of 2016.