Monday, April 20, 2020
  Community
By Amanda Taylor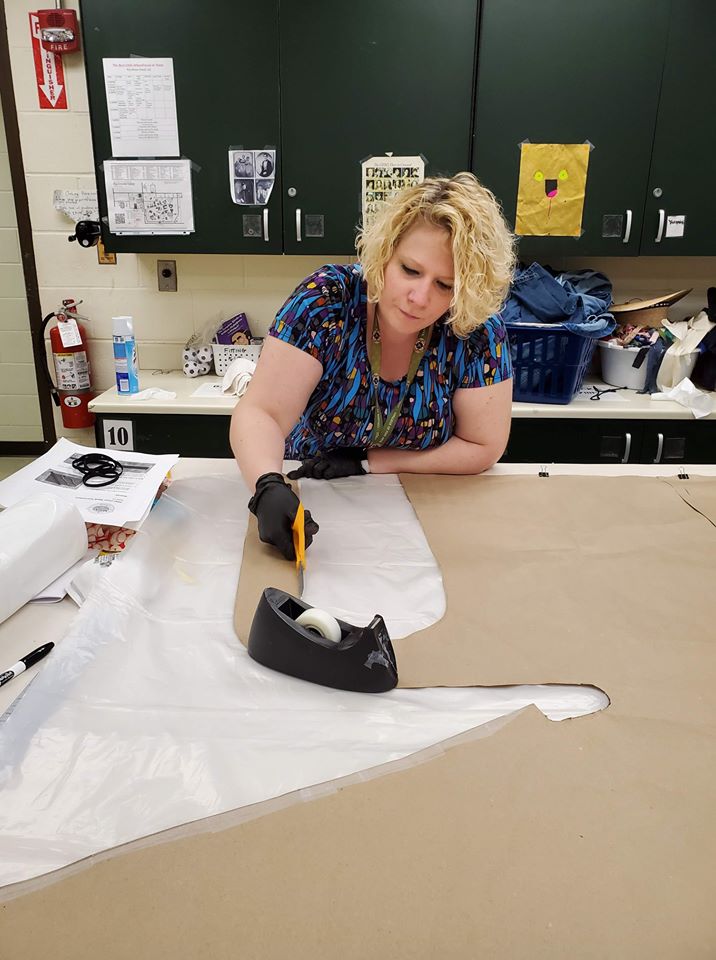 EDINBURG, TEXAS – APRIL 20, 2020 – The UTRGV Theatre Department has been stitching hundreds of face masks, face shields and plastic medical gowns to provide critical protection for the university's frontline workers at the COVID-19 testing site. 
"We were wondering in what ways we could help and knew there was this major need for these kinds of supplies," said Elizabeth Polley, manager of the UTRGV Theatre Department costume shop. "We found out they were running low on personal protective equipment (PPE)."
The need was to cover the 650 students, staff and faculty working at testing sites in Edinburg and Brownsville. Dr. Linda Nelson, senior director of Clinical Operations for the UTRGV School of Medicine, was able to help get the theatre department started by offering suggestions and dropping off materials.
Overall, many of the supplies used to create the items were sourced from the costume shop.
Being a quilter herself, Polley was able to supplement with some of her personal supplies. The elastic and plastic, she said, were some of the harder items to find.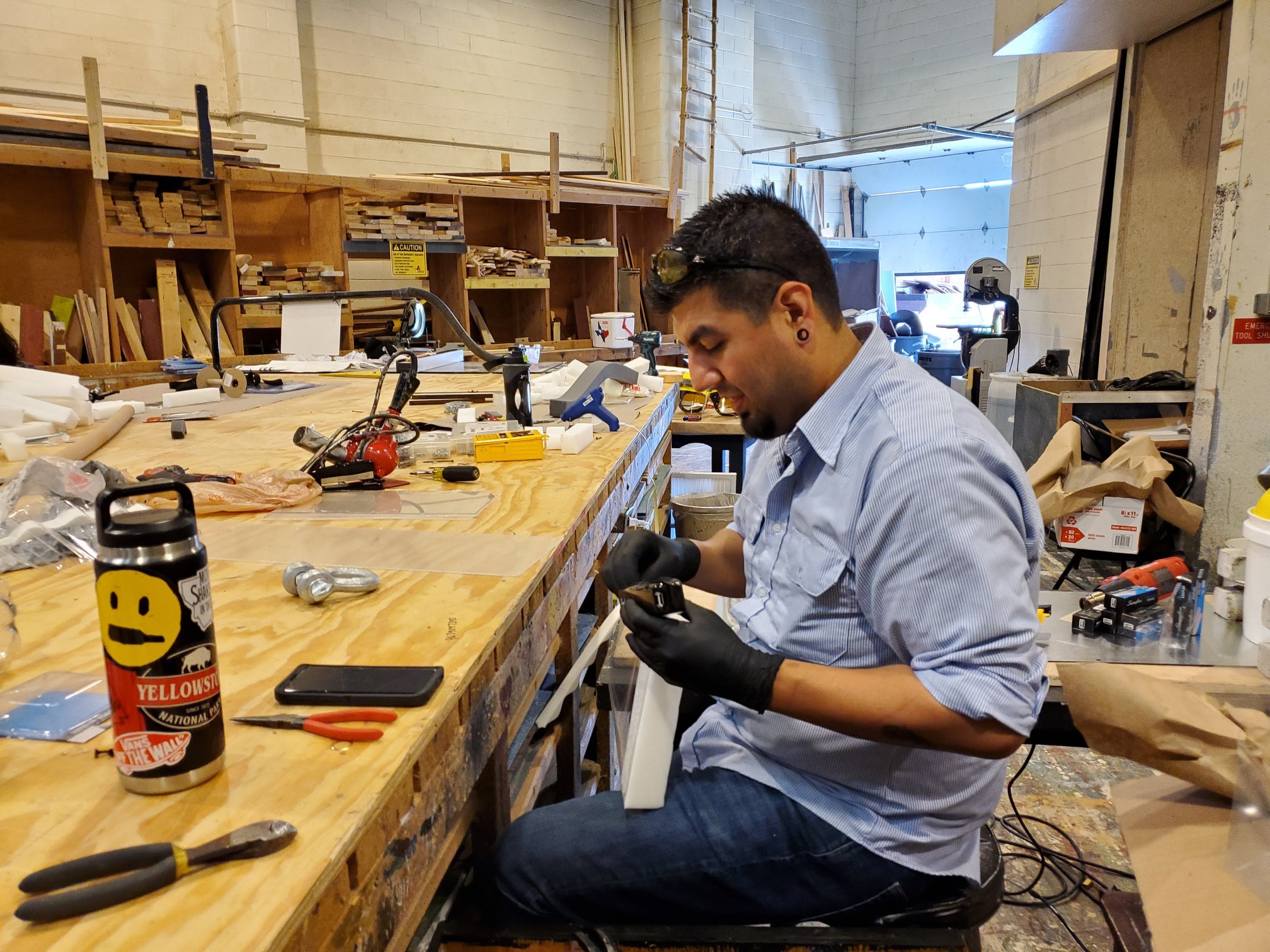 "Nothing that we're doing is meant to replace medical grade equipment, but what we're doing is supplementing to make these things last longer," she said.
Polley estimates that about 20 minutes goes into each face mask, if they are pre-cut, and it takes about 10 minutes to make the face shields since they are easily bound by glue. The plastic medical gowns, however, took a few days to finish.
"It's a lot of cutting and taking precise measurements," Polley said. "The cloth face masks take a lot of time to precut, but stitching them together goes by quickly with a sewing machine."
The cloth masks will not block germs or the potential for contracting a virus entirely on their own, Polley stressed. These masks are to be used as a cover over existing N95 masks being used by health workers.
"They're to help the medical grade masks work longer," she said.
The cloth masks can be washed and reused.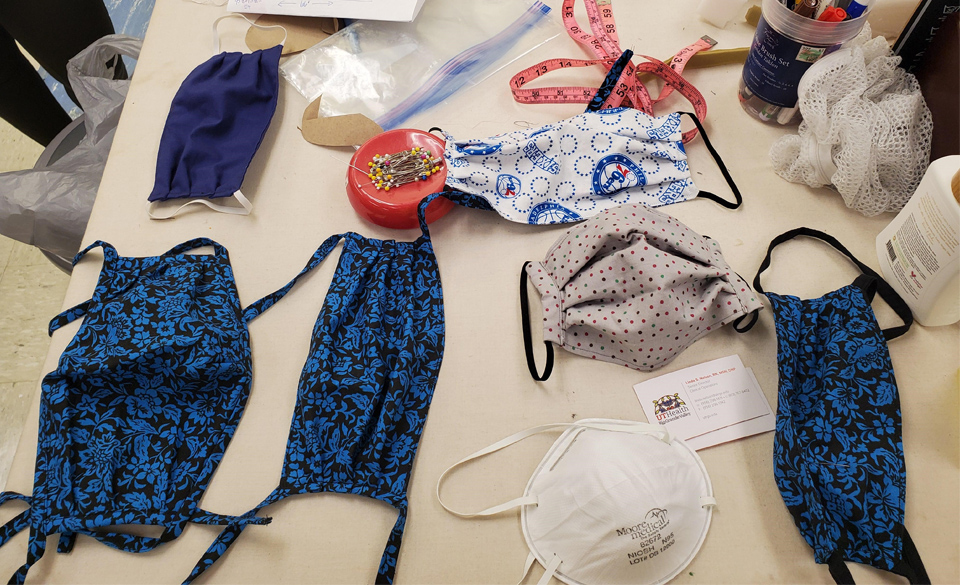 Bianca Boyd, a junior studying theatre design and a costume shop work study, has been working on masks from home. The number of masks that have been requested has been a bit daunting, she said, but once she got started, the process was easier. 
"It's nice to know that we're able to help out," Boyd said. "It's also nice because it gives me something to do in between working on school work from home."
Boyd said she's able to craft anywhere from 20 to 30 masks a day from home. When she runs out of supplies, she's able to pick up more materials, always outfitted in appropriate gear such as gloves and a mask.
The demand for the masks and other equipment has yet to dwindle, Polley said, and she's just grateful to be of service.
"We're not going to cure the disease yet, but we're able to help the people fighting on the front lines," she said. "It gives us a sense of urgency in what we're doing."
ABOUT UTRGV
The University of Texas Rio Grande Valley (UTRGV) was created by the Texas Legislature in 2013 as the first major public university of the 21st century in Texas. This transformative initiative provided the opportunity to expand educational opportunities in the Rio Grande Valley, including a new School of Medicine, and made it possible for residents of the region to benefit from the Permanent University Fund – a public endowment contributing support to the University of Texas System and other institutions.
UTRGV has campuses and off-campus research and teaching sites throughout the Rio Grande Valley including in Boca Chica Beach, Brownsville (formerly The University of Texas at Brownsville campus), Edinburg (formerly The University of Texas-Pan American campus), Harlingen, McAllen, Port Isabel, Rio Grande City, and South Padre Island. UTRGV, a comprehensive academic institution, enrolled its first class in the fall of 2015, and the School of Medicine welcomed its first class in the summer of 2016.