Friday, March 27, 2020
  Community
By News and Internal Communications
By Dimitra Trejo
RIO GRANDE VALLEY, TEXAS – The UTRGV School of Medicine's practice plan, UT Health RGV, the Office of Congressman Vicente Gonzalez (TX-15), Hidalgo and Cameron county leaders, and the City of Brownsville, are working in collaboration to combat the spread of COVID-19 by establishing drive-thru testing sites.
The sites will open starting Monday, March 30, offering COVID-19 testing in Edinburg and Brownsville.
The drive-thru sites will be open to employees, students and the public, and on-site evaluations will be available by appointment only for those 18 years of age or older who qualify after mandatory telephone screening.
To make an appointment, call ahead to the UT Health RGV Patient Communications Center at 1-833 – UTRGVMD (1-833-887-4863) to be screened. 
Telephone screening will be mandatory.
Protocols have been put in place to avoid testing-site congestion; to make sure that test kits will be used for those with severe symptoms; and to ensure that social distancing and other safety protocols are maintained.
Healthcare professionals will be present to ensure that everyone follows the drive-thru testing protocols, and to help avoid the spread of COVID-19.
Individuals without insurance can get screened for COVID-19 at no cost. Results of the tests will be confirmed within days for those tested, and prescriptions for testing will be provided by UTRGV physicians at the point of care.
Individuals should arrive at the UT Health RGV drive-thru testing site with their identification.
Dr. John H. Krouse, dean of the UTRGV School of Medicine and executive vice president for Health Affairs, said that as the number of coronavirus cases increases in Texas and locally, UTRGV is boosting its efforts to provide the Valley community with resources – including over-the-phone evaluations, telemedicine, and the drive-thru testing sites.
"The UTRGV School of Medicine is at the forefront of providing our community with healthcare resources, including COVID-19 testing," he said. "We are proud of our healthcare professionals for stepping up, and we thank Congressman Vicente Gonzalez for being instrumental in making sure we obtained the testing kits necessary to serve our community."
Gonzalez said this is a critical time and, by working together, we can help safeguard the people of the Valley and beyond.
"Drive-thru testing is an evident way to curb the spread of the virus and flatten the curve," he said. "UTRGV is a critical partner in protecting the welfare of South Texans, and I will continue to do everything in my power to ensure that our communities receive the resources and tools they need to combat the COVID-19 pandemic."
UTRGV will continue to work with local and state officials, as well as local hospitals, to ensure that mitigating the spread of COVID-19 and its impact on the community is a priority.
UTRGV President Guy Bailey said the health and safety of the Valley community is of paramount importance during this public health challenge.
"We are thankful to be able to assist in combating the spread of COVID-19 and are extremely grateful to Congressman Gonzalez for his help in making this possible," he said. "Working together, we can significantly impact the spread of the virus."
Krouse said teamwork has been pivotal.
"We are grateful to our partners at the federal, state and local levels for their help in making this possible," he said.
For additional questions about symptoms, prescriptions and UTRGV COVID-19 drive-thru appointment times, call 1-833-UTRGVMD and visit the UTRGV COVID-19 website UTRGV.edu/Coronavirus for university updates.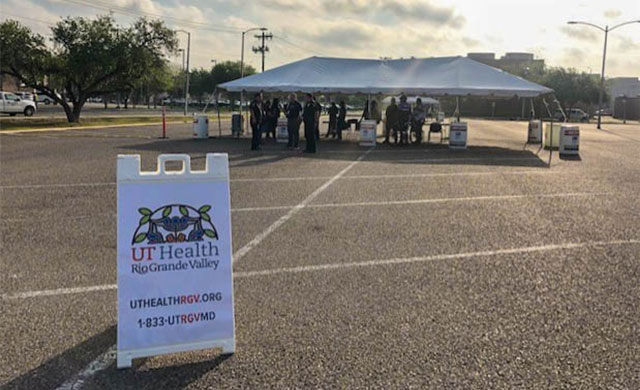 ABOUT UTRGV
The University of Texas Rio Grande Valley (UTRGV) was created by the Texas Legislature in 2013 as the first major public university of the 21st century in Texas. This transformative initiative provided the opportunity to expand educational opportunities in the Rio Grande Valley, including a new School of Medicine, and made it possible for residents of the region to benefit from the Permanent University Fund – a public endowment contributing support to the University of Texas System and other institutions.
UTRGV has campuses and off-campus research and teaching sites throughout the Rio Grande Valley including in Boca Chica Beach, Brownsville (formerly The University of Texas at Brownsville campus), Edinburg (formerly The University of Texas-Pan American campus), Harlingen, McAllen, Port Isabel, Rio Grande City, and South Padre Island. UTRGV, a comprehensive academic institution, enrolled its first class in the fall of 2015, and the School of Medicine welcomed its first class in the summer of 2016.