Wednesday, January 22, 2020
  Community
By Maria Elena Hernandez
RIO GRANDE VALLEY, TEXAS – While many UTRGV students volunteered Jan. 20 for the Martin Luther King Jr. Day of Service, community stewardship for many spans the entire year at a variety of events and with service-learning projects. 
"UTRGV has been really good about giving so many opportunities here in the community," said Viviana Quintero, a UTRGV senior biomedical science major from Brownsville and one of the students who presented last semester at the Microbiology Day event at the Children's Museum of Brownsville.
"It's a way of giving back, so that's something I truly liked," she said.
As part of a course led by UTRGV assistant professor Dr. Upal Roy, Quintero's group spoke to children about bacteria named pseudomonas.
"What we are focusing on is how it affects the population here in Brownsville and in the Rio Grande Valley," she said.
Other students at the event spoke to families about avoiding germs and cleaning a wound.
SHARING KNOWLEDGE
Roy said he and the university care deeply about the community.
"I wanted to have this community service as a part of the curriculum, because the understanding is that what we learn in our classes should be shared with the community," he said.
The health and biomedical sciences assistant professor said children are very effective in distributing such information.
"Children are always talking to the grandma and children talk to their parents and children also talk to their siblings. So, it's just the easiest way to spread the information," he said.
But presenting information to children sometimes requires a shift in how university students approach the topic. And that can be a challenge.
"In the class, it's a very scientific language … to understand the mechanisms, understand the disease process. But when we go out in the community, we wanted to tell people about this particular scientific knowledge in a simplified form," he said.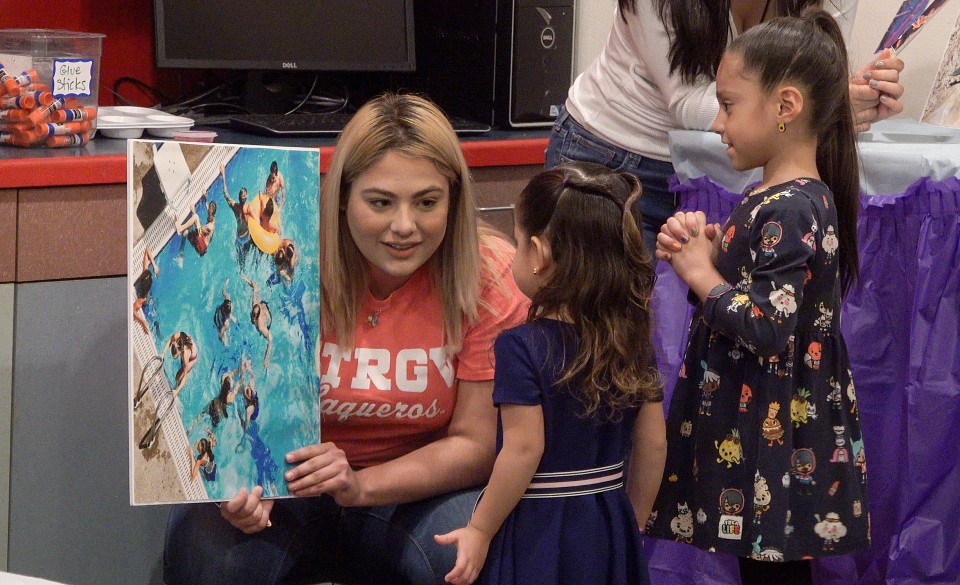 BENEFITTING THE COMMUNITY
At the museum event, children learned by making crafts, looking through microscopes and touching slime, as Christy Lerma, manager of The Children's Museum of Brownsville, looked on.
"It's very engaging and rewarding for the community and the museum," she said. 
Therese Baldado, a UTRGV senior from Mission who is majoring in biomedical science, taught children about e. coli.
"We're basically giving tips to parents and children on how to prevent e. coli infections," she said. "I think teaching children at a young age helps prevent them from contracting illnesses, so that's an important part of preventing illnesses in the Valley."
LEARNING TOGETHER
The children and their parents weren't the only ones learning through the presentations.
"It's always a two-way street," Roy said. "Over the years, what I have seen from students when they go to do this kind of service is, they came back with a lot more information than we ever expected."
He also said students enjoy seeing the direct impact of sharing their knowledge.
"We are still building this curriculum in such a way that we see the community benefits, while our students are learning during the process," he said.
Community engagement is one of UTRGV's core priorities, so students have numerous opportunities to participate in service-learning projects. The Engagement Zone website keeps track of service-learning work and connects students with community partners for volunteer opportunities.
ABOUT UTRGV
The University of Texas Rio Grande Valley (UTRGV) was created by the Texas Legislature in 2013 as the first major public university of the 21st century in Texas. This transformative initiative provided the opportunity to expand educational opportunities in the Rio Grande Valley, including a new School of Medicine, and made it possible for residents of the region to benefit from the Permanent University Fund – a public endowment contributing support to the University of Texas System and other institutions.
UTRGV has campuses and off-campus research and teaching sites throughout the Rio Grande Valley including in Boca Chica Beach, Brownsville (formerly The University of Texas at Brownsville campus), Edinburg (formerly The University of Texas-Pan American campus), Harlingen, McAllen, Port Isabel, Rio Grande City, and South Padre Island. UTRGV, a comprehensive academic institution, enrolled its first class in the fall of 2015, and the School of Medicine welcomed its first class in the summer of 2016.