Tuesday, December 10, 2019
  Around Campus
By Amanda Taylor
RIO GRANDE VALLEY, TEXAS – The hardest thing for Gabriel Carrizales, then a sailor in the U.S. Navy, wasn't the time he spent overseas. It was a Red Cross message he received in 2009 while he was thousands of miles from home, deployed in the mountains of Afghanistan.
His younger brother Valentín, just 13, was dying of heart failure. Gabriel called home immediately and was on the phone with the boy when he died.
"I was unable to be there for my brother, and I will never forget the horrible feeling of helplessness as I heard his last breaths over the phone," Carrizales said. "Now I hope to become a cardiologist to make a difference in the lives of people who suffer from heart complications, like my brother once did."
Carrizales, now 31 and about to graduate from UTRGV, will walk across the stage with a master's degree in health science. But he will not do it alone.
His mother, Criselda Garcia, is also graduating, also with a master's in health science with a concentration in health care administration.
Criselda previously had walked at commencement in 2015 when she earned a bachelor's degree in social work, the same semester that her daughter, Selina Garcia, got a bachelor's degree in political science. The mother-daughter duo walked together in the last UTPA commencement.
In fact, it has been higher education – at UTRGV and legacy institution UT Pan American – that has helped this family move forward after numerous personal crises and solidified the spirit of altruism in all three of them.
"Following my younger brother's passing and the divorce of my parents, UTRGV became a place of refuge," Selina said. "My mom and I walked during our undergraduate ceremony, and I am thankful that my mother and older brother will also have that experience, getting their master's degrees together this commencement."

Selina currently is pursuing a bachelor of science degree in biology at UTRGV to satisfy medical school prerequisites. Her dream is to become an oncologist, as cancer has affected her life. She already has a master's degree in history, earned in 2018 from UTRGV.
"I have lost my maternal grandmother, maternal grandfather and a friend to cancer, as well as seen two of my aunts diagnosed with breast cancer, so I want to enter the field of oncology to help save lives," the 24-year-old said.
Both Selina and Carrizales are studying for the MCATs (Medical College Admission Test) and plan to apply to the UTRGV School of Medicine to help their dreams of working within the medical field a reality.
Her mother has a similar need to contribute to the greater good.
"As a social worker, I pledged to be an advocate for any child in need," said Criselda, 52. "A degree in health care administration can help me ascend to an administrative role, where I can amend policies to better address the needs of underprivileged youth who may fall through the cracks of the system."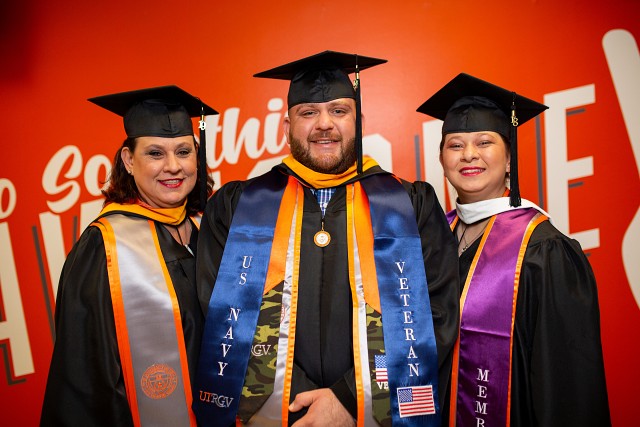 THROUGH GOOD TIMES AND BAD
The family, all from Mission, do everything together. Whether it's cramming in studying time for finals or enjoying a weekend barbecue, the three are inseparable. Even through harder times, the family would turn strife into fuel for studying to achieve their degrees.
"The UTRGV library has been like a second home to my family and me," Selina said. "I can remember us being there so long that we had to be kicked out at closing time when we were undergraduates. The library is an important place to us."
Criselda said that, after Valentín died, she couldn't work for eight years. She fell into a deep depression, but her daughter convinced her to go back to school.
"When Selina graduated from high school and she was going to start at the university, she was just like, 'Mom, there's no excuse, we're going,'" Criselda said. "So, I was like, OK, we're going."
In a sense, she became her own patient through her studies, she said. She was able to understand her depression and helped herself grieve by reading about the emotional spikes that occur while mourning the loss of a child.
"I would highlight notes and go back and read them when I was feeling the depression coming back," she said. "It doesn't get better, but you learn how to adjust to it."
She is an advocate now for parents who have lost children.
As a single mother, Criselda often feared she would not be able to feed her family. But they found some relief in some of the services UTRGV offers, like the Food Pantry, and the Military and Veterans Success Center for Carrizales, now a Navy veteran.
"As a veteran, I struggled at first with the transition into civilian life," he said. "The Military and Veterans Success Center on campus helped facilitate my transition into a full-time student, and I was hired as a work-study soon thereafter. Being around fellow student veterans really made things easier, along with my family being with me every step of the way."
Carrizales is now employed as a program coordinator within the Military and Veterans Success Center on the UTRGV Brownsville Campus, where he is able to help serve other veterans.
As Carrizales and his sister, Selina, start the process of getting into medical school, the family reflects on the obstacles they've overcome. Always, they keep Valentín in their hearts.
"We have tattoos in his honor," said Criselda, displaying a Tasmanian devil with the words "Vale Boy," a nickname for her late son, on her forearm. "The tattoo is on the right side, so when we are reaching out to get our diplomas, he's right there with us."
Criselda and Carrizales will take part in the commencement ceremonies at 9 a.m. Saturday, Dec. 14, at the Bert Ogden Arena in Edinburg.
Selina will be in the audience, watching, and remembering.
ABOUT UTRGV
The University of Texas Rio Grande Valley (UTRGV) was created by the Texas Legislature in 2013 as the first major public university of the 21st century in Texas. This transformative initiative provided the opportunity to expand educational opportunities in the Rio Grande Valley, including a new School of Medicine, and made it possible for residents of the region to benefit from the Permanent University Fund – a public endowment contributing support to the University of Texas System and other institutions.
UTRGV has campuses and off-campus research and teaching sites throughout the Rio Grande Valley including in Boca Chica Beach, Brownsville (formerly The University of Texas at Brownsville campus), Edinburg (formerly The University of Texas-Pan American campus), Harlingen, McAllen, Port Isabel, Rio Grande City, and South Padre Island. UTRGV, a comprehensive academic institution, enrolled its first class in the fall of 2015, and the School of Medicine welcomed its first class in the summer of 2016.