RECIPE: A dash of experience, a pinch of vision – and a heapin' helpin' of hard work

  Thursday, September 26, 2019
  Community
By Letty Fernandez
BROWNSVILLE, TEXAS – A year ago, UTRGV alums Hector Zavala and his fiancée, Diana Medina, saw an opportunity.
Hector was busy restoring an old pharmacy on Washington and East 11th streets. Not far from that property was a restaurant that had closed. The building was vacant and needed some work.
"We had a lot of conversations between me and my girlfriend and our families. What would you do here? What do you think is needed? So, we said, let's try it out. Let's see," Zavala said.
Medina said that, at first, they talked about opening a bakery.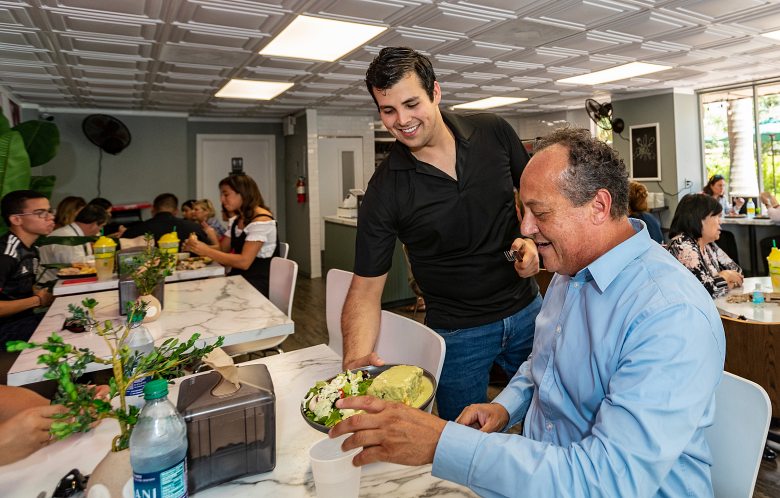 "But we wanted a place where families could come and walk around Market Square," she said. "My family has restaurants in Matamoros, so with my experience and Hector's enthusiasm, we worked it out."
Zavala, who graduated with a BBA in Management in 2016, and Medina, who earned a BS in Psychology in 2019, both knew there would be challenges, but that the potential was vast.
"We knew that downtown was getting there and had the crowds. We have seen a lot of progress, the historical restoration, the new restaurants. It proves that downtown is the place," Zavala said. "There were a lot of people – the naysayers, all the 'what ifs' – but we felt we had to try it and make it work."
After some major renovations to the building, they opened Main Street Deli, 1156 Market Square in downtown Brownsville, on March 27. Eight months later, the restaurant is open Monday through Saturday from 11 a.m. to 8:30 p.m. and attracts a steady stream of hungry customers.
And they are making it work. No social life for this young couple. They put in long hours to ensure that their "comfort food" is good. They arrive early in the morning to prepare for the lunch crowd and stay late in the evening to prep for the next day.
Their early success has allowed them to hire extra staff and cooks to help with the menu, a creative variety of sandwiches, pasta and main dishes like poblano corn bread, sweet or savory crepes and stuffed avocado.
"I have no background in the restaurant business," Zavala said, "but as long as we focus on the kind of customer service we all like to receive, and we continue to provide good food, there is no reason why we can't make it work."
They thought the deli's clientele would be people working in Brownsville's downtown.
"And we have our regulars," Medina said. "But we have new customers coming from up north. That makes us feel good that they're coming to our restaurant. We are thankful for the people and for the responses. It motivates us to keep going and keep making improvements."
Zavala, of Brownsville, and Medina, of Matamoros, know the community well.
They both enrolled in the Kauffman FastTrac program through the UTRGV Entrepreneurship and Commercialization Center. The program equips aspiring and existing entrepreneurs with the business skills and insights, tools, resources and networks to start and grow successful businesses.
"These classes help set you up and create your business plan and everything," said Zavala, who took the English-language version of the program. "UTRGV really helped me, and we are both proud to be alumni."
Both are bilingual, and Medina opted for the Spanish-language program.
"My family gave me the confidence, and the program at UTRGV gave me the tools to learn and succeed," she said.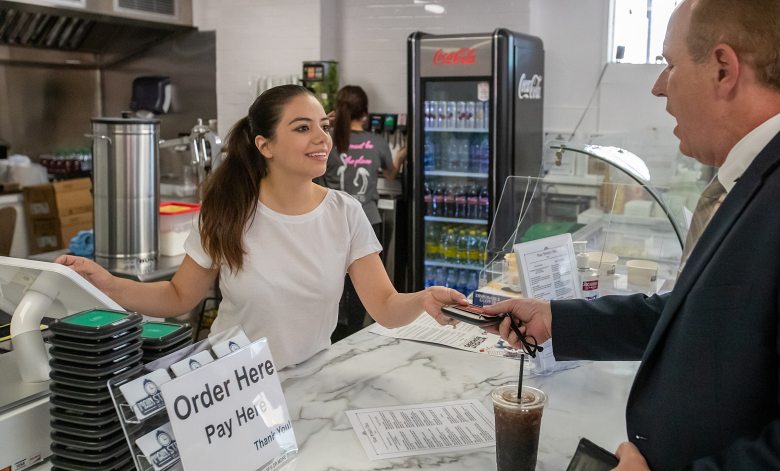 MEAL PREP, LIFE PREP
Zavala and Medina first met in middle school and stayed in contact over the years. A year and half ago, though, friendship turned into a love story.
The day after Medina graduated from UTRGV in May, Zavala proposed. They are planning a November wedding.
"She is my soulmate," he said. "We balance each other."
As their personal lives grow, so do their business lives. That pharmacy Hector was restoring a while back? That soon will become their second restaurant. And Medina wants to go graduate school.
"We need to bring businesses to downtown and be part of the revitalization of downtown Brownsville. So we are happy to be involved," Zavala said. 
Medina is on board 100 percent.
"There is a lot of sacrifice," she said, "but if you're willing to put the work in, if you have the vision and you have support from family and friends, you can make your dreams come true," she  said.
FOR MORE INFORMATION
To learn more about the Kauffman Fast Trac program, call the UTRGV Entrepreneurship and Commercialization Center at (956) 882-4119 or (956) 882-4315, or email ECC@utrgv.edu.
ABOUT UTRGV
The University of Texas Rio Grande Valley (UTRGV) was created by the Texas Legislature in 2013 as the first major public university of the 21st century in Texas. This transformative initiative provided the opportunity to expand educational opportunities in the Rio Grande Valley, including a new School of Medicine, and made it possible for residents of the region to benefit from the Permanent University Fund – a public endowment contributing support to the University of Texas System and other institutions.
UTRGV has campuses and off-campus research and teaching sites throughout the Rio Grande Valley including in Boca Chica Beach, Brownsville (formerly The University of Texas at Brownsville campus), Edinburg (formerly The University of Texas-Pan American campus), Harlingen, McAllen, Port Isabel, Rio Grande City, and South Padre Island. UTRGV, a comprehensive academic institution, enrolled its first class in the fall of 2015, and the School of Medicine welcomed its first class in the summer of 2016.