Tuesday, August 13, 2019
  Announcements, Alumni
By Letty Fernandez
RIO GRANDE VALLEY, TEXAS – The Cradle of the Italian Renaissance – Florence, Italy – provided the backdrop for an unforgettable UTRGV Study Abroad experience this summer for six undergraduate students.
The students were enrolled in an English course to study Dante's Inferno, one of the great classics of Western literature, in Florence, the capital of Tuscany.
"My students read the Inferno," said Dr. Caroline Miles, UTRGV professor of English and coordinator of the Office of Global Engagement Border Studies. "Then, as they explored the city – the art, the museums, churches and other sites of interest – they made connections through their journal writing between Dante's text, art, science, and culture that defined Italy's Renaissance period and that still defines Italy today."
Most days were spent in a classroom discussing the Inferno, thefirst part of Italian writer Dante Alighieri's 14th-century epic poem, The Divine Comedy and writing in their journals. Miles says having a small group of students allowed her to work with the students closely.
"I think their study abroad experience was an effective way to get students to see the importance of writing, as they learn how writing about what they see and experience increases understanding of what they take in and who they are. And that, in turn, enhances their experiences," Miles said. "As I would expect of all study abroad programs, it helped them grow as people."
EXPERIENCES
Weekdays were filled with touring the many sites for which Florence is famous, including the Uffizi Gallery, Galleria dell'Accademia, Dante's House, Palazzo Vecchio, the Duomo, the Cathedral of Florence.
Rocio Quintero, of San Juan, is a UTRGV senior majoring in Studio Art. This was her first trip abroad.
'It's hard to pick one favorite place in Florence, but I have to say it's the Uffizi Gallery where the Birth of Venus and Primavera by Italian artist Sandro Botticelli are displayed. I also saw the Medusa painting, and The Annunciation by Leonardo Da Vinci. As an art student I was blown away by having the opportunity to see them in person," Quintero said.
Students had free time on the weekends to travel to other cities, and took advantage of the opportunity to visit Venice, which they traveled to as a group, as well as Rome, Pisa, Verona, Siena, Lucca and coastal towns.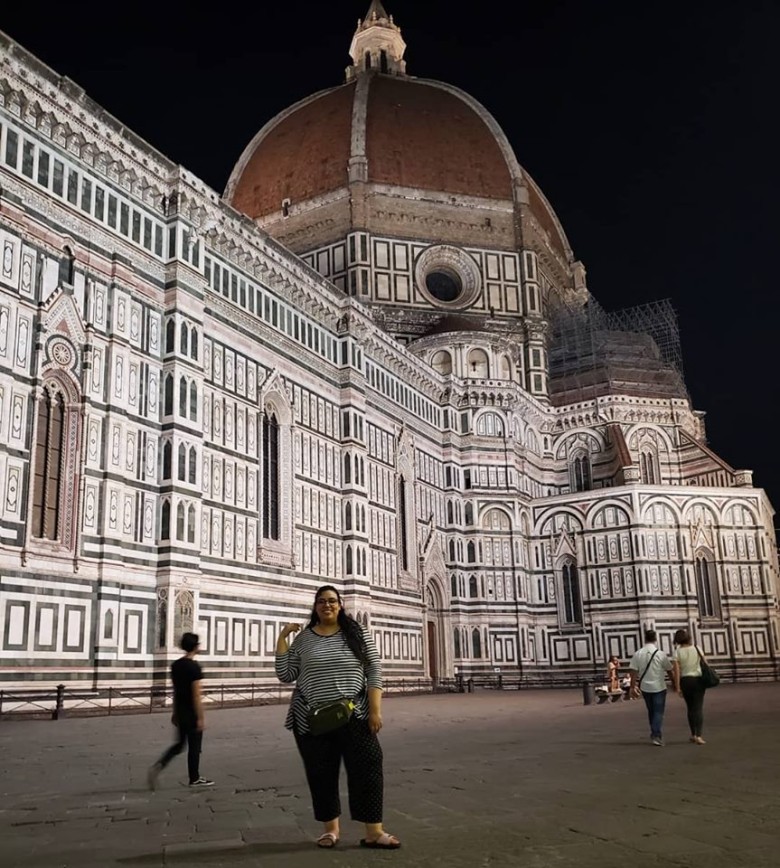 Ravinia Ramirez, of Edinburg, said this was her first trip to Europe, and what she learned went far beyond the classroom.
"My roommates and I lived in an apartment in the middle of the city. We would walk to and from places. We also had to cook and shop for groceries," said Ramirez, a senior majoring in English and Psychology. "I became immersed in Italian culture and life. It felt as though I was living as a true Italian. I will cherish this experience for the rest of my life."
This summer, 170 UTRGV traveled the world, visiting Italy, Mexico, China, Spain, London and South Korea as part of UTRGV's Study Abroad Program.
"I would highly recommend that students study abroad at least once," Miles said. "You will learn more about yourself and get to broaden your horizons by seeing more of the world, but also by pushing yourself out of your comfort zone and daring to try new things."
There are short term and long-term trips available for undergraduate and graduate students to study in the United States and abroad. Students are encouraged to visit the Office of International Programs and Partnerships in the Office of Global Engagement to learn more about the programs.
"I absolutely recommend students do study abroad," Quintero said. "It gives you an opportunity to learn new things, like culture and history. For sure I'll be doing study abroad again."
For more information about the UTRGV Study Abroad Program, visit https://www.utrgv.edu/ipp/study-abroad/index.htm.
ABOUT UTRGV
The University of Texas Rio Grande Valley (UTRGV) was created by the Texas Legislature in 2013 as the first major public university of the 21st century in Texas. This transformative initiative provided the opportunity to expand educational opportunities in the Rio Grande Valley, including a new School of Medicine, and made it possible for residents of the region to benefit from the Permanent University Fund – a public endowment contributing support to the University of Texas System and other institutions.
UTRGV has campuses and off-campus research and teaching sites throughout the Rio Grande Valley including in Boca Chica Beach, Brownsville (formerly The University of Texas at Brownsville campus), Edinburg (formerly The University of Texas-Pan American campus), Harlingen, McAllen, Port Isabel, Rio Grande City, and South Padre Island. UTRGV, a comprehensive academic institution, enrolled its first class in the fall of 2015, and the School of Medicine welcomed its first class in the summer of 2016.