Tuesday, August 6, 2019
  Around Campus, Announcements
By Amanda Alaniz
EDINBURG, TEXAS – A simple, brand-new t-shirt dropped into a decorated donation box can make a big difference for one person.
UTRGV's Psychology Student Alliance for Research (PSAR), along with Edinburg Counseling Student Association, Psychology Club and Office for Victim Advocacy and Violence Prevention, are coming together to collect new clothing to help Mujeres Unidas, a nonprofit organization that helps victims of domestic and sexual assault. 
After forensic exams, victims of sexual assault, usually, must leave their clothing behind as evidence and it becomes part of the case.
Mujeres Unidas aids victims of domestic and sexual assault by giving them comfortable clothing to leave the hospital in. Currently, the organization is experiencing a shortage of clothing to provide to the people they assist.
A member of PSAR and a sexual assault outreach advocate for Mujeres Unidas, Margot Martinez, a UTRGV clinical psychology grad student from Donna, said she approached PSAR President Mauricio Yanez with the idea for the clothing drive.
She explained the victims the organization helps range from babies to teenagers to adults.
"We see so many victims on a daily basis, that the clothes go fast. When we do get a big bulk, it goes incredibly fast, unfortunately," she said. "So, having any kind of donation would really help us."
The drive became Martinez's passion project and she was glad to see others donate and decorate the boxes they needed to collect the clothing.
Yanez, a UTRGV experimental psychology grad student from Brownsville, said he was pleasantly surprised to see other PSAR members were also passionate about the clothing drive's mission, which started July 12.
"It's become one of our top priorities since it started. And all of our members have been eager to help out. They're spreading the word," he said.
Martinez said donated clothing items should be brand new and vary in size.
Types of clothing needed include:
Plain t-shirts.
Leisurewear – sweatpants and yoga pants.
Male undergarments, preferably boxers.
Female undergarments.
"We want them to leave us something comfortable and something a lot of people can wear, like blank t-shirts. It can be of any sizes. We do need a lot of men's clothing. That's the least type of donated clothes we get," she said.
The donation boxes can be found around the Edinburg campus –  Liberal Arts Building North on all floors and the Education Complex building, first and second floor. Donation boxes are also located at the McAllen Teaching Site.
Clothing donations are also being collected on the Brownsville campus at the OVAVP office.
The clothing drive ends August 18. Anyone with any questions can contact Margot Martinez at margot.martinez01@utrgv.edu and Mauricio Yanez at mauricio.yanez01@utrgv.edu.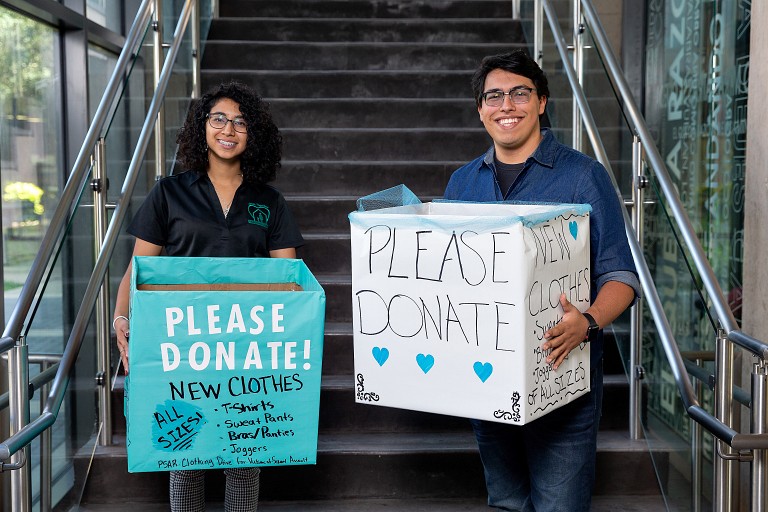 ABOUT UTRGV
The University of Texas Rio Grande Valley (UTRGV) was created by the Texas Legislature in 2013 as the first major public university of the 21st century in Texas. This transformative initiative provided the opportunity to expand educational opportunities in the Rio Grande Valley, including a new School of Medicine, and made it possible for residents of the region to benefit from the Permanent University Fund – a public endowment contributing support to the University of Texas System and other institutions.
UTRGV has campuses and off-campus research and teaching sites throughout the Rio Grande Valley including in Boca Chica Beach, Brownsville (formerly The University of Texas at Brownsville campus), Edinburg (formerly The University of Texas-Pan American campus), Harlingen, McAllen, Port Isabel, Rio Grande City, and South Padre Island. UTRGV, a comprehensive academic institution, enrolled its first class in the fall of 2015, and the School of Medicine welcomed its first class in the summer of 2016.