UTRGV music alum appears on La Voz Azteca TV competition

  Thursday, June 20, 2019
  Community, Alumni
By Amanda Alaniz
RIO GRANDE VALLEY, TEXAS – UTRGV School of Music alumnus Clyde Guerra this year found himself living out one of his dreams –  getting to showcase his talent on television.
Guerra was a contestant on the singing competition La Voz, the popular Mexican equivalent of The Voice in the United States.
"When I auditioned, I felt I was putting myself out there. I had never done something like that before," the Roma native said. "And I said, if it happens, it happens; if it doesn't, it doesn't."
Guerra started his journey by sending in an application to the show, along with an audition video. Getting the call from La Voz producers in March to come in for an audition was surreal, he said, but he certainly wasn't going to pass it up.
The first people he called were his support system – his mother, Olga Guerra, and his father, John Guerra.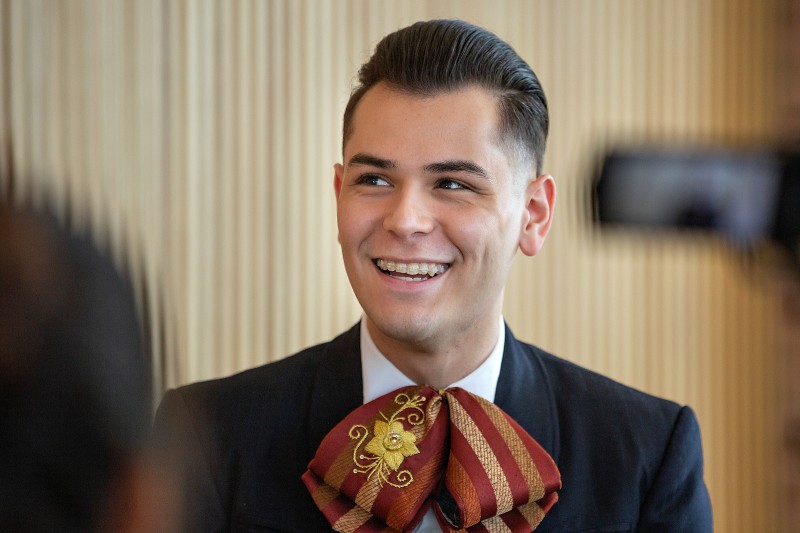 "As soon as I got off the phone with the producer, I called my mom. I told her, 'You're never going to believe what happened.' She was screaming, she was so excited for me," he said.
Singing in the blind auditions on the show was nerve-wracking, and stage fright set in. It was unusual for him, considering he has been on stage for a long time – as a member of the nationally award-winning UTRGV Mariachi Aztlán, and as concertmaster of the UTRGV Symphony Orchestra.
"I have been singing on stage for years, since I was in the fourth grade," he said. "When I went on La Voz and stepped onto that stage, it's like I had never sung before. It was like I was beginning all over again."
The hype about his being on the show grew quickly, but at the time, Guerra still had a few things to sort through – like balancing schoolwork with flying to the TV Azteca studios in Mexico. There were two stages in his life, now. And on May 11, 2019, he walked across the stage at the McAllen Convention Center to accept his bachelor's degree in Music, Violin Performance from UTRGV.
Meanwhile, on the show, three of the four judges chose Guerra to participate in the show, and he chose to be on the team of Latin pop singer/actress Belinda Peregrín. He then moved on to the Knockout Rounds, where he did not advance. Still, he showed his gratitude on his Facebook page for all the support he received while on his journey with La Voz.  
"I'm still in shock at the fact that I did come out on TV. The experience over there – it couldn't have gone better. I met a bunch of producers. I made friends with a bunch of other singers. We all kind of have the same dream," he said. "We've agreed to meet up in the future to collaborate on music, and I think that's super awesome."
Now a UTRGV alumnus, Guerra said he has grown as a musician because of the UTRGV classes he took, his mentors and his professors.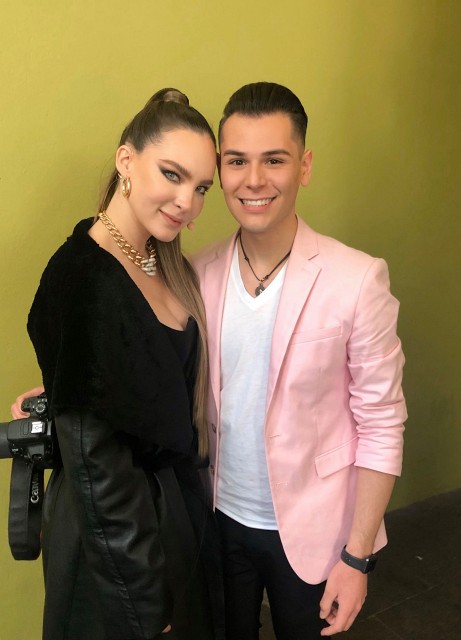 "I came in with very little knowledge about music, but I knew it was something I was super passionate about," he said. "I wanted to study it and know more about it. It is kind of scary to come into something with such awesome musicians that were classically trained. But my teachers at UTRGV have been wonderful, and my violin instructor, Dr. Diana Seitz, has been amazing. It's been quite the growth for me, and it has been incredible."
Guerra is eager to see where his music career takes him and will be working towards his Master of Music degree at UTRGV. He applied and received the Presidential Graduate Research Assistantship for his schooling.
And already, his phone is ringing with calls about recording songs and requests to book him for solo performances.
 "I think it is most important to follow what you're passionate about," Guerra said. "I know I'm passionate about music, and that's why I'm following that pathway."
ABOUT UTRGV
The University of Texas Rio Grande Valley (UTRGV) was created by the Texas Legislature in 2013 as the first major public university of the 21st century in Texas. This transformative initiative provided the opportunity to expand educational opportunities in the Rio Grande Valley, including a new School of Medicine, and made it possible for residents of the region to benefit from the Permanent University Fund – a public endowment contributing support to the University of Texas System and other institutions.
UTRGV has campuses and off-campus research and teaching sites throughout the Rio Grande Valley including in Boca Chica Beach, Brownsville (formerly The University of Texas at Brownsville campus), Edinburg (formerly The University of Texas-Pan American campus), Harlingen, McAllen, Port Isabel, Rio Grande City, and South Padre Island. UTRGV, a comprehensive academic institution, enrolled its first class in the fall of 2015, and the School of Medicine welcomed its first class in the summer of 2016.