Thursday, May 9, 2019
  Awards and Recognitions, Around Campus, Community
By Amanda Taylor
McALLEN, TEXAS – Jahdiel Salazar and Josabeth Navarro are not afraid to get their hands dirty. The fraternal twin sisters each will accept her bachelor's degree in Environmental Science this weekend, after taking every class together along the way.
"Did you guys decide to do that together, or was one of you copying the other one?" A common question they'd get asked, Navarro said, when their peers would realize they were taking the same courses and earning degrees in the same field.
"Most of the time they see us kind of like a power team," Salazar added, "because we always work together whenever it's a group - we tell them we're going to figure it out and we're a team."
Salazar and Navarro both worked in soil science, often collaborating on projects with local parks and various city facilities such as the McAllen Composting Facility.
"Soil science is interesting because we learned that the soil here is very particular since we live so close to the coast, so we did work in providing solutions for our farmers," Navarro said.
"Soil's an integral part to food production so we want to make sure that we have food for many generations to come."
Not only are the twins graduating together, but they are also considered First Class students. This means that they graduated on a traditional track, having started with UTRGV in the fall of 2015 and didn't transfer from legacy institutions UTB-TSC or UTPA.
The recognition of being First Class students felt like an honor to the soon-to-be graduates. By graduating, Salazar hoped to inspire future generations of scientists and researchers taking courses at UTRGV.
"It feels very rewarding and like I'm setting the example for other classes that are going to be graduating soon," Salazar said. "Hopefully they see us as role models if they want to join the Environmental Science field."
The twins will part way after graduation due to different career paths they've chosen. Navarro plans to stay in the Valley and start working on a master's degree at UTRGV, while Salazar plans to move to work within the military and to be closer to her husband out of state.
"We had decided different paths, sadly, but I know we will both be contributing in our own way to the environment," Navarro said.
Culturally, Navarro and Salazar both agree that the road to graduation has been a long one, but it was a journey well worth it in order to maintain the pride they feel for their community.
"I feel like Hispanics especially really value an education," Salazar said. "Especially our parents - they always told us you can do anything with your education because no one can take that away from you. I feel like, in a way, by being Vaqueros, gaining that knowledge and giving it back to our community is the best way to show our heritage and our pride."
Salazar and Navarro will walk across the stage to receive their degrees on Saturday, May 11, at the McAllen Convention Center. Read more information about the UTRGV commencement ceremonies at utrgv.edu/commencement.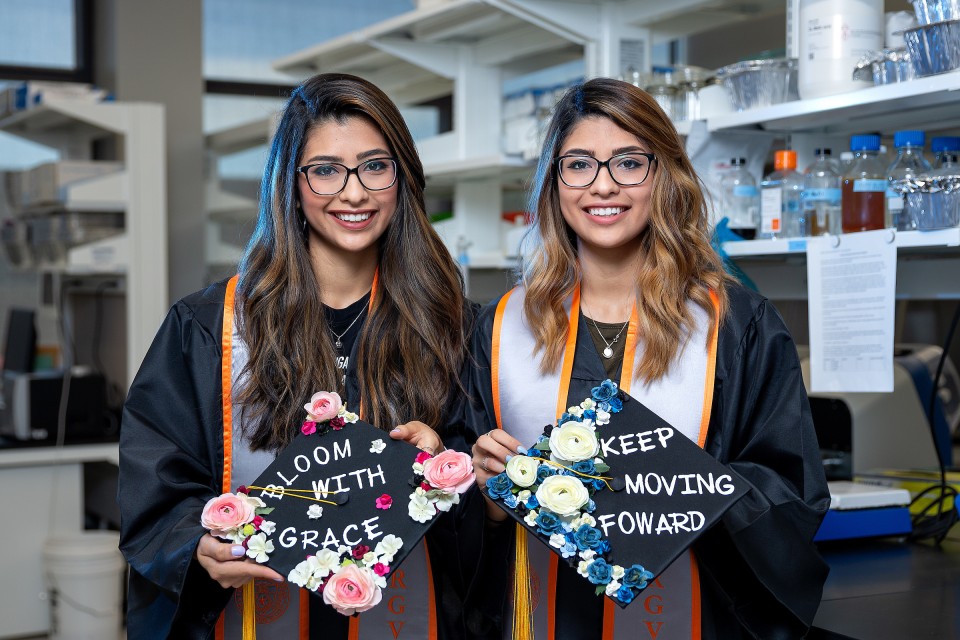 ABOUT UTRGV
The University of Texas Rio Grande Valley (UTRGV) was created by the Texas Legislature in 2013 as the first major public university of the 21st century in Texas. This transformative initiative provided the opportunity to expand educational opportunities in the Rio Grande Valley, including a new School of Medicine, and made it possible for residents of the region to benefit from the Permanent University Fund – a public endowment contributing support to the University of Texas System and other institutions.
UTRGV has campuses and off-campus research and teaching sites throughout the Rio Grande Valley including in Boca Chica Beach, Brownsville (formerly The University of Texas at Brownsville campus), Edinburg (formerly The University of Texas-Pan American campus), Harlingen, McAllen, Port Isabel, Rio Grande City, and South Padre Island. UTRGV, a comprehensive academic institution, enrolled its first class in the fall of 2015, and the School of Medicine welcomed its first class in the summer of 2016.