UTRGV psychology professor explains how love really happens

  Thursday, February 14, 2019
  Around Campus
By Victoria Brito
RIO GRANDE VALLEY, TEXAS – Love. (We can already hear you sighing.)
By all accounts, it's complicated.
Very, very complicated.
One professor at The University of Texas Rio Grande Valley agrees that yes, love is, in fact, complicated. So he has turned to science to try to better understand what happens to you when you fall in love, fall in lust, or just plain crush on someone.
"Love is a whole bunch of things, and you have to study all kinds of things to understand it," said Dr. Russell Eisenman, an associate professor of psychology in the UTRGV Department of Psychological Science with specializations in human sexuality and evolutionary psychology.
"It is physiology, biology, the culture. Love comes from feelings and emotions, and it can also come from thoughts – like what a person thinks love is or how much they value the other person," he said.
Eisenman explains that there are different types of love. We've all been there one way or another, right? Romantic love. Parental love. All sorts and levels of friendship.
And he says the emotion of love is something we are born with.
"Little kids have love for their parents right off, and parents have love for their kids right off – in terms of normal development," he said.
In that regard, love is all about the science – that is, chemicals. (Why do you think they call it "chemistry" when your eyes meet and the music swells?)
That chemistry is basic in the human body. When a mother feels immediate love for her child, a hormone is released called oxytocin, and that chemical acts in the brain as a neurotransmitter – a kind of chemical messenger that carries its signals throughout the body to cells that receive those signals.
Oxytocin and its signals influence social interaction and sexual reproduction, and plays a key role in the maternal attachment to an infant.
"Parents feel love for their kids right away, usually. Especially women," Eisenman said. "Women have an oxytocin response at the sight of an infant, even if it is not their own infant, and that explains why women will be interested in another woman's child and will want to pick it up."
Men, on the other hand, do not experience the same chemical reaction just by looking at an infant. While men do have oxytocin, infants don't tend to bring on the oxytocin response in men the same way as with women. For men, "good feelings" tend to be the trigger – the kind that come from a touchdown. Or from winning money. Or from sex. (There, we said it.)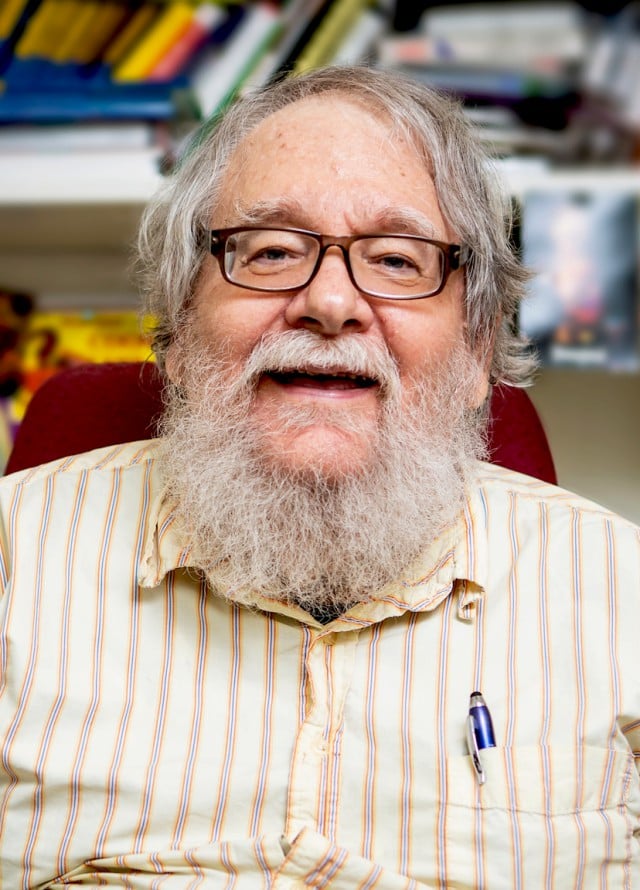 TIMING IS EVERYTHING
While instinctual love can be seen from birth between child and parent, romantic love is a little different; the timing of the chemical reaction is different. Romantic love takes time to develop, Eisenmann said, and first comes knocking at the door during pre-adolescence.
This is when things get more complicated. The response isn't just chemical anymore, and all sorts of environmental factors become part of the mix. At that stage, the human being has a choice about who to love. It doesn't just happen, like when a woman looks at her infant.
Our choices about romantic love get so much more complex because, in addition to the chemical signals, factors like culture, society, proximity and parental influence all contribute to who and how we choose to love.
"It looks as though who we choose to love is an individual choice, and to some extent, it may be," Eisenman said. "But also, to some extent, it is a choice that people have been taught to have."
Because love is biological and affected by a person's psychological needs, individuals in some cases find love with people who remind them of their parents or who have similar characteristics.
"If a girl is brought up with a domineering father, she may also seek that in a partner," Eisenman said. "But it can also lead to disappointment. Little kids think that parents are perfect, so if you are expecting that in a partner, you won't find it because people are not perfect."
When people do find romantic love, they simply cannot get enough time with said person and seem to never tire of that person's company.
"A person will be constantly thinking about their partner," Eisenman said. "Even though the person might not typically be monogamous, they will be when they have romantic love. They only want to be with that person and have sex with that person. They are just incredibly drawn to that person.
"They also have a lot of energy and can spend all night together with that person and not feel exhausted the next morning," he said, "even though they have had little to no sleep." 
With Valentine's Day upon us, people around the world will be celebrating love of all kinds. Romantic love, friendship and familial relationships all play a key role in Cupid's big day.
"It is a holiday designed around important human feeling," Eisenman said. "So, it makes sense it would occur and that different cultures would have a Valentine's Day."
He says it's important to not to get caught up in the commercialization of the day, though.
"It is not bad if you really are close to someone to give them a gift," he said. "What is bad is when you feel you have to give them an expensive gift because merchants made you feel that way. That seems irrational."
ABOUT UTRGV
The University of Texas Rio Grande Valley (UTRGV) was created by the Texas Legislature in 2013 as the first major public university of the 21st century in Texas. This transformative initiative provided the opportunity to expand educational opportunities in the Rio Grande Valley, including a new School of Medicine, and made it possible for residents of the region to benefit from the Permanent University Fund – a public endowment contributing support to the University of Texas System and other institutions.
UTRGV has campuses and off-campus research and teaching sites throughout the Rio Grande Valley including in Boca Chica Beach, Brownsville (formerly The University of Texas at Brownsville campus), Edinburg (formerly The University of Texas-Pan American campus), Harlingen, McAllen, Port Isabel, Rio Grande City, and South Padre Island. UTRGV, a comprehensive academic institution, enrolled its first class in the fall of 2015, and the School of Medicine welcomed its first class in the summer of 2016.