Monday, December 10, 2018
  Student Life
By -
EDITOR'S NOTE: UTRGV students J. Edward Moreno, writer, and Silver Salas, photographer/videographer -- student workers in News & Internal Communications, Office of University Marketing and Communications – set out to feature the uniqueness of their university. "UTRGV embodies the resilience of the Valley," Moreno said. "Many here are first-generation college students, if not first-generation Americans."
They chose to tell Brandon Ramirez's story because it encompasses one of the most unique aspects of UTRGV and of the Rio Grande Valley: He was living in Mexico and commuted daily to a public university in the United States – on a bicycle.
Since their series of interviews with Brandon, he moved to Edinburg, where he worked as a student employee with the UTRGV Office of Global Engagement.
He is on track for graduation in December 2019 with a degree in manufacturing engineering.
He continues to ride his bicycle – the same bicycle –every day, to and from classes.
Ultimately, photographer Salas said, Brandon's story embodies the conditions and the spirit of so many students at UTRGV: "We live and go to school in a place that is truly special," he said.
 PHOTO GALLERY by Silver Salas
RIO GRANDE VALLEY, TEXAS – At 5 a.m., most college students can be found binge-watching their favorite TV shows, cramming for their next exam, or maybe even sleeping.
Not Brandon Ramirez.
Depending on what time his classes are, he wakes anywhere from 4:30 a.m. to 7 a.m. That's when this 20-year-old manufacturing engineering student at The University of Texas Rio Grande Valley crawls out of bed to begin his daily trek across the U.S.-Mexico border.  
Hours before sunup, Ramirez leaves his home in Matamoros, Tamaulipas, Mexico, hops onto his bicycle and heads to the international bridge. The bicycle is critical transportation for Brandon, and it has a name: "Limousine." 
Though they essentially serve the same purpose – transportation – his bicycle lacks many of the luxuries of a limousine – mainly, air conditioning. Ramirez admits it would come in handy in the sweltering South Texas heat, but doesn't really spend much time thinking about things he can't have.
To remedy the exhaustion and frustration of the sometimes-lengthy wait to cross the border, he keeps his mind focused on the future, and on his accomplishments once he completes his education. 
"Sometimes, when I get up in the morning, I didn't even sleep, because of all the projects and homework," he says. "I feel angry sometimes as I'm crossing the bridge – because you know what? Sometimes we get tired of doing what we do. We don't want to continue anymore. We just want to stop and take a break. But when you see yourself maybe, four or five years in the long term, you want to continue."
It's about 6 a.m. now, and his commute has only begun. Once he arrives on the U.S. side of the border, he makes his way to the UTRGV Brownsville Campus, where he freshens up and awaits the Campus Connector shuttle that takes him about an hour and a half west to the Edinburg Campus, where all of his classes are.
There, he attends class, meets with friends and studies at the library, a routine indistinguishable from his peers from the United States, many of whom who drove 10 minutes in an air conditioned vehicle to arrive at the same place.
After a long day of classes, Ramirez takes the shuttle back to Brownsville, gets on his bicycle and heads back to Matamoros.
Then, he studies. If he's lucky, he can grab a few extra hours of quality sleep before his alarm rings in the morning and he has to repeat his daily routine to get to his classes at UTRGV.
FAMILIAR WITH ADVERSITY
Ramirez inherited both his witty sense of humor and his ability to endure adversity from his parents.
From Mexico City, Ramirez and his family relocated when he was 11 years old and his father found work in the much hotter, less frenetic coastal border city of Matamoros. 
There, Ramirez attended middle and high school, trying hard to make the best grades he could, always hoping to attend one of his two favorite schools in Mexico, both just as prestigious as they are expensive to attend. 
By the time his last year of high school was almost complete, Ramirez had decided on a university. But, the scholarship he thought would make his dream possible turned out to be a scam. He wouldn't receive all of the funds he had been promised, making his attendance there nearly impossible.
"They lied to us, then they tried to disguise it as a huge opportunity to go to school for that price," he said. "But my family couldn't afford it."
As their next option, Ramirez's family looked across the border, at then UT- Brownsville/Texas Southmost College, as their best chance for a quality education for their son. While the tuition was comparable to the universities in Mexico that he had favored, and the exchange of pesos was not in their favor, they still would save the cost of room and board – in exchange for the price of his bicycle.
For Ramirez, the ability to attend UTRGV comes as an enormous blessing, he said, one many Mexicans could never even dream of. It is also one that comes at a heavy price. 
"When I tell my friends in Mexico that I study in the United States, they are really surprised," he said. "I think, how many Mexicans have the opportunity to study in a foreign university? Say, for a U.S. citizen, it is a huge blessing to go and study in Europe or somewhere else. But for a Mexican student, just to be able to cross the border and study – that's a lot. 
"My friends are also surprised at the sacrifices and the amount of effort my parents put in so that I can go to school here at UTRGV," he said. "Not many families have that."
Ramirez sees his bicycle commute as the simple byproduct of an amazing opportunity. After all, his parents were not afforded luxuries, either.
"My parents lived a hard life. They did not have the things that they were able to give to me," he said. "They didn't even have a bicycle – they had to travel three hours in Mexico City to get to school. And my father started working when he was 7 years old."
Unlike his peers in Mexico, Ramirez said, his American classmates aren't quite as understanding of his situation. They often are shocked by the amount of time he spends commuting, and naively suggest that he invest in an apartment in Edinburg.
"I can't afford that. It's either school or the apartment, bro," he said with his trademark chuckle.
LIFE IN THE VALLEY
UTRGV was born in 2013, when the Texas Legislature approved dissolving legacy institutions UT Pan American and UT Brownsville/Texas Southmost College and creating a new university using assets and resources from both institutions.
The new university officially opened its doors in fall 2015. Since then, UTRGV has faced growing pains like the need for more classes at both main campuses. In Ramirez's case, most of the classes required for a manufacturing engineering degree are offered only in Edinburg, so Ramirez and other manufacturing engineering students in Brownsville take the campus-to-campus shuttle each day.
It comes as an inconvenience for some, but also displays how symbiotic the Valley really is, and how UTRGV serves as a unifying mechanism for a unique border community – one that encompasses roughly 5,000 square miles and two nations. 
In the Valley, many people make routine trips across national lines for reasons as dire as life-saving medical procedures, or as simple as getting a better deal on certain groceries. People who cook your food in one country often pay rent in another, just as students who live in one country may go to school in the other.
Given the cultural, linguistic and geographic proximities unique to the Valley, commutes like Ramirez's are hardly unusual. According to the UTRGV Office of International Admissions and Student Services, in spring 2017 alone there were 33 officially registered border-commuter students just like Ramirez.
Blanca Nellie Leyva, an International Student advisor at UTRGV, advises border-commuter students and used to supervise Ramirez when he worked as a student in her office. 
She said he was a hard-working student who never used his obstacles as an excuse to underperform – and that attitude is consistent with most border commuters she has worked with, she said. 
"These kids don't get scholarships, they don't get grants, they don't get anything," she said. "The money they use for school is hard-earned by their hard-working parents. They take advantage of the opportunity to study here, and they do whatever they have to do to get ahead and get good grades."
She has fond memories of one of the very first border-commuters she worked with, who, like Ramirez, rode his bicycle to school every day.
"He would show up in the morning soaking wet and just be like, 'Oh, it was a long ride,'" she said. "He graduated with a 4.0, got his master's degree, and works a job in Houston now. To me, that's very admirable."  
Stories like those abound at UTRGV, yet Ramirez and other students like him say that reality seldom finds its way into the national dialogue on immigration these days. 
Ramirez recounted an incident at a large retail store near the international bridge.  He saw a woman heckling a man who had just crossed from Mexico into the United States to shop. 
"She told him, 'What are you doing here? You have to go back to your country. If you want to spend money, go do it in your country.'
"That made me really angry," Ramirez said. "We are all made of the same stuff. The only thing that divides us is a piece of metal."
LIGHT AT THE END OF THE TUNNEL
Unfortunately, that piece of metal – the Border Wall, which he passes twice every weekday – serves for many as a barrier to opportunity, he said. 
During his second semester at UTRGV, Ramirez applied for an internship at an agricultural manufacturer, in hopes of gaining some valuable experience. While speaking with the representatives, he said, he somehow could feel the opportunity grazing his fingertips – just out of reach. With just one question, he realized he was missing a qualification that would determine everything – U.S. citizenship. 
"I thought, 'How can you decide if I get an internship or not, just because of my documentation?'" he said. "Imagine waking up at 4:30 in the morning every day. Then getting an interview for an internship and to be told flat out, 'No.' It's a punch in the face."
Still, Ramirez is determined to succeed, and he says it will take much more than a "no," a punch in the face, or a metal fence to stop him. He dreams of one day starting his own manufacturing engineering company. But his first order of business, he said, is to buy a house for his parents.
"Since I was young, I knew that we always rent houses – my father is always struggling because of that," he said. "The first thing I want to do is buy them a house, so they can live without worrying."
Before he does that, though, he must graduate from UTRGV, a day he awaits eagerly. 
The day he finishes school, he said, he will proudly ride his bicycle back to Matamoros for the final time, remembering a favorite saying his parents always recite to him, one that helped him get so far: "El sudor de hoy es la dulzura de mañana." 
"Today's hard work leads to tomorrow's success."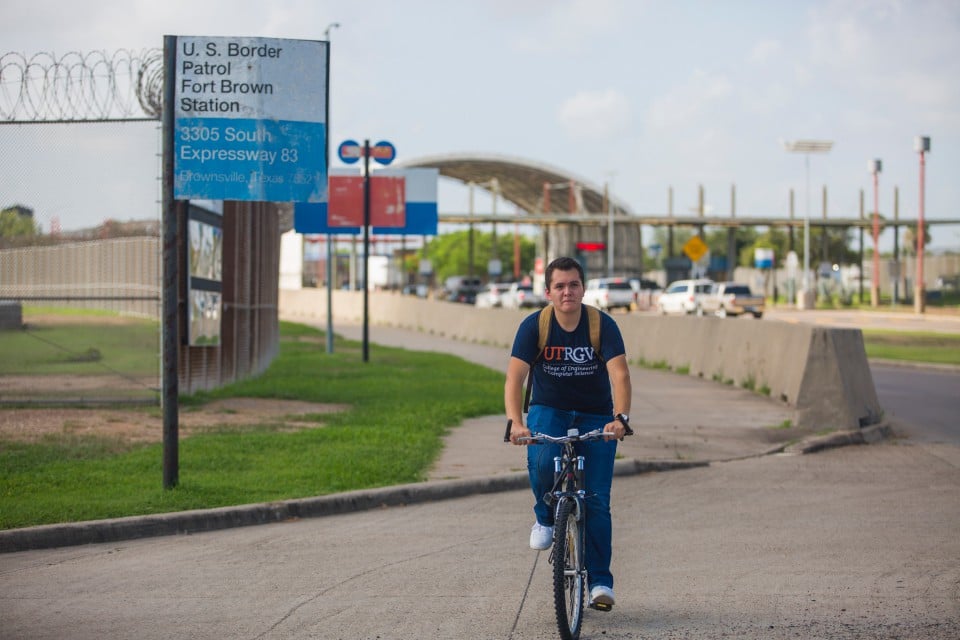 ABOUT UTRGV
The University of Texas Rio Grande Valley (UTRGV) was created by the Texas Legislature in 2013 as the first major public university of the 21st century in Texas. This transformative initiative provided the opportunity to expand educational opportunities in the Rio Grande Valley, including a new School of Medicine, and made it possible for residents of the region to benefit from the Permanent University Fund – a public endowment contributing support to the University of Texas System and other institutions.
UTRGV has campuses and off-campus research and teaching sites throughout the Rio Grande Valley including in Boca Chica Beach, Brownsville (formerly The University of Texas at Brownsville campus), Edinburg (formerly The University of Texas-Pan American campus), Harlingen, McAllen, Port Isabel, Rio Grande City, and South Padre Island. UTRGV, a comprehensive academic institution, enrolled its first class in the fall of 2015, and the School of Medicine welcomed its first class in the summer of 2016.