Students in the UTRGV School of Medicine thankful for their Academic Houses and supportive environment

  Thursday, November 15, 2018
  Around Campus, Community
By Amanda Taylor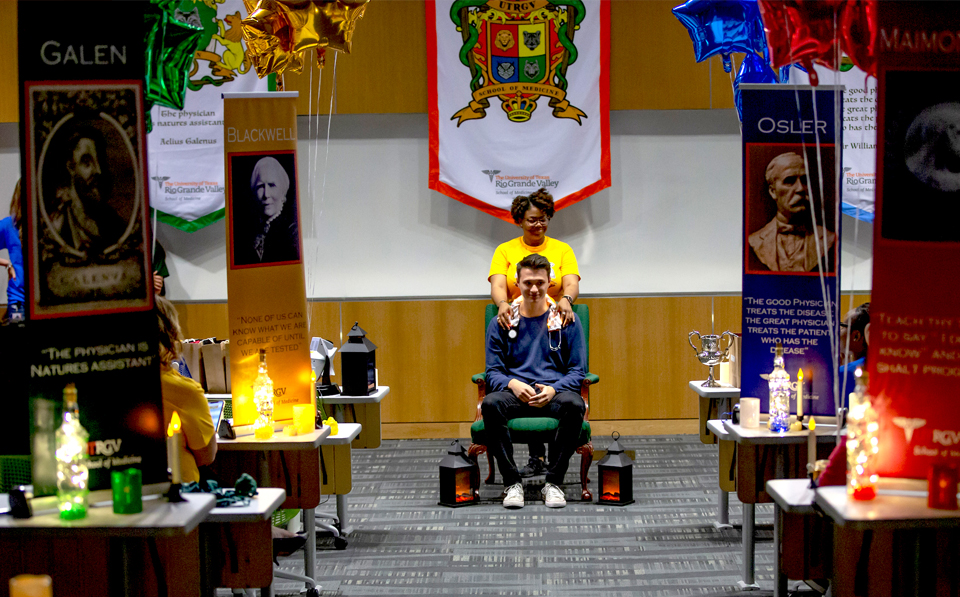 RIO GRANDE VALLEY, TEXAS – Maimonides, Blackwell, Osler or Galen … which house would choose you?
The UTRGV School of Medicine recently hosted its second annual Sorting Ceremony, which assigns students into four different Academic Houses that promote a sense of family and friendship.
"Every year, we sort our medical students into their academic houses. They're kind of like 'Harry Potter' houses, and in each of the houses we have are supporting faculty," said Dr. Cristela Escalona, a clinical professor in the UTRGV School of Medicine's Department of Pediatrics. 
"Basically, the students in each house have these small families, and if they have any issues that come up in medical school and they just want to talk, they have their own supportive environment."
The students are organized into four houses: Maimonides, Blackwell, Osler and Galen, each named after a pioneer in the field of medicine who blazed a trail for others to follow:
House Maimonides is named after Moses Maimonides, a Jewish philosopher and physician.

House Blackwell is named after Elizabeth Blackwell, the first woman physician.

House Osler is named after Sir William Osler, who is considered the "father of modern medicine."

And House Galen is named after Aelius Galenus, a Greek philosopher and physician.
"We're really big on women empowerment because we do have a female physician as the head of our house," said D'Andrea Ceasar, a second-year medical student at UTRGV and Head Girl for House Blackwell.
"It's a really great way to welcome you into the school and the culture that you're getting into," she said, "especially coming to a school where you don't really know anybody. And a lot of us are far away from home. So it gives us an opportunity to feel a sense of family in starting a new journey."
Escalona said the academic houses concept started on the East Coast and slowly spread. Medical schools like Harvard and Southwestern all have academic houses that promote competition and learning activities through house events. Houses compete against each other for points, and the house with the most points at the end of the year gets the House Cup and prizes.
"Medical school is really taxing because you have to devote so much individual time, so you just end up spending a lot of time alone," said Lauren Muenchow, a second-year medical student in House Osler. "This gives students the incentive to go and be social, to take that time out of their schedule without having to feel guilty about it."
Once students are placed into their academic houses, they remain within that house through the end of their four years of medical school at UTRGV. 
For more information on the School of Medicine Academic Houses, visit https://www.utrgv.edu/som/student-health-and-wellness/academic-houses/.
ABOUT UTRGV
The University of Texas Rio Grande Valley (UTRGV) was created by the Texas Legislature in 2013 as the first major public university of the 21st century in Texas. This transformative initiative provided the opportunity to expand educational opportunities in the Rio Grande Valley, including a new School of Medicine, and made it possible for residents of the region to benefit from the Permanent University Fund – a public endowment contributing support to the University of Texas System and other institutions.
UTRGV has campuses and off-campus research and teaching sites throughout the Rio Grande Valley including in Boca Chica Beach, Brownsville (formerly The University of Texas at Brownsville campus), Edinburg (formerly The University of Texas-Pan American campus), Harlingen, McAllen, Port Isabel, Rio Grande City, and South Padre Island. UTRGV, a comprehensive academic institution, enrolled its first class in the fall of 2015, and the School of Medicine welcomed its first class in the summer of 2016.