Thursday, October 4, 2018
  Student Life
By Amanda Taylor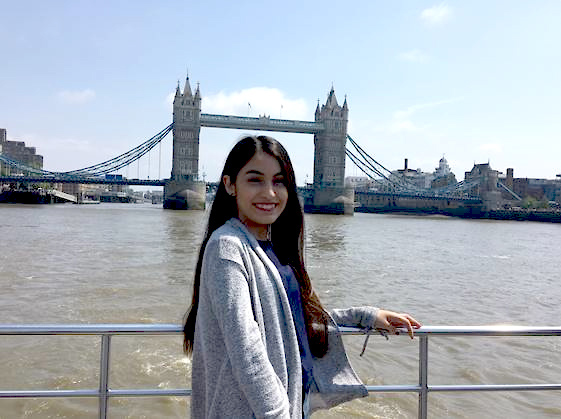 RIO GRANDE VALLEY, TEXAS – In 1926, a children's story was published about a little boy and his stuffed bear.
That bear – now known as Winnie the Pooh – quickly became a star, one of the most popular children's story characters in classic literature. And the author of the "Winnie the Pooh" series, Alan Alexander Milne, penned the stories after becoming inspired by his son's toys and their adventures. In fact, the mythical "Hundred Acre Wood" within the "Pooh" series was largely based on the English countryside and forests where the children would play.
This summer, 12 UTRGV students in the Study Abroad program traveled to London for a course in Advanced Topics in Creative Writing Children's Literature, to study the affiliation between classic children's literature and the landscapes that inspired those stories.
"Mostly, we talked about how 'Winnie the Pooh' was inspired by different locations," said Mary Ann Escamilla, a lecturer III in Writing and Language Studies. "We looked at how children see their surroundings, and had the students create fiction that would take into account the various places they had been. We read some children's classics and analyzed how the British landscape was described and looked, and how accurate it was based on the places we visited."
Studying more of England's famous children's authors, such as Neil Gaiman ("Coraline") and Charles Dickens ("A Christmas Carol"), led the class on an adventure throughout London, with visits to the London Tower Bridge, Big Ben, the London Eye, and The Shard, one of the tallest buildings in Europe. 
"I liked the connection made with the authors and various British authors like Charles Dickens," said Bianca Alvarez, of San Antonio, a UTRGV English major. "We had the opportunity to visit the Charles Dickens museum as a class, and it was a very pleasant experience to see how he lived and how he became so prominent over time."
For UTRGV accounting major Yadira De Leon, of Pharr, traveling abroad helped put into perspective the concepts of the literature they studied in class. It was an opportunity that sparked her wonder for exploration, she said.
"Since it was a writing class and we had to create a story with a setting from the city, every time we visited a place, I had the story in my mind, thinking of the perfect setting," she said. "I think studying abroad is important because it opens up our minds to new cultures and new ways of living, and it shows us that there is a whole world out there that needs to be explored."
A side trip to Windsor Castle offered the class a once-in-a-lifetime opportunity to see history in the making. The students were present during the historic royal wedding of the Duke and Duchess of Sussex, Prince Harry and Meghan Markle. This would be the last royal nuptials of the House of Windsor until Prince George marries.
"That was definitely one of the most exciting moments of my life," Alvarez said. "To watch them pass us by in their royal carriage – it was straight out of a fairy tale!"
To learn more about the UTRGV study abroad program, visit https://www.utrgv.edu/ipp/study-abroad/index.htm.
UTRGV STUDENTS - STUDY ABROAD: ENGLAND
Bianca L. Alvarez, English, San Antonio.
Carolina Cerda, English, Weslaco.
Yadira L. De Leon, Accounting, Reynosa, TAMPS, Mexico.
Alexandra Espinosa, Social Work, McAllen.
Adela J. Fleming, Interdisciplinary Studies, McAllen.
Monique L. Gonzalez, Biology, Edinburg.
Priscilla R. Gonzalez, Spanish, Palmview.
Fedra Hinojosa, Clinical Laboratory Sciences, McAllen.
Kristopher R. Price, Art, Mission.
Karen J. Ramirez, Social Work, McAllen.
Isaac R. Salazar, Social Work, Mission.
Karina L. Salinas, Psychology, San Juan.
ABOUT UTRGV
The University of Texas Rio Grande Valley (UTRGV) was created by the Texas Legislature in 2013 as the first major public university of the 21st century in Texas. This transformative initiative provided the opportunity to expand educational opportunities in the Rio Grande Valley, including a new School of Medicine, and made it possible for residents of the region to benefit from the Permanent University Fund – a public endowment contributing support to the University of Texas System and other institutions.
UTRGV has campuses and off-campus research and teaching sites throughout the Rio Grande Valley including in Boca Chica Beach, Brownsville (formerly The University of Texas at Brownsville campus), Edinburg (formerly The University of Texas-Pan American campus), Harlingen, McAllen, Port Isabel, Rio Grande City, and South Padre Island. UTRGV, a comprehensive academic institution, enrolled its first class in the fall of 2015, and the School of Medicine welcomed its first class in the summer of 2016.