Friday, August 3, 2018
  Alumni, Announcements
By Amanda Alaniz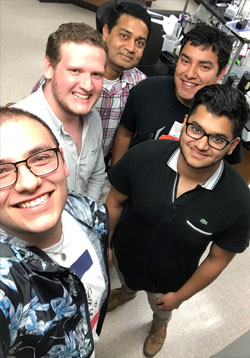 Rio Grande Valley, Texas – Researchers at The University of Texas Rio Grande Valley's Department of Health and Biomedical Sciences are working to develop a next generation of anti-HIV drugs that are more effective and have fewer side effects
To further support the study of human immunodeficiency virus 1 (HIV-1) – still one of the leading causes of death worldwide, predominantly in developing countries – the National Institutes of Health (NIH) recently awarded a grant to the UTRGV researchers for their project, called "Nanodiamond Based Anti-HIV Drug Delivery Targeted Towards the Brain."
The grant is for $432,729, starting July 1, 2018 and ending June 30, 2021. The principal investigator is Dr. Upal Roy, assistant professor at the UTRGV Department of Health and Biomedical Science. Collaborators are Dr. Shizue Mito, assistant professor in the UTRGV Department Chemistry, and Dr. Vadym Drozd, assistant professor in the Department of Mechanical and Materials Engineering at Florida International University.
The proposed research develops a molecule that will be conjugated with the microglia-specific antibody for targeted drug delivery to the brain. Microglia is a type of cell that is majorly found throughout the brain. The proposed nanodrug can be used to directly deliver an anti-HIV drug specifically to the inflammatory areas of the brain where most of the infected microglia and the virus are present.
Roy and his colleagues hypothesize that the nanodiamond-mediated drug delivery will be more efficient, safe and effective than conventional drugs.
"The patients will find these next-generation drugs less expensive, and with the simplified dosing schedule, they will stay in the treatment for a much longer period of time – which eventually will improve the quality of their lives," he said.
The proposed research will help to stimulate the research environment at UTRGV, Roy said, and will expose current undergraduate and graduate students to the biomedical research environment. 
"This research work is very translational, which will eventually reach the patients in need in the Rio Grande Valley who are affected by this disease. It will put UTRGV on the national map for HIV research, which can also help us bring more research funding to this region," he said.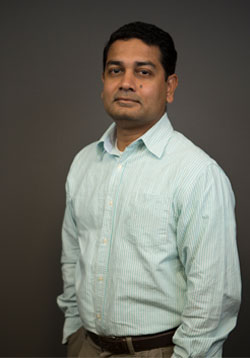 Roy extends credit to the UTRGV Health and Biomedical Science Department for supporting the project, and Dr. Saraswathy Nair, the department chair and associate professor; Dr. Michael Lehker, dean of College of Health Affairs; Dr. Shawn Saladin, associate professor and associate dean for the School of Rehabilitation Services and Counseling; and Dr. John Krouse, dean of theUTRGV School of Medicine.
ABOUT UTRGV
The University of Texas Rio Grande Valley (UTRGV) was created by the Texas Legislature in 2013 as the first major public university of the 21st century in Texas. This transformative initiative provided the opportunity to expand educational opportunities in the Rio Grande Valley, including a new School of Medicine, and made it possible for residents of the region to benefit from the Permanent University Fund – a public endowment contributing support to the University of Texas System and other institutions.
UTRGV has campuses and off-campus research and teaching sites throughout the Rio Grande Valley including in Boca Chica Beach, Brownsville (formerly The University of Texas at Brownsville campus), Edinburg (formerly The University of Texas-Pan American campus), Harlingen, McAllen, Port Isabel, Rio Grande City, and South Padre Island. UTRGV, a comprehensive academic institution, enrolled its first class in the fall of 2015, and the School of Medicine welcomed its first class in the summer of 2016.