Tuesday, July 17, 2018
  Announcements, Alumni
By Victoria Brito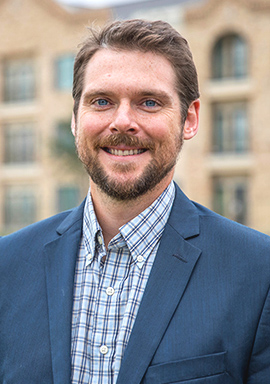 Rio Grande Valley, Texas – Beginning this fall, The University of Texas Rio Grande Valley will offer a brand new Bachelor of Science major in Sustainable Agriculture and Food Systems.
This new interdisciplinary major has been approved by the Southern Association of Colleges and Schools Commission on Colleges (SACSCOC), as well as by The UT System and The Texas Higher Education Coordinating Board. 
Dr. Christopher Gabler, assistant professor in the UTRGV School of Earth, Environmental and Marine Sciences (SEEMS), will serve as program director for this new undergraduate degree.
Gabler said a core goal of the major is for students to learn and network outside of their own discipline, and to help each other discuss and problem solve critical issues pertaining to agriculture in the Rio Grande Valley.
SEEMS hopes to enroll 100 students with various interests from both campuses for the first cohort, he said.
"This program in very interdisciplinary," Gabler said. "Many of the courses in the degree plan already exist. We are just reworking them to fit into the major."
The major is set to offer four tracks, including:
Agriculture and Ecology.
Food and Health.
Food and Society.
Business and Policy.
There also will be a hybrid track option for an even more tailored skillset and employment prospects, Gabler said.
As a cross-campus, cross-disciplinary major, the courses will be delivered from four colleges – College of Sciences, College of Health Affairs, College of Liberal Arts and the Robert C. Vackar College of Business & Entrepreneurship.
During the fifth and sixth semesters in the program, students will be required to complete two capstone community-engaged experiential learning courses. There, students will gain hands-on experience in the field and engage with the community in either internships or research. The community-engaged experiential learning may involve local, community or state agricultural agencies, production farms, commercial processors and retailers, domestic and international non-governmental organizations, and rural or urban community development programs.
In the last year of the program, the entire cohort will participate in a final capstone course in which students from all tracks come together to contribute information on what they have learned during their community engagement year. They then will collaborate as a group on a synthesis document for their final assignment in their degree plans.
"Our hope is that this program will grow enrollment at UTRGV by offering an obtainable agricultural degree right here in the Valley, and keep those interested in this topic here to serve the community," Gabler said.
SEEMS currently offers a master's degree in Agricultural, Environmental and Sustainable Sciences that is geared toward students who want to pursue a graduate degree with the intention of entering the workforce and contributing their expertise toward sustainable agriculture, stewardship of natural resources and ecosystem services, or the development of sustainable systems in general.
ABOUT UTRGV
The University of Texas Rio Grande Valley (UTRGV) was created by the Texas Legislature in 2013 as the first major public university of the 21st century in Texas. This transformative initiative provided the opportunity to expand educational opportunities in the Rio Grande Valley, including a new School of Medicine, and made it possible for residents of the region to benefit from the Permanent University Fund – a public endowment contributing support to the University of Texas System and other institutions.
UTRGV has campuses and off-campus research and teaching sites throughout the Rio Grande Valley including in Boca Chica Beach, Brownsville (formerly The University of Texas at Brownsville campus), Edinburg (formerly The University of Texas-Pan American campus), Harlingen, McAllen, Port Isabel, Rio Grande City, and South Padre Island. UTRGV, a comprehensive academic institution, enrolled its first class in the fall of 2015, and the School of Medicine welcomed its first class in the summer of 2016.