UTRGV's SEEMS offers course of study with earning potential

  Monday, February 12, 2018
  Around Campus
By Maria Elena Hernandez
Rio Grande Valley, Texas – When Rebekah Hernandez chose her major, her family was concerned. She remembers them asking, "Are you sure you want to do this? Do you even have job opportunities with this? What is going to happen with your life?"
Hernandez, a UTRGV graduate student in the School of Earth, Environmental, and Marine Sciences (SEEMS), said her father just wanted to make sure she didn't live paycheck to paycheck.
But for Hernandez, environmental science was more than just a course of study. It was work that needed to be done.
"I want to be part of what's being done to conserve our waters and conserve what's in our oceans. I'm concerned about habitats that are being degraded, habitats that are being destroyed," she said.
Dr. David Hicks, SEEMS director, said the perception that environmental science careers do not have earning potential may be a contributing factor to an underrepresentation of minorities in the field.
"I think it's a matter of them not really knowing there are well-paying, rewarding jobs in the sciences, other than being a physician," he said.
In 2016, the Bureau of Labor Statistics reported that pay for environmental scientists and specialists ranged from $41,220 to $120,320, with a median annual wage of $68,910.
The agency also predicted these jobs will grow faster than the average of all occupations until 2026.
While minorities are currently a small part of that workforce, UTRGV is working with other organizations to see they are well represented in the future.
"There are a lot of state and federal programs that target training for minority students in order to increase their representation in the science fields," Hicks said.
NOAA
UTRGV is one of six minority-serving universities in the nation participating in the National Oceanic and Atmospheric Administration Center for Coastal and Marine Ecosystems. The program's mission is "to recruit, train and graduate students, particularly from underrepresented communities."
"The program actually provides very attractive support for both undergraduate and graduate students that relates to marine coastal and environmental science," Hicks said.
Professional development, like résumé writing and networking, is included.
Hernandez said the grant she received has opened many doors for her.
"I'm on a NOAA grant. With this grant, you get to meet a lot of NOAA scientists," she said. "It opens a lot of job opportunities."
She traveled to Mississippi in July as part of a class to learn about coastal and marine resources, and in November, the UTRGV graduate student was part of an eight-day expedition from Panama City, Panama, to Key West, Florida, conducting ocean-floor mapping.
"It's one of those experiences that you don't want to miss out on," she said.
SHIP-GEO
Another program at UTRGV aiming to increase minority representation in environmental sciences is SHIP-GEO, which stands for Stimulating Hispanic Participation in the Geosciences. Participants get hands-on experience during field trips, and their families are invited.
"We try to encourage family to participate, because we want to change their thinking in terms of their child, in terms of career," said Dr. Chu-Lin Cheng, a UTRGV assistant professor for SEEMS and the Department of Civil Engineering.
"The family impression is that if you go play in the dirt – in the environment – that's not a good money-making career in the long run," he said.
In addition to hands-on training, research, and alumni mentoring, students can also apply for SHIP-GEO scholarships, which aim to help with program retention.
"We keep students in the program, have them graduate with an environmental science degree, and by the networking component, we help them get a job," Cheng said. "We also have outreach to local high schools, because we know we have to plant the seeds from K to 12 to protect our own environment, our own backyard – the Rio Grande Valley in South Texas."
Hicks said that, in addition to the career potential for students, environmental sciences play an important role in all our lives.
"We try to think of ourselves as somehow separated from our environment, but we're very much integrated in our environment," he said. "A bad environment for nature is a bad environment for us."
Hernandez said she wants to study environmental science because she wants the work she does to be worthwhile.
"If you really want to do something that's going to benefit our environment and benefit lives and generations to come, I would do something environmentally based, because we're always going to need scientists," she said.
To learn more about the programs available at the UTRGV School of Earth, Environmental and Marine Sciences, visit http://www.utrgv.edu/seems/.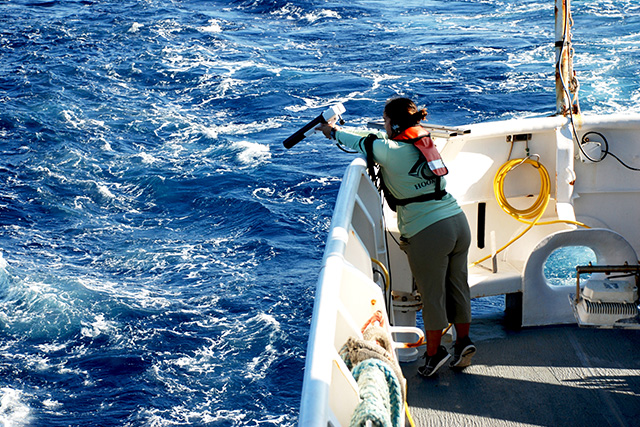 ABOUT UTRGV
The University of Texas Rio Grande Valley (UTRGV) was created by the Texas Legislature in 2013 as the first major public university of the 21st century in Texas. This transformative initiative provided the opportunity to expand educational opportunities in the Rio Grande Valley, including a new School of Medicine, and made it possible for residents of the region to benefit from the Permanent University Fund – a public endowment contributing support to the University of Texas System and other institutions.
UTRGV has campuses and off-campus research and teaching sites throughout the Rio Grande Valley including in Boca Chica Beach, Brownsville (formerly The University of Texas at Brownsville campus), Edinburg (formerly The University of Texas-Pan American campus), Harlingen, McAllen, Port Isabel, Rio Grande City, and South Padre Island. UTRGV, a comprehensive academic institution, enrolled its first class in the fall of 2015, and the School of Medicine welcomed its first class in the summer of 2016.