Research Projects
Research Summary:
The scientific expertise of the MAO Research Group is on the development of functional inorganic nanomaterials, investigation of their novel properties and exploration of their applications for environmental sustainability, energy, catalysis, and optoelectronic devices. Our current research focuses on the design and investigation of advanced materials, mainly transition metal oxides, with novel compositions, structures, architectures and functions, in some cases heterogeneous materials with multi-nanocomponents. The goal is to design advanced materials, achieve desirable properties and functionalities, and tackle complex interdisciplinary material challenges. We employ various synthetic routes to develop desirable targeted materials, and focus on different synthetic conditions, composition and microstructural controlling to fine-tune sensing, catalytic, electrochemical, magnetic, and gas storage properties.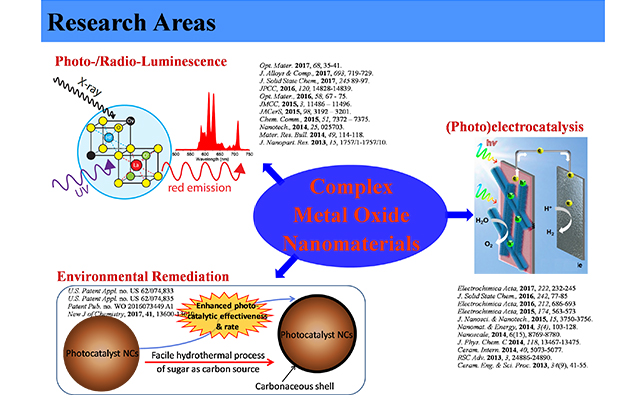 1. Synthetic Strategies
The ability to synthesize and manipulate matter at the nanometer length scale is a powerful driving force in the global scientific and technological community. After a period of rapid development, a wide variety of nanomaterials have been made and a lot without knowing how. Our research emphasizes on the continuous development of novel and scalable synthetic strategies and the study of growth mechanisms for functional nanomaterials. In general, chimie douce synthetic routes are designed and employed for synthesizing functional nanomaterials. We are also interested in investigating and optimizing growth processes by ex situ and in situ characterization methods, e.g. diffraction, spectroscopic and microscopic techniques.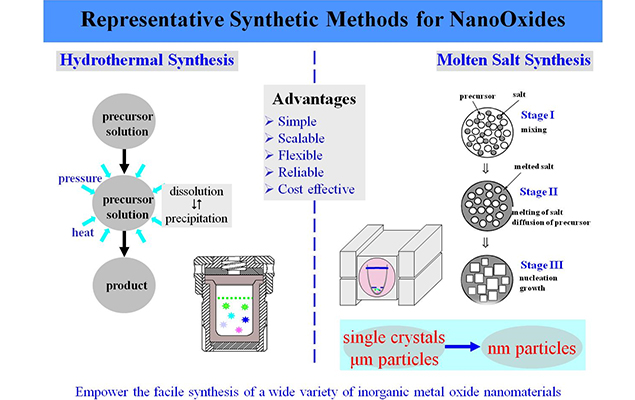 2. Multifunctional Materials
Multifunctional nanomaterials are becoming increasingly important because of their optical, magnetic, electric, catalytic and mechanical properties that do not exist in single-phase materials. Trends toward device miniaturization have led to increased interest in combining various properties into multifunctional materials, so that a single device component can perform more than one task. Our targeted materials include single-phased multi-metallic oxides and nanocomposites. We fine-tune their electronic, magnetic, optical, and mechanical properties by focusing on different synthetic conditions, cation doping, composite structural systems, and microstructural controlling.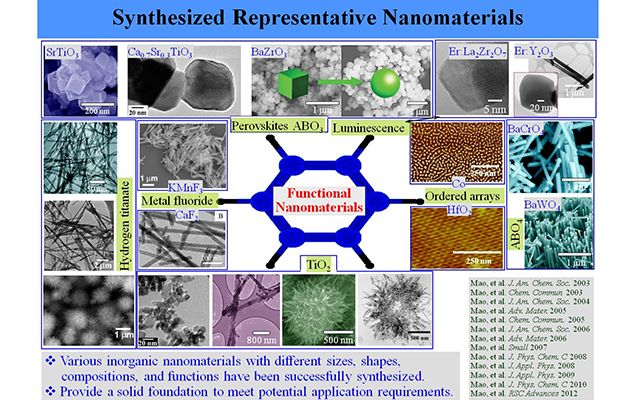 3. Devices and Applications
Application potentials of prepared (nano) materials are explored for national security, sanitation and alternative energy. Examples include the synthesis of luminescent core-shell nanostructures as radiation indicators, the design of hierarchical nanocomposites and three-dimensional electrodes for electrochemical energy storage devices, and the development of novel photocatalytic materials for water treatment and self-decontaminating coatings.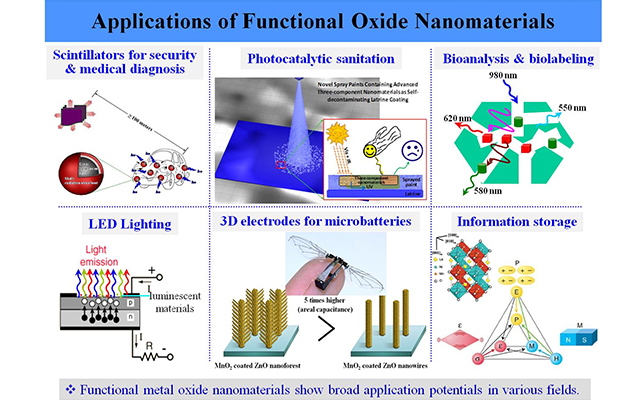 Research Sponsors