About FESTIBA
FESTIBA 2022-2023
Transforming Our World through Arts and Literacy
A work of art has the power to move, whether it is a song, a play, a poem, a novel, or a painting. When we are touched, we are moved; we are transported to a new place as we become aware of a feeling that may not be unfamiliar to us but which we did not actively focus on before. This transformative experience is what art is constantly seeking. The creative and cultural arts represent one of the few areas in our society where people can come together to share an experience, even if they see the world in radically different ways. The important thing is not that we agree about the experience that we share, but that we consider it worthwhile sharing an experience at all. In art and other forms of cultural expression, disagreement is accepted and embraced as an essential ingredient. In this sense, the emotions and experiences created by the creative and cultural arts is potentially a great source of inspiration for bringing people together and transforming communities.
The imagery of FESTIBA 2022-2023 includes the Monarch Butterfly, considered to be the most beautiful of all butterflies in the world.  It has been said that they represent strength, endurance, spirituality, trust, sustaining what they believe, transformation and evolution.
FALL FESTIBA 2022!
FESTIBA was established in 2006 to promote the importance of literacy, culture and the arts to students, parents, educators, and community members throughout the Rio Grande Valley. We are Introducing a new element this year! FALL FESTIBA!  Featuring
two amazing women: Ada Limón, poet and Aída Cuevas, Mexican singer, and other special guests.
Monday, November 7th & 8th
PATRICIA CAICEDO, SOPRANO AND MUSICOLOGIST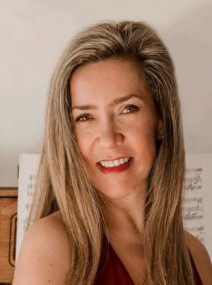 PATRICIA CAICEDO
is a soprano and musicologist whose scholarship and performances center around Latin American and Iberian art songs. She has released eleven albums and published numerous scholarly editions of scores and books, including
The Latin American Art Song: Sounds of the Imagined Nations
, the go-to history on its subject. Patricia has led a crusade to include underrepresented repertoires and creators in music curricula and concert venues for over twenty years having performed around the world in addition to founding and directing the
Barcelona Festival of Song,
which focuses on the study of art song in Spanish, Catalan, and Portuguese. Her interdisciplinary training as a musician, musicologist, and physician, and interest in technology led her to develop numerous creative projects and collaborations with artists and scientists worldwide. Patricia holds a Ph.D. in musicology from the Universidad Complutense de Madrid and a Medical Doctor's degree from the Escuela Colombiana de Medicina.  This event is a collaboration between the UTRGV Center for Latin American Arts, the School of Music, the School of Medicine, and the School of Social Work.
Edinburg Monday November 7
12:00 Noon, Lecture:
We Are What We Listen To: The Impact of Music on Individual and Social Health
at The Center for Latin American Arts
Library, 2nd Floor, ELIBR 2.114
Brownsville Monday November 7
4:00pm, Lecture: Entrepreneurship and Making Music in the 21st Century
at The Music Science and Learning Center
BMSLC Multipurpose Room, 1.217
Edinburg Tuesday November 8
2:00-4:00pm Masterclass: Library Auditorium
4:30pm Lecture: The Latin American Song: A Mirror of Identity
at The Center for Latin American Arts
Library, 2nd Floor, ELIBR 2.114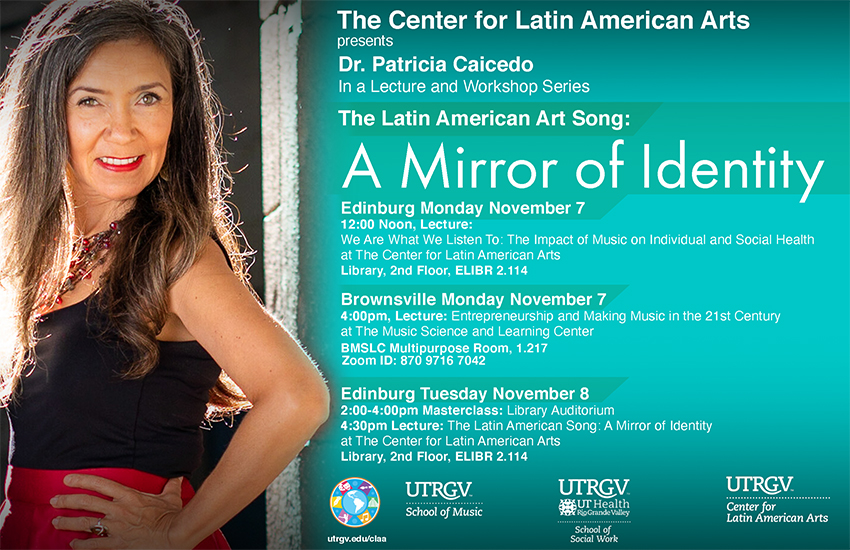 Wednesday, November 9th
ADA LIMÓN: POET LAUREATE OF THE UNITED STATES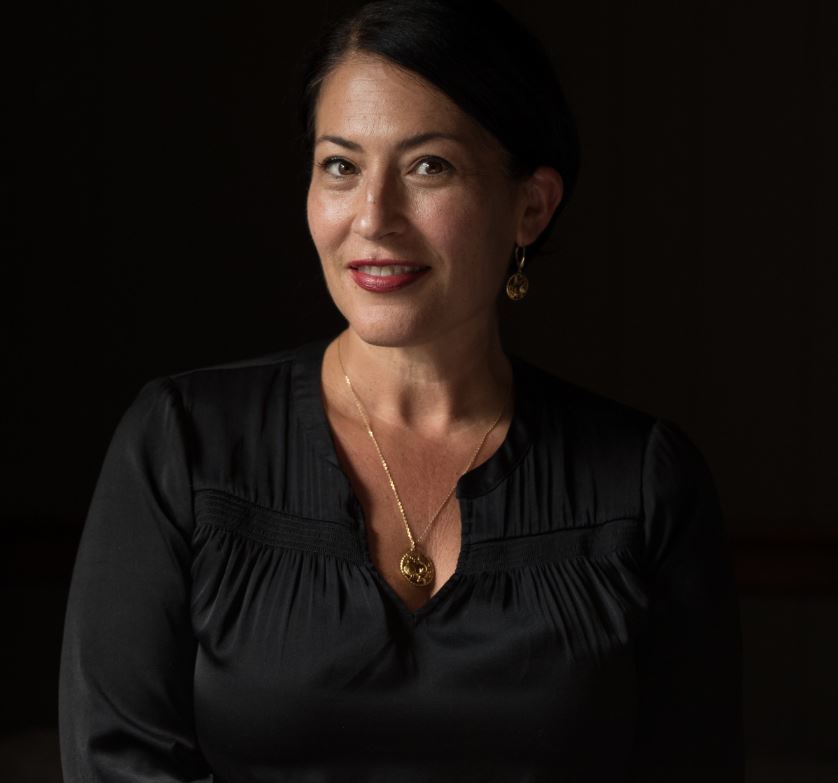 ADA LIMÓN became the 24th Poet Laureate of the United States in July of 2022. Limón is the author of the poetry collections The Hurting Kind (2022, Milkweed Editions); The Carrying (2018, Milkweed Editions), which won the National Book Critics Circle Award for Poetry; Bright Dead Things (2015, Milkweed Editions), a finalist for the National Book Award, the National Books Critics Circle Award, and the Kingsley Tufts Poetry Award; Sharks in the Rivers (2010, Milkweed Editions); Lucky Wreck (2005, Autumn House Press, reissued 2021); and This Big Fake World (2005, Pearl Editions).  Limón earned an MFA from New York University and is the recipient of fellowships from the Guggenheim Foundation, the New York Foundation for the Arts, the Provincetown Fine Arts Work Center, and the Kentucky Foundation for Women. Ada's virtual reading is presented by FESTIBA, the College of Fine Arts, the Creative Writing Program, the Center for Latin American Arts, the Center for Mexican American Studies, the Creative Writing Program, the Department of Literature and Cultural Studies, the Center for Diversity and Inclusion, riverSedge, and the Center for Bilingual Studies.
LUPE MENDEZ, 2022 POET LAUREATE OF TEXAS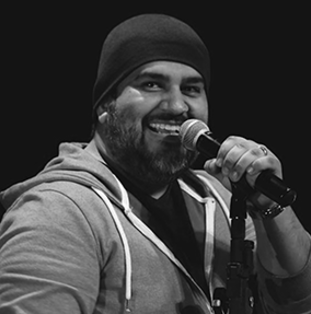 Lupe Mendez is the author of Why I Am Like Tequila (Willow Books, 2019), which won the 2019 John A. Robertson Award from the Texas Institute of Letters. An educator, curriculum writer and literary arts curator, he lives in Houston, Texas. In 2021, Mendez was appointed the 2022 poet laureate of Texas.  He holds an MFA in creative writing from the University of Texas at El Paso.  He founded Tintero Projects where the artists and activist work with Latinx writers and other writers of color.  Lupe is sponsored by the College of Fine Arts Creative Writing Program.
Poet Laureate Schedule for Wednesday, Nov. 7th
11:20 -11:50 a.m. - Tacos and Refreshments
UTRGV Edinburg Campus Ballroom
12:00 – 12:25 p.m. – Reading by Texas Poet Laureate Lupe Mendez
UTRGV Edinburg Campus Student Union Theater
12:30 – 1:30 p.m. - Webinar Reading and Q & A with U.S Poet Laureate Ada Limón
1:45 p.m - Poetry Writing & Performance Workshop with Lupe Mendez
UTRGV Edinburg Campus Ballroom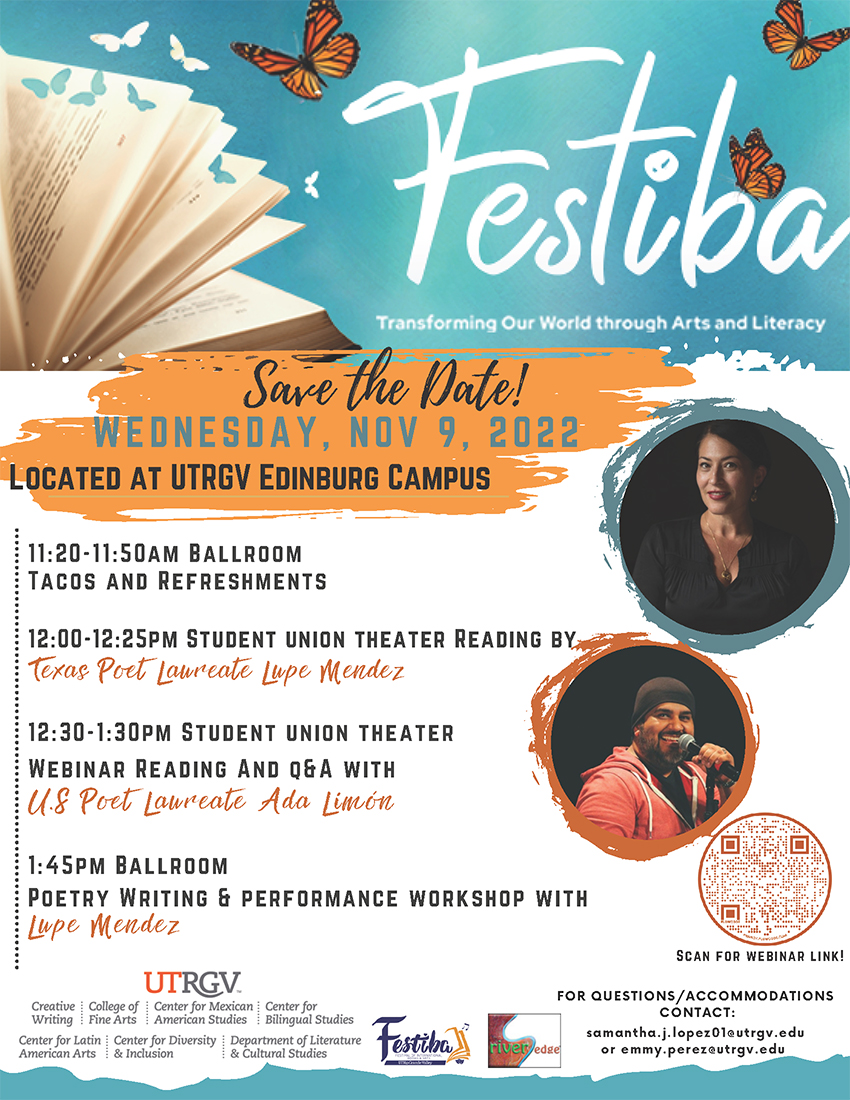 AÍDA CUEVAS, LA REINA DEL MARIACHI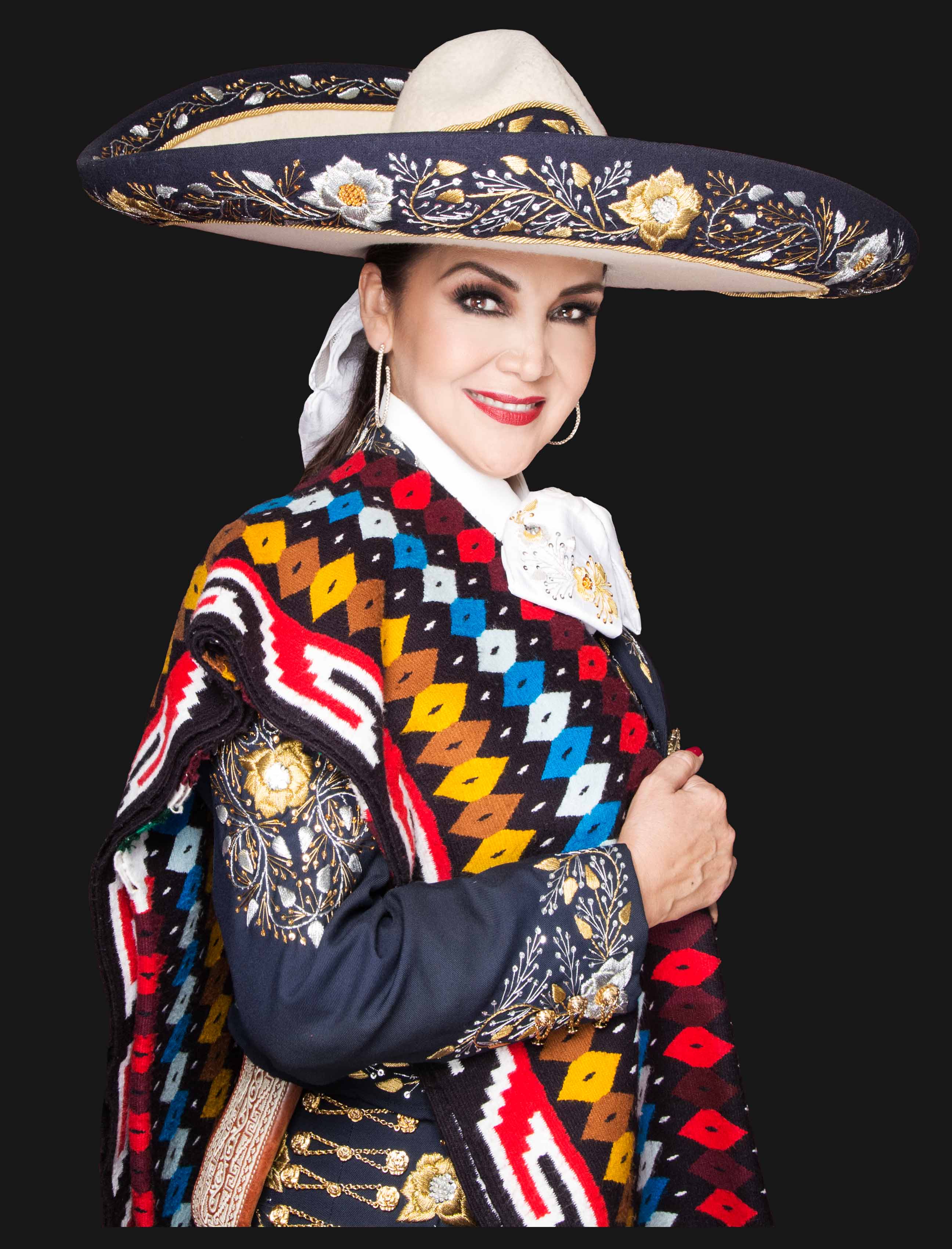 AIDA CUEVAS
, dubbed as "The Queen of Mariachi," is an esteemed figure in Mexico, beloved for her unswerving devotion to traditional mariachi music and for her mastery of its demanding vocal forms. Aída Cuevas, with a 45-year career and 41 album releases to her credit, represents one of the most important careers in traditional Mexican music with Grammy and Latin Grammy Awards, and eleven nominations, becoming the first female singer in the mariachi genre to ever win these awards. FALL FESTIBA  presents her concert:
45th Anniversary – Yo Creo Que Es Tiempo
, an unforgettable and emotional concert celebrating a long-lasting career as Mexico's most important female voice. Aída is joined by renowned UTRGV Mariachi Aztlán.
Concerts will take place on November 9th in Brownsville, TSC PAC (7:30 pm), and in November 11th in Edinburg, UTRGV PAC (7:30pm). Aida is donating the concert in Edinburg as a scholarship fundraiser for the Mariachi Program at UTRGV.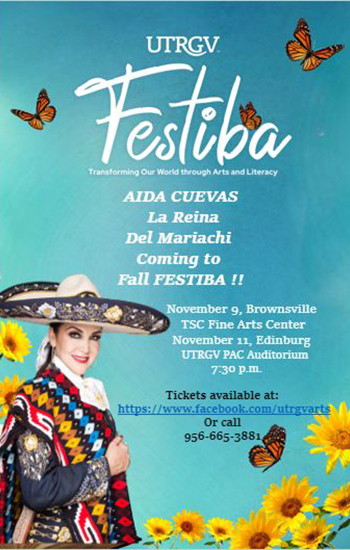 SPRING FESTIBA 2023!
The Spring FESTIBA festival will begin with the South Texas Literacy Symposium on February 25th and continue throughout the next week. Events throughout the week will include topics highlighting the transformative power of the arts and literacy to include authors, musicians, artists, and inspiration speakers and experts on awakening creativity and inspiring critical thinking skills. The Texas Book Festival Reading Rock Stars authors will visit several public schools and distribute free books to children.
Stay tuned for more updates on SPRING FESTIBA 2023!
FESTIBA 2023 will culminate with a mariachi conference with the fabulous Mariachi Sol De México de José Hernandez.  We will be hosting a workshop, competition, and Grand Concert on March 3rd and 4th.