Sub Menu Toggle
Lindaesmeralda M. Lozada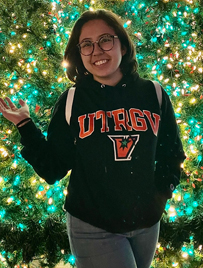 Name: Lindaesmeralda M. Lozada
Age: 22
Major: Psychology
College: College of Liberal Arts
Hometown: McAllen, TX
High School: McAllen High School 
Why UTRGV?
UTRGV was the ideal choice for me because it was clear that I would receive a good quality education while being close to my family. Family is very important to me since they have given me so much of their love and support to continue with my higher education. 
What made you decide on your current major?
I have always been so fascinated by the area of psychology. When I took my first psychology course at South Texas College, I immediately fell in love with it and decided to take more courses. The more I read on psychology, the more I was fascinated by it. The mind has always been complex, and it continues to become complex as the years go by. Knowing this, I feel that I have a responsibility to help those in my community facing many difficult disorders. 
How are you maneuvering being a student during the COVID-19 pandemic?
Being a student during the COVID-19 pandemic has really changed my learning experience. I usually preferred taking classes in person to get a better understanding of the subject, but once the pandemic hit, everything was switched to online. This created a difficult learning environment. Eventually, I organized a timely managed weekly schedule to help me learn together with being productive throughout the semester. In my schedule, I made time for reading, homework assignments, and studying.
What are your greatest strengths and what are some challenges? 
Because of Covid, I was able to build upon my organizational skills in the household. A challenge of mine was not having a proper office space for me to focus on my schoolwork; I would routinely do my assignments on the living room couch which at times became a struggle. To fix this situation, I organized my room in such a way that I could fit a desk. Once I had the desk, I noticed a difference in my organizational skills, such as creating and keeping deadlines, building a to-do list, prioritizing certain tasks, organizing materials, and so much more. 
What do you hope to achieve beyond completion of your major?
In completing my major, I see myself exploring my options in the workforce with my psychology degree to develop new skills. Eventually, in the future, I plan to further my education and become a psychology instructor in a community college, God willing. 
What do you like most about UTRGV?
I love that UTRGV provides its students with many opportunities to continue their higher education. I also enjoy the welcoming and friendly atmosphere of its faculty, staff, and students. In addition, both Brownsville and Edinburg campuses are very beautiful!
What does being a Vaquero mean to you?
To me, being a Vaquero means being part of a family. A family who cares about each individual's success and focuses on building us up in achieving our career goals. Being a Vaquero also represents being proud to be a part of the UTRGV community.

What opportunities has UTRGV helped you find throughout your community?
Upon arriving at UTRGV my first semester, I was so blessed to have been employed by the Student Union. Thanks to my supervisors, I have learned to develop myself professionally, and build upon new skills such as teamwork, communication, creativity, use of technology, and so on. I'd also like to give a special thanks to my mentor Mabel Cortina-Matos for giving me the opportunity to show my newfound skill of creativity within many special events that are hosted by the Student Union. I am forever grateful for this job and for the people I met in the process. The University has made me a responsible student, and I have hopes to continue gaining skills along with using them as a productive member of society.  
What advice do you have for fellow students pursuing degrees during the COVID-19 pandemic? My advice for fellow students is to organize a schedule to separate school, work, and personal time. The reason I recommend this is because I've always dedicated my time to only school/work therefore, never made time for myself, eventually causing me to have major burnouts. As I mentioned earlier, it's important to keep a weekly schedule of everything that needs to be done and trust me, this will save you from stressing out a ton!