Alert
The Alert page is designated as a supplemental resource to the Emergency Alert Notification and official UTRGV emails. Please check in on the Alert page for additional, up-to-date information during a crisis, emergency, or threat at UTRGV.
---
Latest Communication
WEATHER UPDATE
Sep 12, 2021
Dear Campus Community:
UTRGV officials are continuously monitoring tropical storm Nicholas currently in the Bay of Campeche.
The current forecast track has tropical storm Nicholas passing east of South Padre Island as it moves North-Northwest at 13 mph along the Texas coast. Regardless, tropical storm force winds (39 mph or greater) and heavy rains (4"to 6") are likely along our coastal counties, including Cameron and Willacy as early as Monday morning.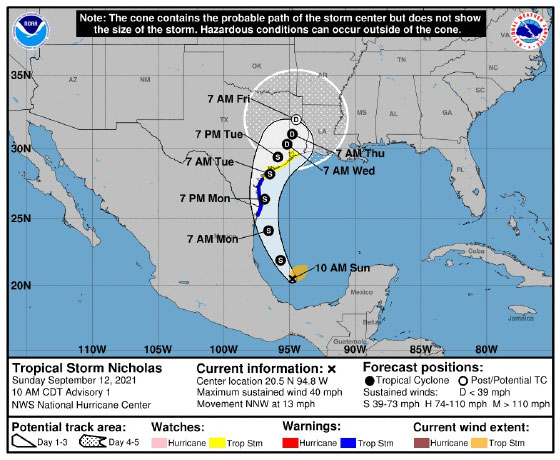 While all UTRGV and UT Health RGV operations are currently expected to continue as scheduled, University officials are monitoring weather conditions and will share any updates to campus impacts, including potential campus closures, through UTRGV's:
Emergency Notification System
For more information on this weather event, monitor your local media or National Weather Service (NWS) webpage.
Sincerely,
The Office of Emergency Preparedness & Incident Management Team
---
---
Please follow us on social media and use #UTRGVAlert.
#UTRGVAlert