Research
A Message from the Associate Dean for Research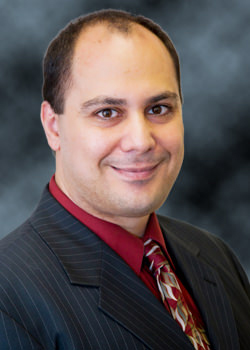 Dear Colleagues,
It is a privilege and an honor to have the opportunity to serve you as the Associate Dean for Research in the College of Engineering and Computer Science at UTRGV. One of the best traits of our college is that we exemplify the true meaning of collegiality and collaboration across all our departments and programs. That is why my number one priority will be to maintain and to strengthen the collaborative efforts among the faculty and staff of this college, and foster new collaborations with our colleagues across the other colleges towards increasing our research productivity and efficiency.
Throughout my career at UTPA and UTRGV, I have held leadership roles in several university and college committees which provided me with great insight into the various obstacles and difficulties that we face in our day-to-day activities as faculty and staff. One of our goals will be to try and break down these barriers and hurdles and strive to facilitate the processes and procedures that make it possible for you to move your research agendas forward. I will be counting on your help and cooperation as the duties and responsibilities of this position require the input and assistance of all faculty and staff in this college. Rest assured that I will be relying on your feedback and help in putting together some guidelines, processes, and procedures that will reward your hard work, and provide you with pathways to success that will move our college and university towards becoming a premier learner-centered research institution.
Finally, I want to re-iterate that my primary goal is to help you achieve your research objectives and assist you in building research groups that can collaborate and be competitive in going after strategic grants in your areas of expertise. I will have an open door policy and I want you to feel comfortable sharing with me any issues that hinder your progress. I promise to work with you towards finding workable solutions. I look forward to being a part of the excellent tradition of service and professionalism that you have come to expect from the College of Engineering and Computer Science Dean's Office.
Sincerely,

Constantine Tarawneh, Ph.D.
Professor and Associate Dean for Research