NEW NATIONAL CHAMPIONS!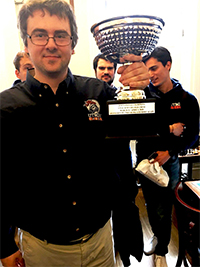 The UTRGV Chess Team defeats five-time champs Webster in 2018 President's Cup
RIO GRANDE VALLEY, TEXAS – APRIL 1, 2018 – The University of Texas Rio Grande Valley Chess Team pulled off a stunning win over five-year reigning national champs Webster University this weekend in the annual President's Cup, the Final Four of College Chess competition, at the Marshall Chess Club in New York City.
UTRGV beat Webster 7.5 to 7.0 after what FIDE arbiter Mike Hoffpauir called "the strongest Final Four in the history of this tournament." Read more.
Who We Are
Chess has been an important part of our university and has acted as a metaphor of the vast human potential that our region holds. UTRGV Chess Team competes at the highest level at state, national and international tournaments, under the leadership of Chess Coach (Grandmaster) Bartek Macieja.
During its inaugural year of competition, under the UTRGV banner, the Chess Team developed into a force to be reckoned with in the world of collegiate chess. Among the team's highlights in 2015 was being recognized by the House of Representatives of the State of Texas and by the Senate of the State of Texas for its many accomplishments.
The Chess Program organizes local and international tournaments, holds camps, trains area coaches, and presents community outreach chess classes for local community members on a regular basis, in particular through the Chess Academy. Finally, the UTRGV Chess Program supports the Chess Club at UTRGV, a student organization reaching over 100 chess enthusiasts.