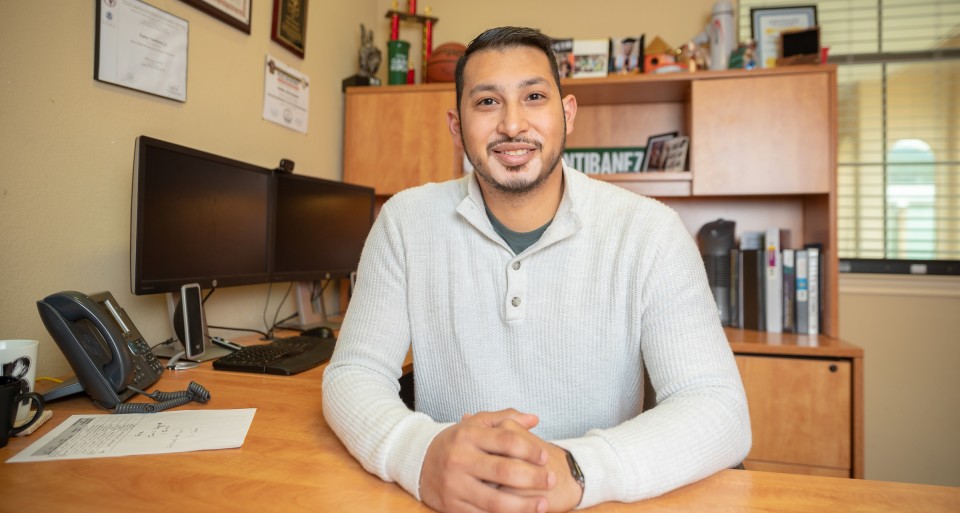 Meet Ruben Santibañez, a UTRGV Unsung Hero
Text by Cinthia Monsivais, student staff writer
Photos by David Pike, staff photographer: 
https://utrgv.news/RubenSantibanez
Throughout the day, parents, residents and staff come in and out of his office, but that is just a typical occurrence in Ruben Santibañez's daily work routine. There are times when even his 5-year-old daughter happens to pay him a visit to brighten his day.
"She loves coming to my office, she loves coming to talk to the RA's ... she likes talking to residents, which is awesome because she gets to experience the university life," he says as his face lights up.
Santibañez keeps things minimalistic - his office is quite bare yet organized. He shares that organization is a key necessity in various aspects of his life, which is evident by one of the few decorations that line his wall — a task-filled white board which keeps track of all of his work assignments.
Although his work role is predominantly an administrative one, Santibañez wears many hats when it comes to his position as the Assistant Director of Housing and Residence Life. Whether it be conducting tours, administrating the housing website, or simply sharing his guidance with students who often drop by his office, he tries to be hands-on with work-related circumstances. 
"I always try to be out there with my staff, even with little things like orientations with parents or students," he said. "I like seeing the new faces and seeing students who are excited to come into the university."
NAME: Ruben Santibañez
JOB TITLE: Assistant Director for Housing and Residence Life
CAMPUS: Brownsville
DEPARTMENT: Housing and Residence Life
WHAT IS YOUR ROLE AT UTRGV?
I am the Assistant Director of Residence Life. I oversee the residence life program for the Brownsville Campus.

HOW LONG HAVE YOU WORKED HERE?
I have been with the university for four years.

DESCRIBE YOUR AVERAGE DAY?
At Housing, every day it is very different routine, but I usually start my day with catching up with my staff and answering any questions and concerns via email. As the academic year has come to an end, my focus is on updating all marketing pieces, the housing website, the student housing portal, price brochures, RA Hiring and resident assistant training for Fall 2019. My goal is to make any process that involves Housing go as smoothly as possible so that our students aren't struggling.
WHAT IS YOUR FAVORITE PART OF YOUR JOB?
My favorite part is the ability to interact with residents and to be a mentor for our student staff.  I get to see a new group of students every academic year and be a part of their success. It's a pleasure to see them grow every year and then rewarding to see them cross the stage to receive their diplomas.
DO YOU HAVE A FAVORITE MEMORY, OR STORY, ABOUT YOUR TIME HERE?
My favorite memories consist of seeing my resident assistants and residents graduate. I get to meet many of them early on and be part of their academic journey while they live on campus. If they let me, I am able to help in some way or another.
TELL US SOMETHING MOST PEOPLE DON'T KNOW ABOUT YOU?
Because of my position as Assistant Director, I live on campus at the Casa Bella apartments. I am married and have a 5-year-old daughter and 8-month-old son that also live on campus with me. It's a great opportunity to introduce my children to the university experience early on.
DO YOU FEEL A SPECIAL BOND WITH THE UTRGV COMMUNITY?
I do, my wife and I graduated from UTB/TSC in 2011 and shortly after my wife received her master's degree from UTPA. We are both first generation college students and our goal was to eventually come back to the Rio Grande Valley and give back to the community that created many career opportunities for us. After being away from the Valley for five years, I am glad to be at UTRGV working with students that have a similar background and upbringing. I get to create an environment that is conducive to their learning and help them achieve their goal of graduating from UTRGV.