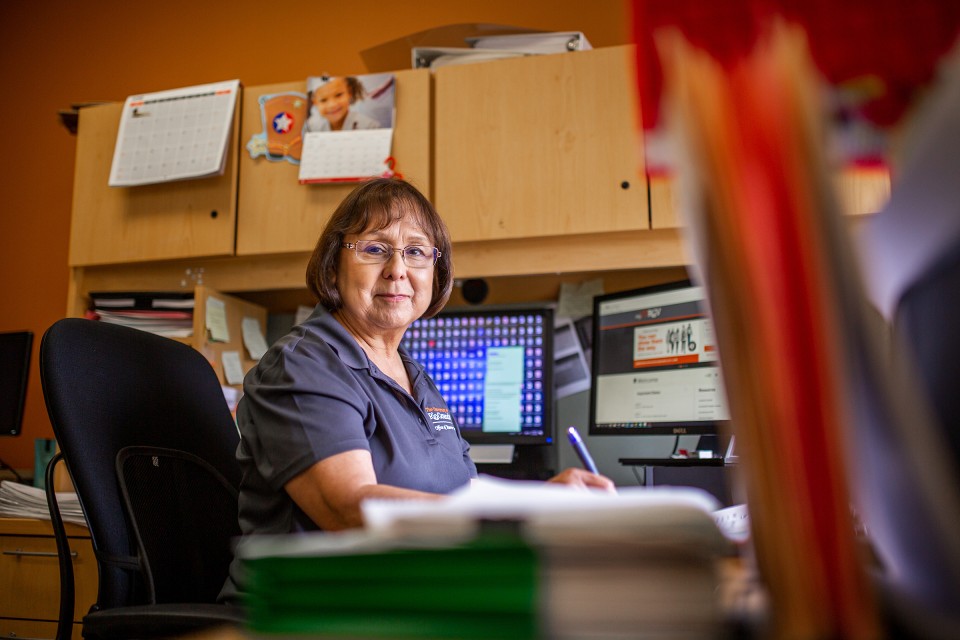 Meet Maria Garcia, a UTRGV Unsung Hero
Text by Cinthia Monsivais, student staff writer
Photos by Silver Salas, student staff photographer: 
https://utrgv.news/MariaGarcia
Password: unsung (case sensitive)
A collection of tiny, solar-powered scarecrow figurines dance to an imaginary beat next to the window in Maria Alicia Garcia's office. Her desk, illuminated by the sun from that same window, is where Garcia starts her day of consulting with coworkers and answering their questions.
For 47 years, she has worked for the university through all of its various configurations; Garcia has held only one other job in her entire career.
Being in one place for so long can lead to long-lasting friendships, and Garcia sees her UTRGV coworkers as family.
"I've seen the university grow. I've seen it go from two to three buildings to what is now," she said. "In the things that I've learned, I've been able to grow. I see this university as family, you know, family that you see grow." 

Most of her work consists of behind the scenes research and record maintenance — evidenced by the many stacks of files that line her office walls — her job also includes helping employees prepare for retirement.
People, Garcia will tell you – they're her favorite part of the job.  
NAME: Maria (Mary) A. Garcia
JOB TITLE: HR Assistant II
CAMPUS: Edinburg
DEPARTMENT: Human Resources
WHAT IS YOUR ROLE AT UTRGV?
I am assigned to the Office of Human Resources Employee Records area. 
HOW LONG HAVE YOU WORKED HERE?
I was employed in 1972, so I've worked here for 47 years.
DESCRIBE YOUR AVERAGE DAY
My average day consists of working with employee records, which includes scanning any paper documents that may be received. I answer inquiries from employees on years of service and longevity pay by researching the employee's employment history file. This includes researching records when an employee is looking at planning retirement. I reply to inquiries received from external agencies such as mortgage companies and other state agencies. There are state reports which I review and take appropriate action as needed. These reports do take priority.
WHAT IS YOUR FAVORITE PART OF YOUR JOB?
The contact with people has always been my favorite. I have met and worked with a lot of great people. 
 
DO YOU HAVE A FAVORITE MEMORY, OR STORY, ABOUT YOUR TIME HERE?
I think my favorite memory or story is the growth that this university has had. It has been amazing to see the growth from a few small buildings and a parking area that was probably less than a block in size, to the present. More importantly, the academic opportunities for the Rio Grande Valley and its students allow for students to pursue their goals without the need to leave the Valley. Through that, this university has contributed to the growth in this area.
I am always ready to show off our university when out-of-Valley relatives or friends visit. And my children always proudly tell friends and relatives that I work for the university. 
TELL US SOMETHING MOST PEOPLE DON'T KNOW ABOUT YOU
I was raised on a small farm and still live there. I would always wear cowboy boots when I was in elementary school. My first vehicle was a tractor. And most people know my two sons because they both live in Edinburg and both graduated from legacy institution UTPA, and I also have a daughter.
DO YOU FEEL A SPECIAL BOND WITH THE UTRGV COMMUNITY?
I do feel a special bond with the UTRGV community. I have been through some major and very successful changes. It has been like watching my children grow and become mature, successful adults.