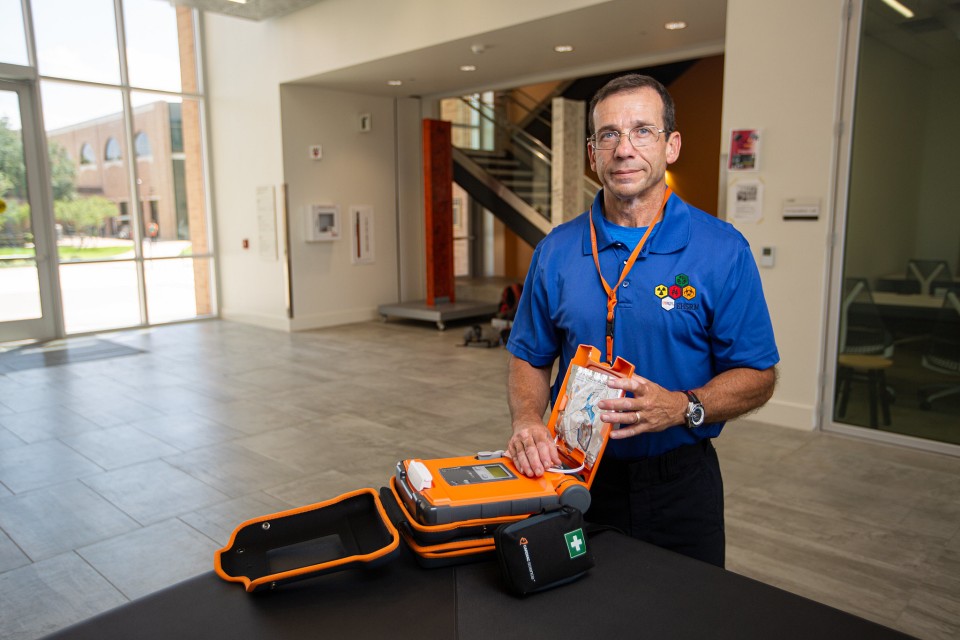 John Guglielmo, a UTRGV Unsung Hero
Text by Cinthia Monsivais, student staff writer
Photos by Silver Salas, student staff photographer: 
https://www.flickr.com/gp/utrgvnews/447EbS
"Don't you realize there are miles and miles of beach and hundreds of starfish? You can't make a difference!" a man told a boy, who was trying to save starfish by gently throwing them back into the ocean. 
After listening politely, the boy picked up another starfish and tossed it back into the surf. Then, smiling at the man, he said, "I made a difference for that one."  
UTRGV safety technician John Guglielmo, animated by drive and passion, unfolds the starfish story as he sets up for his recurring "Stop the Bleed" trainings.   
Much like the boy in the story, Guglielmo has a calling for making a difference – even if the impact is to help just one person. After all, that one person could use the life-saving techniques Guglielmo is teaching to save someone's life. 
He is used to helping people, given his 25 years as a firefighter with the Chicago Fire Department. And he continues to help people via the trainings he conducts at UTRGV, and by helping maintain safety standards throughout the university.
Ultimately, he wants to teach others how they can create their own version of the starfish story by understanding that every person can make a difference.   
NAME: John Guglielmo
JOB TITLE:  Part-time, non-student Safety Technician
CAMPUS: Edinburg
DEPARTMENT: Environmental Health, Safety, and Risk Management
WHAT IS YOUR ROLE AT UTRGV?
My role is to check and maintain safety equipment such as the AED (Automated External Defibrillators), eye wash and safety showers, and large first aid kits all over UTRGV's campuses and sites, from Brownsville and Port Isabel to Rio Grande City and all the outlying clinics. I am also responsible for doing many of the trainings, including the First Aid/CPR/AED, Stop-the-Bleed, Forklift Safety, etc. 
HOW LONG HAVE YOU WORKED AT UTRGV?
Two and a half years.
DESCRIBE YOUR AVERAGE DAY
I start by gathering printouts of the equipment I'm going to check that day. I look to see if there are any items that I need to bring with me, such as new AED pads or batteries for units that have ones that are going to expire.
I then walked in a systematic pattern around the campus, checking each unit to make sure it is working properly. Once this is done, I come back and record the data into a spreadsheet. 
WHAT IS YOUR FAVORITE PART OF YOUR JOB?
Teaching. I love the teaching end most of all. I get to interact with lots of people and share valuable safety information.
DO YOU HAVE A FAVORITE MEMORY, OR STORY, ABOUT YOUR TIME HERE?
When I was first starting to do the safety shower tests, the curtain moved and I got soaked with water! This was, of course, in front of a full classroom of students and I received a round of applause.
TELL US SOMETHING MOST PEOPLE DON'T KNOW ABOUT YOU
I have a second-degree black belt in Tae Kwon Do.
DO YOU FEEL A SPECIAL BOND WITH THE UTRGV COMMUNITY?
I feel a special connection with all the people I have taught here at the university. As a former firefighter and paramedic, I have seen the result of people not knowing what to do in an emergency. I believe that I can make a difference in the overall safety of each and every person I come in contact with through my training classes.