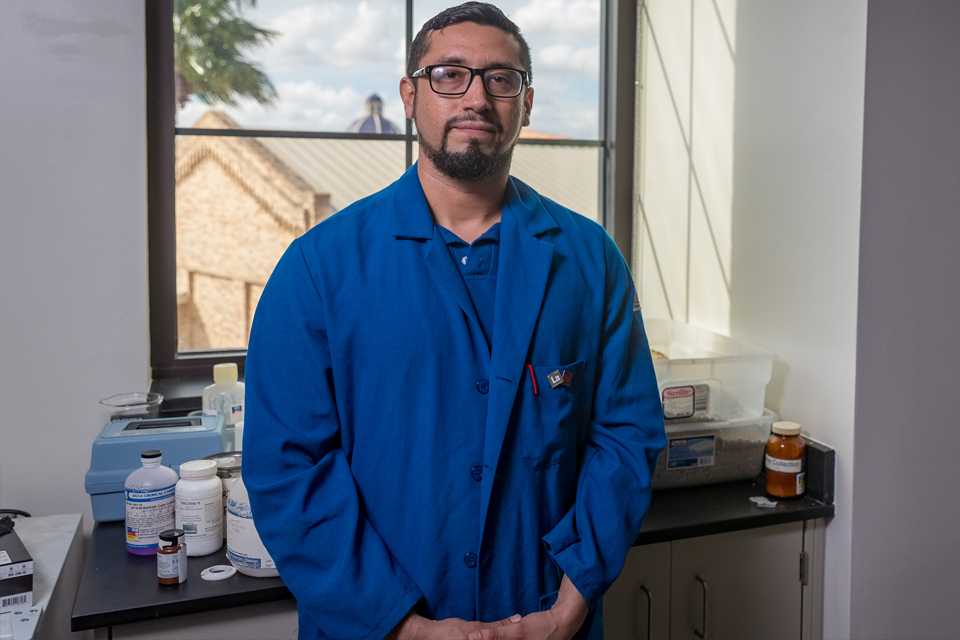 Meet Joe Lara, a UTRGV Unsung Hero
Text by Priscilla Ramirez, student staff writer
Photos by David Pike: https://utrgv.news/JoeLara
Joe Lara is a multi-tasker. He can go from checking maintenance on lab equipment to a round of restocking and checkup on every lab inside the new Music, Science & Learning Center on the Brownsville Campus. As a lab supervisor, each day brings him a mountain of work – but it's work he loves. 
"My parents told me that when you do something you like, you get a healthy kind of tired," says Lara, who is also a master's student at UTRGV. 
His father, another multi-tasker, is a veterinarian – and traces of that are visible in his son's office on campus. Glittering cat pins and small dog sculptures decorate Lara's desk, tiny reminders of the four-legged companions he has known throughout his life.  
"Free time" isn't in Lara's vocabulary. Sunrise to sundown (and then some), he works to maintain an environment conducive to scientific learning – all while maintaining his own graduate research in catalysis.
WHAT IS YOUR ROLE AT UTRGV?
Laboratory Supervisor/ Coordinator - I oversee the teaching lab spaces, preparations, stockroom organization, inventories, ordering of supplies, chemicals and instruments, while enforcing safety standards and protocols for students and faculty working within the laboratories.
HOW LONG HAVE YOU WORKED HERE?
In this position, for about three years.
DESCRIBE YOUR AVERAGE DAY?
My day begins with the re-stocking of all teaching labs. Checking on gloves, paper towels, chemicals and materials that will be used by the faculty instructing labs that day. This is a typical way to spend my early morning hours. After that, I devote some hours to the organization of our labs, since we recently moved buildings. Afterwards, I reply to emails and answer calls, or I order chemicals, glassware and other materials we may need.
Later, I supervise two of my student assistants, who help me around the labs and keep up with the cleaning of the premises, preparing reagents, or refilling solution bottles that get low throughout the day from student use. By the end of the day, I find myself checking on all the labs and making sure that no instrument was left unattended and plugged in, and that all waste bottles were properly closed.
After 5 p.m., I start doing research in the chemistry research area, since I am also a master's student focusing on catalysis research.
WHAT IS YOUR FAVORITE PART OF THE JOB?
The favorite part of my job is being in a lab. I have always enjoyed working in chemistry laboratories, ever since I was in junior high.
TELL US SOMETHING MOST PEOPLE DON'T KNOW ABOUT YOU?
Aside from lab work, I love working out and playing guitar and singing.
DO YOU HAVE A FAVORITE MEMORY OR STORY FROM YOUR TIME HERE?
One of my fondest memories is this time when I fell ill and had to take medical leave for a week. I was really concerned I was going to fail with the laboratory setups and not be able to complete my tasks in the lab. But, faculty and students from the department came together to assist me in fulfilling my laboratory chores. This gave me some peace of mind and allowed me to fully recover.    
DO YOU FEEL A SPECIAL BOND WITH THE UTRGV COMMUNITY?
Yes, I enjoy helping students working in the lab – and helping them to learn from my own skills in the lab – so that they become better scientists and professionals. I also enjoy assisting my peers who teach in the labs and aiding them with any needs they may have regarding laboratory materials and chemicals.