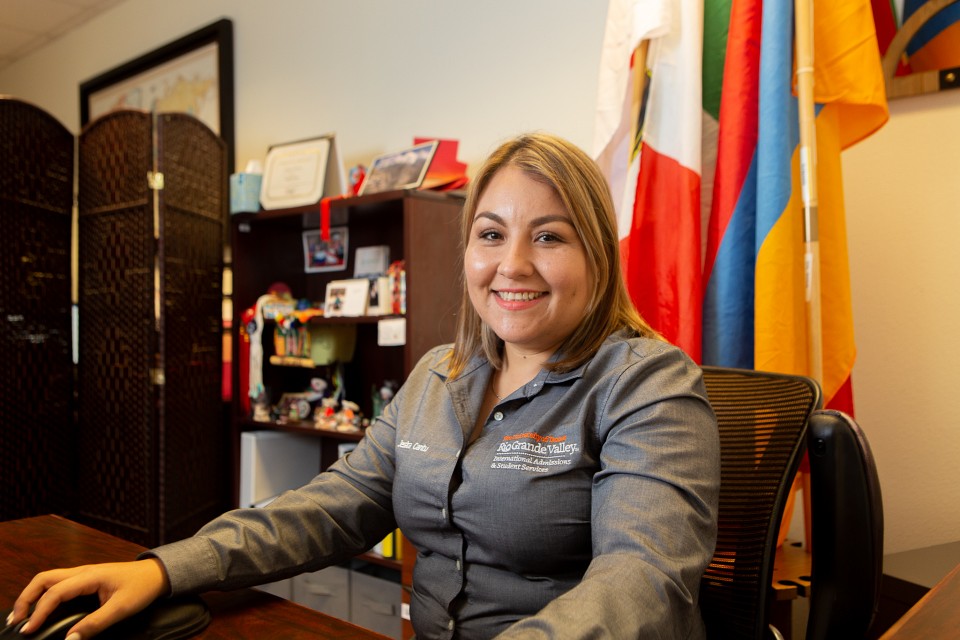 Meet Jessica Cantu, a UTRGV Unsung Hero
Text by Priscilla Ramirez, student staff writer
Photos by Alan Govea, student staff photographer:
https://utrgv.news/JessicaCantu
Maps of the world are framed across Jessica Cantú's shared office space. There are gifts from international students, too, and memorabilia to decorate UTRGV's Office of International Admissions & Student Services on the Brownsville Campus.
You'll find Cantú, an international admissions specialist, behind the first partition in the studio office.
She works closely with international students, streamlining the processes they go through before attending classes at UTRGV. Every day, her phone rings with more and more students concerned that they're on schedule, that the paperwork is OK. She does her best to allay those fears for them.
"What brings me so much satisfaction in working here is to hear back from these students once they graduate and know what they've gone on to accomplish," she says.
Patience and understanding are virtues that help bridge the path for international incoming students far from the comfort and security of home. 
WHAT IS YOUR ROLE AT UTRGV?
I guide international students to successfully complete their admissions process to UTRGV and comply with the requirements to enter the United States. My work directly impacts UTRGV's "Bicultural, Bilingual and Biliterate" core values and contributes fully to have the university to act as a gateway to the Americas. 

HOW LONG HAVE YOU WORKED HERE?
I've worked here for 15 years.

DESCRIBE YOUR AVERAGE DAY:
My average day starts by reviewing email and following up with students' emails, as many of my students are in different time zones. I talk to students daily. I closely collaborate with our Graduate College and Undergraduate Admissions to help our international students. Every day, I create documents students need to apply for a student visa. I am very happy that my daily duties include helping students over the phone, email and face to face.

WHAT IS YOUR FAVORITE PART OF THE JOB?
My favorite part is interacting with international students and having the opportunity to learn about their cultures and homelands.

DO YOU HAVE A FAVORITE MEMORY, OR STORY, ABOUT YOUR TIME HERE?
The first time we did the International Meet and Greet at one of our legacy institutions, UTB, it was a total success. Students were very excited, and I'm glad I was part of it. It has now become a signature event for our department and a tradition for UTRGV.

TELL US SOMETHING MOST PEOPLE DON'T KNOW ABOUT YOU:
I enjoy going to the beach and having a peaceful evening to myself.

DO YOU FEEL A SPECIAL BOND WITH THE UTRGV COMMUNITY?
Yes, I have a special bond with the UTRGV community. I want to see all my international students succeed and create their mark in the world.