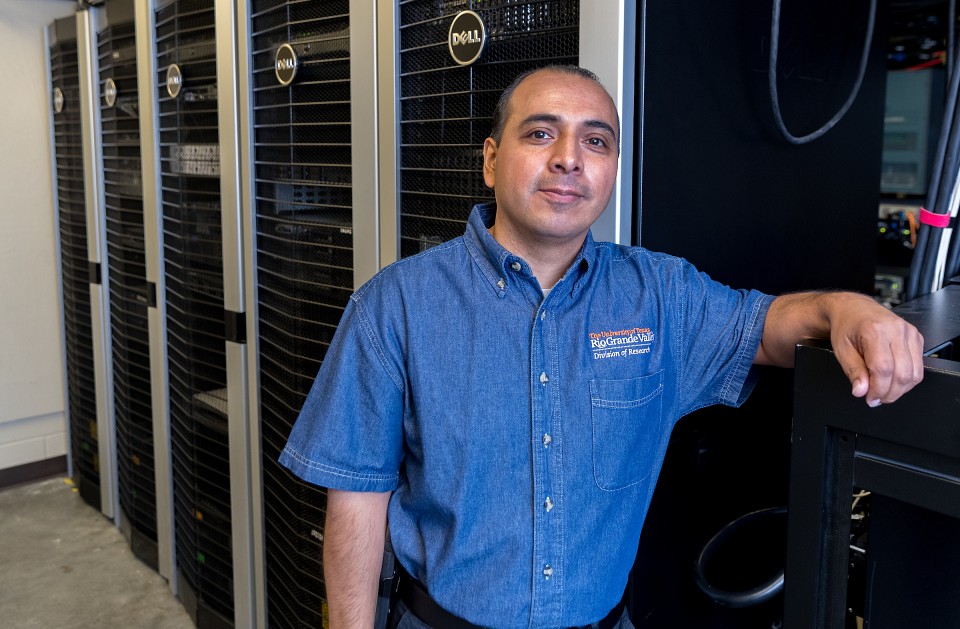 Meet Deivi Salazar, a UTRGV Unsung Hero
Text by Priscilla Ramirez, student staff writer
Photos by David Pike, staff photographer: 
https://utrgv.news/DeiviSalazar
Deivi Salazar is a just phone call away. As a technology support specialist, he helps researchers and other members of the UTRGV community with his intuitive problem-solving. It can be a big job, and balancing tech requests keeps Salazar busy at the Biomedical Research & Health Professions Building on the Brownsville Campus.
"When I open up someone's computer and take a look at the hardware, that's my favorite thing to do," he says.
His interest in information technology took root during his own experiences with new hardware. He wanted to learn more, so he did.
Today, no matter the issue, Salazar's goal is to provide the best service he can to make sure UTRGV technology is at its best.
NAME: Deivi Salazar
JOB TITLE: Technology Support Specialist III
CAMPUS: Brownsville
DEPARTMENT: Office of the Executive Vice President for Research, Graduate Studies and New Program Development 
WHAT IS YOUR ROLE AT UTRGV?
I have different roles. I assist various departments with technology support and am in close contact with my IT colleagues, as they also play an important role in helping with technical support. I also help by maintaining an updated database of fixed assets. I am not limited to a single role - I assist in any way possible to everyone that requires assistance. 
HOW LONG HAVE YOU WORKED HERE?
For 18 years, in various roles.
DESCRIBE YOUR AVERAGE DAY:
I have a to-do list that serves as a reminder of my daily duties and helps me prioritize what I have pending. I like to complete my tasks as soon as possible, so I do not have users waiting on their requests. I am constantly checking my email to make sure that I am assisting with all requests.
WHAT IS YOUR FAVORITE PART OF YOUR JOB?
I enjoy helping others with any support I can give them. I enjoy solving problems, and when staff members run across technical issues, I am often able to find solutions in a short time. The issues can range from simple to complex. Regardless of what the issue is, I always get great satisfaction that I am able to assist.
DO YOU HAVE A FAVORITE MEMORY, OR STORY, ABOUT YOUR TIME HERE?
Before I started doing technical support, I saw two IT support staff working on a computer and I remember thinking to myself, I think I would enjoy doing that type of job someday. About three weeks after that, I was asked by my supervisor at that time if I could be the technical support of the department, and that's when I started working in IT support. Throughout the years, my role has expanded from a single department to an entire division.
TELL US SOMETHING MOST PEOPLE DON'T KNOW ABOUT YOU:
I have two boys that I adore and enjoy spending all my free time with them. My oldest, Davy, is 6 years old and my youngest, Sebastian, is 4 years old.
DO YOU FEEL A SPECIAL BOND WITH THE UTRGV COMMUNITY?
Yes, I enjoy helping others in any way that I can. It does not have to be a technical issue for me to extend my hand and help someone in need.