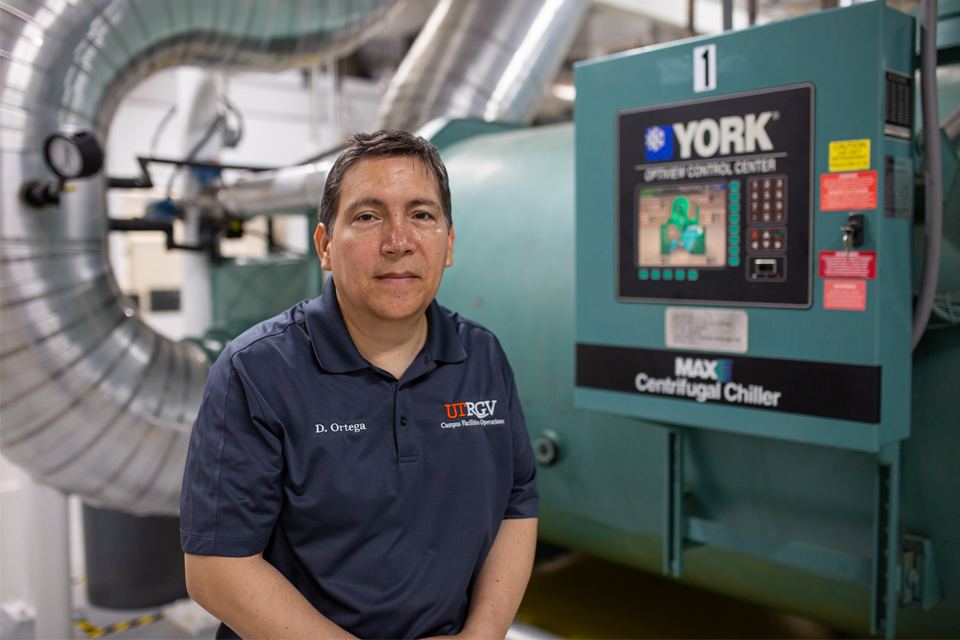 Meet David Ortega, a UTRGV Unsung Hero
Text by Cinthia Monsivais, student staff writer
Photos by Silver Salas, student staff photographer: 
https://www.flickr.com/gp/utrgvnews/e6F730
It's likely that most students walk by the cooling plant on the UTRGV Edinburg Campus and have no idea what it is. Many probably wonder about the streams of rushing water that cascade down the towering structure, but few realize this water plays a crucial part in powering the entire campus.
David Ortega, assistant director for Energy Management and Cooling Plant Operations, spends much of his time overseeing the powering system, which includes the rushing water.
While Ortega has an office in another building on campus, he only visits it to do paperwork. The rest of his days are filled with monitoring meters and methods.
He describes his department as a system in which everyone and everything plays an essential role. His own role is to make sure everything operates according to plan.  
"There's facility employees all around in the background," Ortega said, "and that's what we do, we work in the background, There's always three parts to our system: the product, the process and the people."
Whether he's at the plant, surrounded by a maze of machinery, or at his office doing paperwork, Ortega is always on-call to make sure the power stays on.
In the rare case of a power failure, Ortega will drop what he's doing and remedy the issue. In these cases, the entire campus then becomes his office.
NAME: David A. Ortega
JOB TITLE:  Assistant Director for Energy Management and Cooling Plant Operations
CAMPUS:   Edinburg (Others through shared services)
DEPARTMENT:  Facilities Planning and Operations
WHAT IS YOUR ROLE AT UTRGV? 
I influence, track and report energy and water usage, act as facility liaison for utility accounts and procure energy UTRGV-wide. I also supervise cooling plant operations and the building automation crew in Edinburg, as well as work with directors, faculty and others in related construction and renovation projects.
HOW LONG HAVE YOU WORKED HERE?
More than two decades. I began working in 1998 at legacy institution UTPA as a Mechanical Engineer II. Since then, I have taken on various roles within the Department of Facilities Planning and Operations.
DESCRIBE YOUR AVERAGE DAY:
I arrive at work with a plan to address a series of tasks. A significant portion of my workday is dedicated to reading and responding to emails, making and receiving phone calls, and attending meetings on or off campus. I then work on pending tasks before leaving for the day. 
WHAT IS YOUR FAVORITE PART OF YOUR JOB?
Collaborating with others in planning, designing and implementing innovative solutions to provide reliable air conditioning for the campus community. Our objectives are to continuously and responsibly improve facilities processes by decreasing the cost of utilities and conserving energy, amongst other things.
DO YOU HAVE A FAVORITE MEMORY, OR STORY, ABOUT YOUR TIME HERE?
In the fall of 2015, I came down with a serious medical condition. I fainted in my office and hit my forehead on the edge of my desk. A coworker found me, face down and bleeding. The prayers, hospital visits and support from my family, coworkers and others within the campus community gave me during this time was humbling. It made me appreciate all the great people around me and the friendships we have built.
TELL US SOMETHING MOST PEOPLE DON'T KNOW ABOUT YOU: 
I help take care of an elderly parent. It is a privilege, although it can be challenging at times. However, I am grateful for the support provided by my supervisor and associate vice president.
DO YOU FEEL A SPECIAL BOND WITH THE UTRGV COMMUNITY?
Absolutely. I have the good fortune of being part of the UTRGV community through the education and employment conferred to me by this institution. It is truly a privilege to interact with so many talented people.
MESSAGES FROM PEERS
"David mentors student employees, either work studies or direct wage. He is really good about explaining things to the students – and to us!"
-- Marta Salinas-Hovar, associate vice president, Facilities Planning & Operations