Unsung Heroes:
Get to know some of the people who help make UTRGV run
EDITOR'S NOTE: President Abraham Lincoln said, "Don't worry when you are not recognized, but strive to be worthy of recognition." That certainly describes so many of the people at The University of Texas Rio Grande Valley. They work each day behind the scenes, away from spotlights and accolades, but still knowing they have a job to do that supports the university community. For an institution as large as UTRGV to work efficiently, many people must contribute – but some of them go unnoticed. Our Unsung Heroes series highlights just a few of the people who often go overlooked, despite their importance and contributions.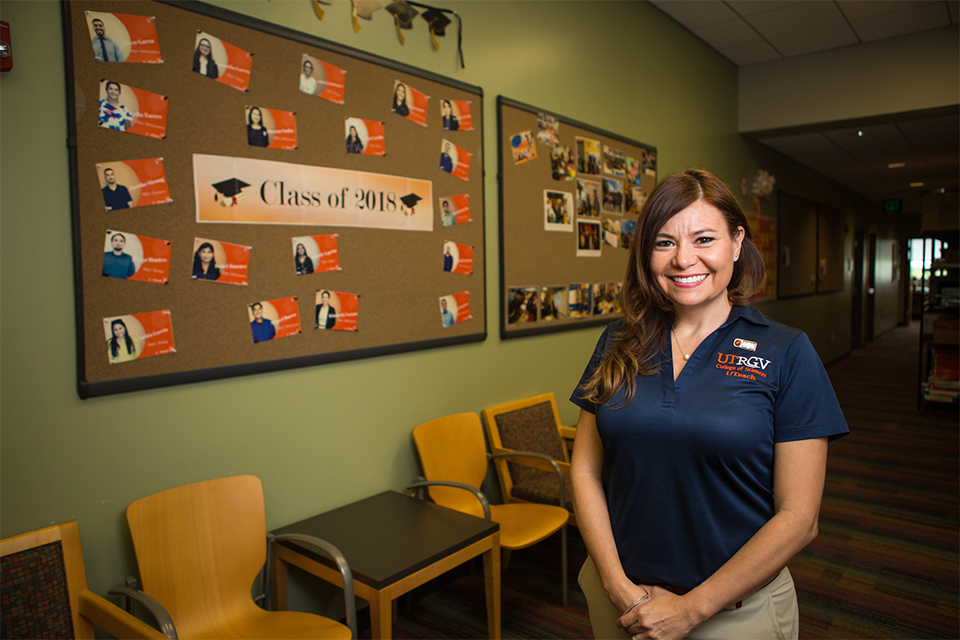 Meet Monica Yates, a UTRGV Unsung Hero
Text by Priscilla Ramirez, student staff writer
Photos by Silver Salas, student staff photographer: 
https://utrgv.news/MonicaYates
Password: unsungmonica (case sensitive)
Monica Yates's office at UTRGV is a comfort zone, dotted with students' trinkets that make the space feel personal.
Souvenirs that students have brought her from study abroad trips, photos of ceremonies on campus, and action figurines stylize her shelves and boards.
"This is their space, too," she says of the students. "It's a little bit of me, but it's a lot of them."
As an academic advisor for the UTeach RGV Program in the UTRGV College of Sciences, she is at the forefront of guidance, and core UTRGV values like education, community and humanitarianism by extension define Monica Yates. Students become family, and she takes care of everyone, not only students in her field.
"I got an email today from a parent of one of my students, thanking me for everything I did, saying I went above and beyond. It really reaffirmed why I do what I do," Yates said.
She speaks fondly of her work and her life, grateful for everything that has come her way. She considers her role models to be her mother and her grandmother, who have inspire her to continue learning and helping people every day.
"Regardless of who is telling you that you can't, know that there is someone who knows you can," she said.
WHAT IS YOUR ROLE AT UTRGV?
I am an Academic Advisor for the UTeach RGV Program in the College of Sciences.
HOW LONG HAVE YOU WORKED HERE?
I have worked 12 years combined, with legacy institution UTPA and now UTRGV.
DESCRIBE YOUR AVERAGE DAY
My day begins at 5 a.m., when I get up to go to the gym. I really believe this gives me the energy I need and sets the tone for my day. Once I am at work, an average day for me consists of many processes. For instance, when I have a new incoming student, I welcome them first to the UTeach RGV Program.
We begin by discussing career goals, reviewing degree plans and mapping out each course based per semester. I want them to be able to see their graduation date on paper in that moment. This is a personalized map and a resource utilized by each student. In addition, I make them aware of expectations to accomplish their academic goals while in our program.
My ultimate objective on any day is to ensure that any UTRGV student who steps into my office feels empowered when they walk out and equipped to attain their degree.
WHAT IS YOUR FAVORITE PART OF THE JOB?
My favorite part of my job is to be able to witness the end of our students' academic journey during commencement celebrations. It is a privilege to realize that I have played an integral role in their accomplishments. It is so rewarding to know that they have earned a STEM degree. They have also become either an amazing biology, chemistry, math or physics teacher and productive members of our community. They are leaders
TELL US SOMETHING MOST PEOPLE DON'T KNOW ABOUT YOU
Most people do not know that I am a registered dental hygienist. I stay up-to-date in dental hygiene by attending Continuing Education seminars. One of the most interesting CE seminars I attended was about forensic dentistry. I tell students to never stop learning, because you never want to limit yourself. 
DO YOU HAVE A FAVORITE MEMORY OR STORY FROM YOUR TIME HERE?
This specific memory has left an everlasting impression that has added to my continued dedication to our students. I once attended a clinical teaching graduation pinning ceremony. During the ceremony, students were asked to select a person who had been essential in helping them graduate. When the pinning moment arrived, I began to take pictures to capture this special occasion. It was then when I saw one of my UTeach RGV students approaching me. I first asked her if she needed anything, and then she whispered to me, "Mrs. Yates, I don't have anyone. Would you be willing to pin me?" I replied, "Absolutely! I would be honored to do so."
Knowing the significance of the person who does the pinning, I took that honor personally. I felt that she not only saw me as her academic advisor, but also as "family." This act solidified to me that UTRGV has in place what students need when they visit an academic advisor.  
DO YOU FEEL A SPECIAL BOND WITH THE UTRGV COMMUNITY?
Absolutely! UTRGV is my home away from home because of the people who make up UTRGV. I always want our students to feel welcome and to have a sense of belonging. This culture of belonging is what I believe allows for our authentic best selves to shine.
Also, I have had the privilege to attend several retreats that have enabled me to learn the various educational capacities that UTRGV employees serve, and the value of each. The connections made, via activities provided at these functions, have allowed me to have a sense of camaraderie with my UTRGV community. It is evident that we all have one common goal – student success.